A new campaign by Adfree Cities is calling for an end to advertising of meat, dairy, and eggs in the UK.
According to the "End Meat Advertising" campaign, misleading advertising hides the cruel and environmentally destructive reality of how most animal products are produced. Despite bucolic imagery, intensive farming is now the dominant system of animal agriculture in the UK.
"The industry uses narratives of health, connection, and care in their advertising, while completely omitting any information about animal slaughter, the extent of the factory farming industry, or the polluting and cruel aspects of meat, egg and dairy production," Nicola Round, co-director at Adfree Cities, told Plant Based News. "The extremely selective story-telling in meat, dairy and egg advertising is deception on a massive scale, and has catastrophic consequences in pushing up demand for a diet that is both cruel and carbon-intensive."
Misleading tactics
Adfree Cities has published a report to accompany the campaign entitled The Cows Aren't Laughing. It explores nine tactics used the meat, dairy, and egg industries to promote false narratives about how their products are made.
One tactic is to erase or objectify animals to stop us "from seeing them as the real, confined and abused living beings." This is done through images of dancing chickens, happy eggs, and laughing cows. These "distract" us from thinking about the reality of their lives. In the UK, more than three-quarters of animals and 95 percent of chickens are confined to intensive farms.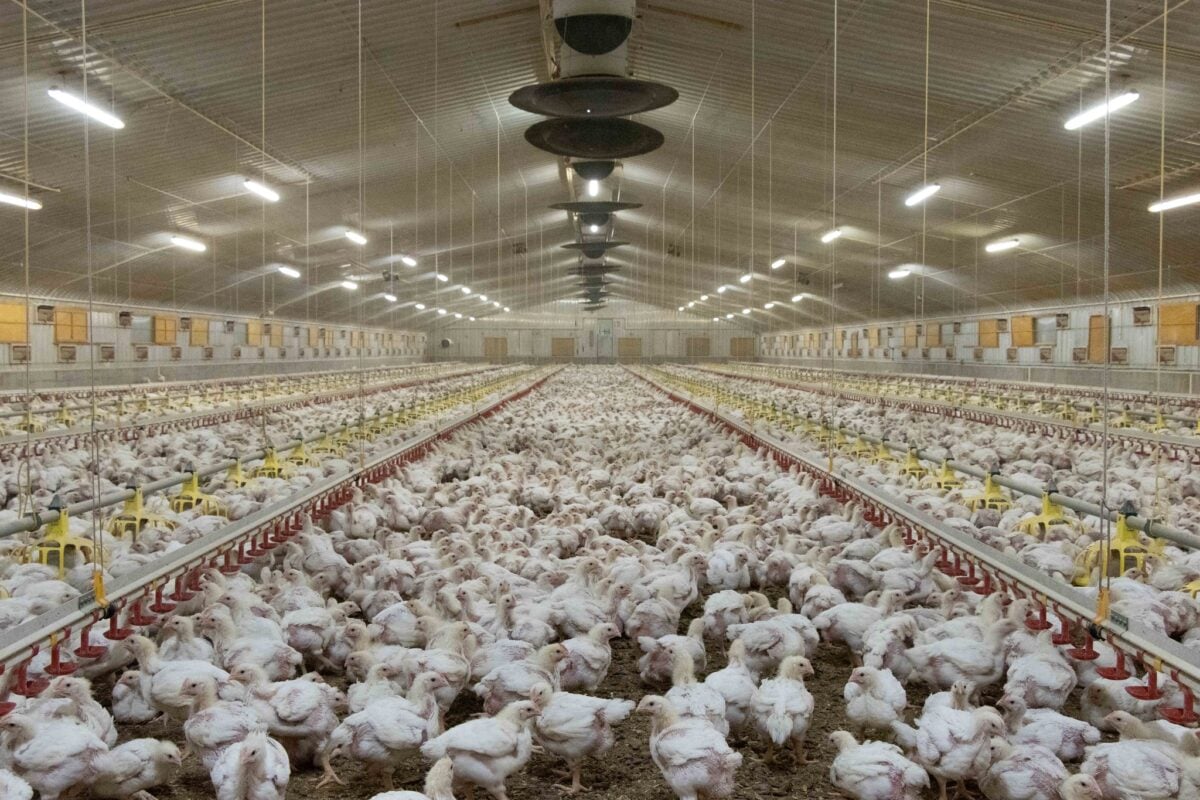 By "saturating" public spaces with ads, the animal industries also "normalise" consumption of their products. "Advertising has a powerful normalising effect, and when we're exposed to countless adverts for burgers and fried chicken, the message we're getting is that this excessive consumption is not a problem," said Round. "If we want to shift towards more plant-based diets, we need to shift social norms around what we eat, and ending meat advertising is a crucial part of this."
Another tactic is "humane-washing." Humane-washing gives the impression that conditions on intensive farms are better for animals than they actually are. Round cites the example of a digital video advert for M&S Milk that appeared in Piccadilly Circus in August 2023. It showed a cow in a field leaning over a fence, captioned "chilled milk should come from chilled cows."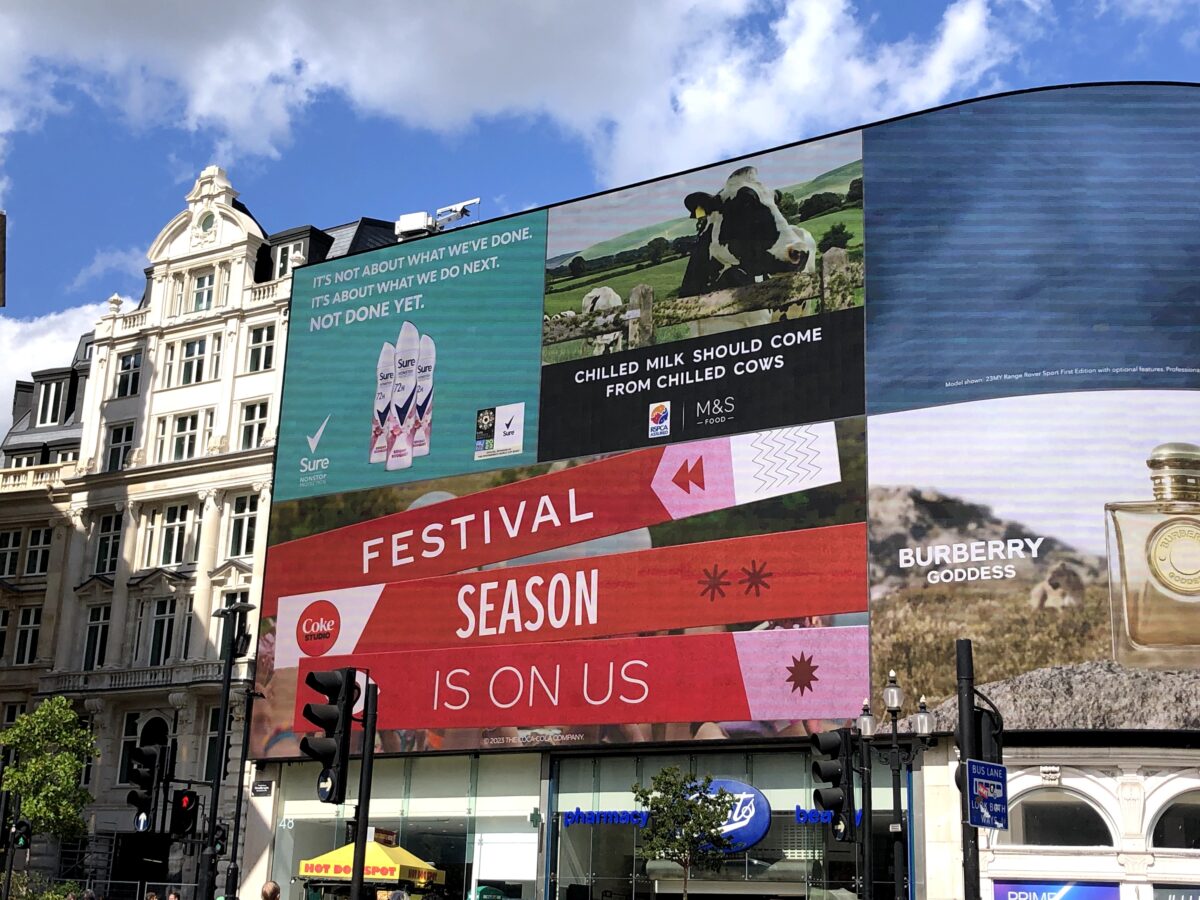 "This is a typical example of the deception by omission which we see in adverts for dairy products," said Round. "This cow will in reality have been forcibly, artificially inseminated and experienced great distress when her calf was taken from her not long after giving birth. She endures having milk forcibly extracted from her every day. This is her real story, but obviously not one that would increase brand loyalty and sales – the purpose of advertising – so we are instead shown a happy cow in a green field, and told she is "chilled"."
Greenwashing, another marketing tactic, is when meat companies try to position animal farming as a climate solution. For example, Danish Crown's "climate controlled pork" label, which Greenpeace Denmark challenged in court as misleading because the pork would still be worse for the climate than plant-based alternatives.
Animal-based foods are responsible for 57 percent of greenhouse gas emissions from food production. Plant-based foods emit half as much.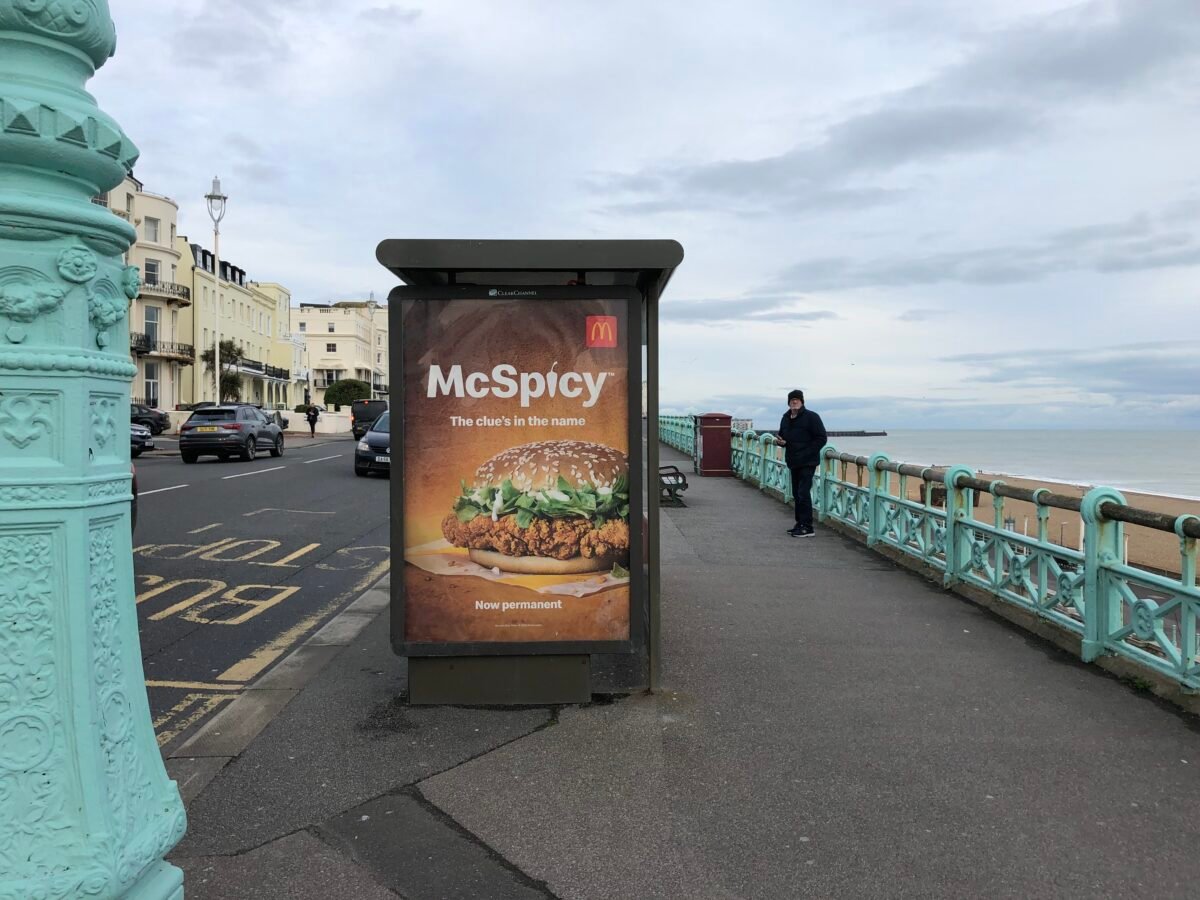 Copying the tobacco ban
End Meat Advertising points to the success of the ban on tobacco advertising as a model for how to treat high-carbon products including animal products and fossil fuels. Full advertising bans on tobacco products have led to fewer people starting to and continuing to smoke. 
In 2022, the Dutch city of Haarlem became the first in the world to ban meat adverts in public spaces. Haarlem had already banned ads for fossil fuels companies, flying, and petrol cars. Adfree Cities is campaigning for such a broader high-carbon advertising ban in the UK.
This is one of the ways governments should show leadership on climate action, according to the campaign. Instead, they currently help pay for meat industry advertising. "The EU and the UK government fund marketing campaigns to increase consumption of meat and dairy – an example being the 'Milk Your Moments' campaign in 2020 which used £500,000 of UK taxpayers' money to increase sales of cows' milk," said Round. "When we know that we need to dramatically reduce meat and dairy, there is no justification for government money to be spent on increasing demand."
Industry influence
Adfree Cities' campaign and report build on several other investigations into the PR and lobbying of the meat industry.
In 2021, Greenpeace Denmark published a report examining seven "myths" perpetuated by meat companies. These include linking meat to concept of masculinity and being a "good woman"; portraying meat eating as a patriotic act; and linking meat to healthiness.
That same year, DeSmog published an extensive investigation into the meat industry's PR and lobbying strategies. It found that meat producers try to downplay the climate impact of meat and cast doubt on plant-based alternatives. They also exaggerate the potential for innovation to reduce the industry's emissions. DeSmog created a database as a record of companies' messaging on the climate crisis, their lobbying efforts, and their climate science denial.
Most recently, the Guardian revealed that former UN officials working on farming said they were "censored, sabotaged, undermined and victimised" after writing a report on the climate impact of methane from livestock. Lobbying from meat industry groups led to the Food and Agriculture Organization (FAO) minimizing emissions from cattle in official documents. To date, UN Climate Summits have barely touched on emissions from livestock.
On Monday, November 6, Adfree Cities will host a webinar from 9.30 to 10.45am GMT, called "Selling meat, selling deceit: how can we dismantle meat and dairy advertising and make space to envision a kinder food system?"
More like this: