A Scotland-based vegan brand is rolling out mini caterpillar cakes to supermarkets across the UK.
Lazy Day specializes in plant-based and gluten-free baked goods that are suitable for many allergy sufferers as well as vegans. Its caterpillar cakes have a similar look to the famous products sold in major UK supermarkets. They consist of chocolate sponge cake, and come encased in a Dark Belgian Chocolate frosting. They feature colorful circular decorations made from sugar, as well as white chocolate faces.
"Lazy Day has always had a single mission – to create delectable free-from treats so that everyone can 'Join in the Joy'," the company's co-founder Dr Sally Beattie told Plant Based News. "People with allergies or restricted diets often feel alienated and left out. Innovation, taste and inclusion have always been at the heart of the brand, and these new products capture the Lazy Day values."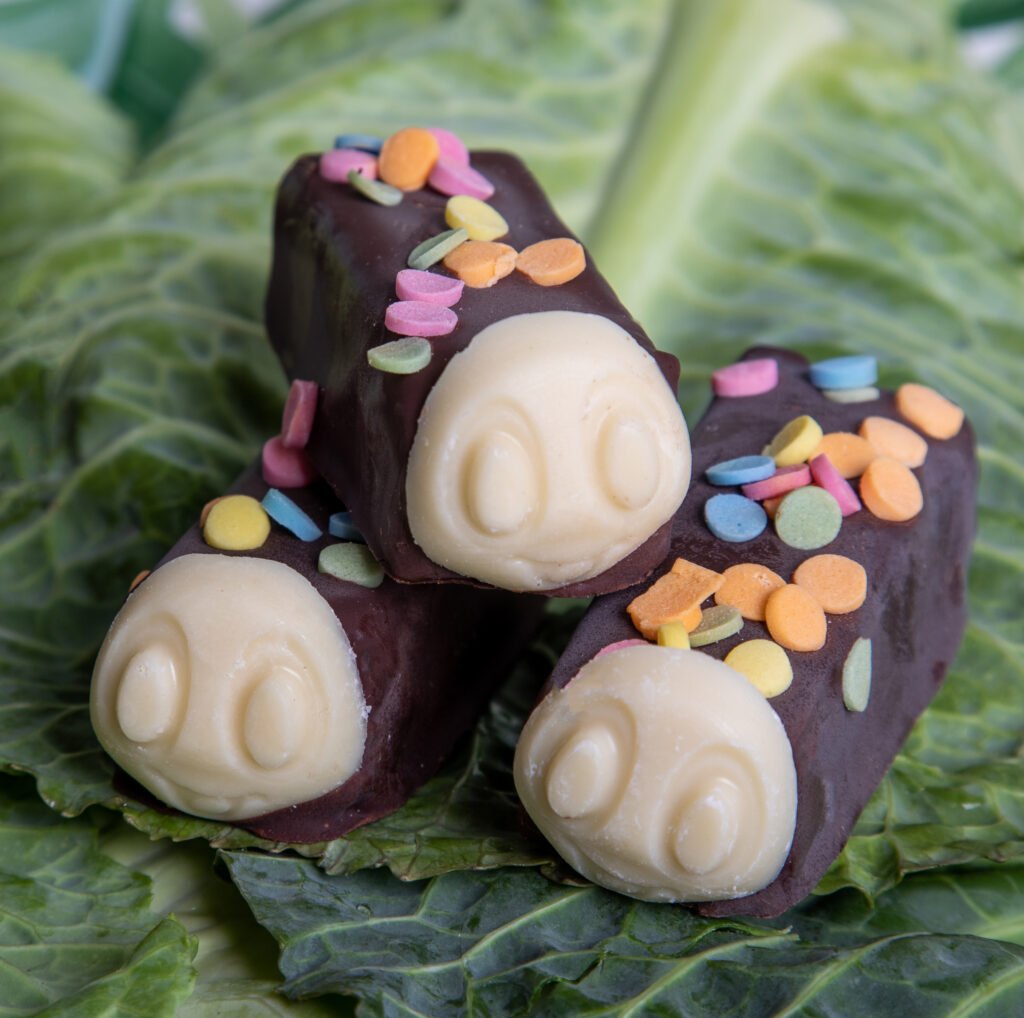 The caterpillar cakes are currently available to buy in Morrisons and Co-op stores. They are sold in packs of four, which retail at £3.50. They will reportedly be rolled out to Sainsbury's later this year.
Caterpillar cakes are a beloved treat in the UK, but the vast majority available in supermarkets contain animal products. In 2021, The Just Love Food Company unveiled a large plant-based version, but this was only available for a limited time at The Vegan Kind supermarket.
The rise of vegan cakes
Cakes are a hugely important part of many people's lives across the world. They are eaten to mark occasions like birthdays and weddings, and are also a popular comfort food.
Because of this, new vegans have in the past felt daunted by the idea of having to miss out. The majority of cakes sold on the high street contain eggs and often dairy, meaning they aren't suitable for plant-based diets.
In the last few years, however, the animal-free cake market has skyrocketed. The global vegan dessert market was valued at 2.77 billion in 2019. It was also predicted to grow at an annual compound annual growth rate (CAGR) of 10.1 percent from 2020 to 2027.
Around 25 percent of this market is made up of cakes and pastries. The majority of plant-based cake launches have been in Europe and North America. Popular brands include OGGS, BOSH!, and Love Food co. Many mainstream brands are also tapping into the plant-based market. Gü, which is known for its ready made dessert pots, has recently launched vegan flavors like Spanish Lemon and Zillionaire.