In what could well be a supermarket first, Marks and Spencer (M&S) has launched a dairy-free milk alternative in cartons similar to those holding cow's milk. 
The British oat drink products are part of the vegan Plant Kitchen range. They come in semi and whole varieties – just like their dairy counterparts.
The bottles cost around £2 for a liter. They are fortified with calcium, iodine, vitamin D, and vitamin B12, and are available to buy in M&S stores nationwide now. 
A spokesperson for the supermarket told Plant Based News that they decided to launch the product due to customers asking for vegan milk in larger size and packaging. The product has seemingly proved popular – the announcement drove 1.1 million organic impressions and 40k engagements on the M&S social media, with Instagram alone driving 198k impressions.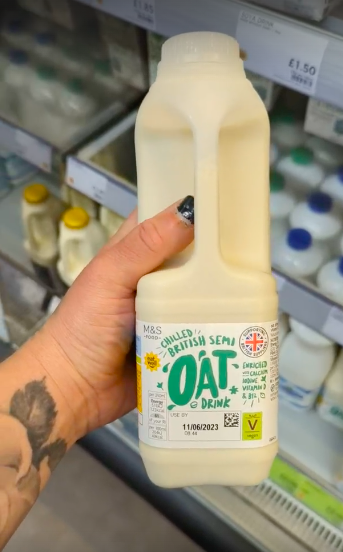 The rise of dairy-free milk
Vegan milk has seen a surge in popularity in recent years, becoming more widespread than any other dairy alternative.
According to statistics from September 2021, a third of UK adults drink plant-based milk, with oat milk being by far the most popular choice. Younger people are increasingly opting to choose these alternatives over dairy, with 84 percent using standard cow's milk (compared to 96 percent of those 65 and over). 
Last year, the dairy industry blamed vegan "cancel culture" for the declining popularity of its products. Brit dairy company Arla Foods launched a campaign named "Don't Cancel The Cow," which argued for the need to "balance the conversation when it comes to food and the health of our planet".
Despite what the dairy industry may say, there are undeniable costs associated with dairy. There are around 1.9 million dairy cows in the UK. They will generally be artificially inseminated once a year, and each time have their baby taken from them, often within 24 hours after birth. Dairy is also costly for the environment, contributing to greenhouse gas emissions, biodiversity loss, and deforestation.