* This is a sponsored post [what is this?]
What would you find in your perfect plant-based kitchen? A high-speed blender for smoothies and sauces? Top-of-the-line cookware and knives to create perfectly sautéed veggies?
What about fragrant spices, vegan recipe books galore, and appliances that make cooking not just delicious, but fun? Those are just some of the items included in our new campaign, which centers around wellness, nutrition, and great-tasting vegan meals.
Plant Based News has teamed up with Complement, No Meat Athlete, and PlantYou for the ultimate kitchen upgrade sweepstakes.
Here's what you could win…
Building the perfect vegan kitchen
Grand prize
Everything you need (and then some) to give your kitchen the ultimate plant-based upgrade — Vitamix blender, Caraway home cookware set, Misen knife set, TofuBud tofu press, Nama Juicer, Milky Plant nut milk maker, instant pot, and vegan pantry staples.
Plus, 10 essential plant-based cookbooks, PlantYou meal planner one-year subscription, Rouxbe virtual plant-based cooking classes, and a six-month subscription with Complement Insight for truly personalized nutrition. ($3285 value)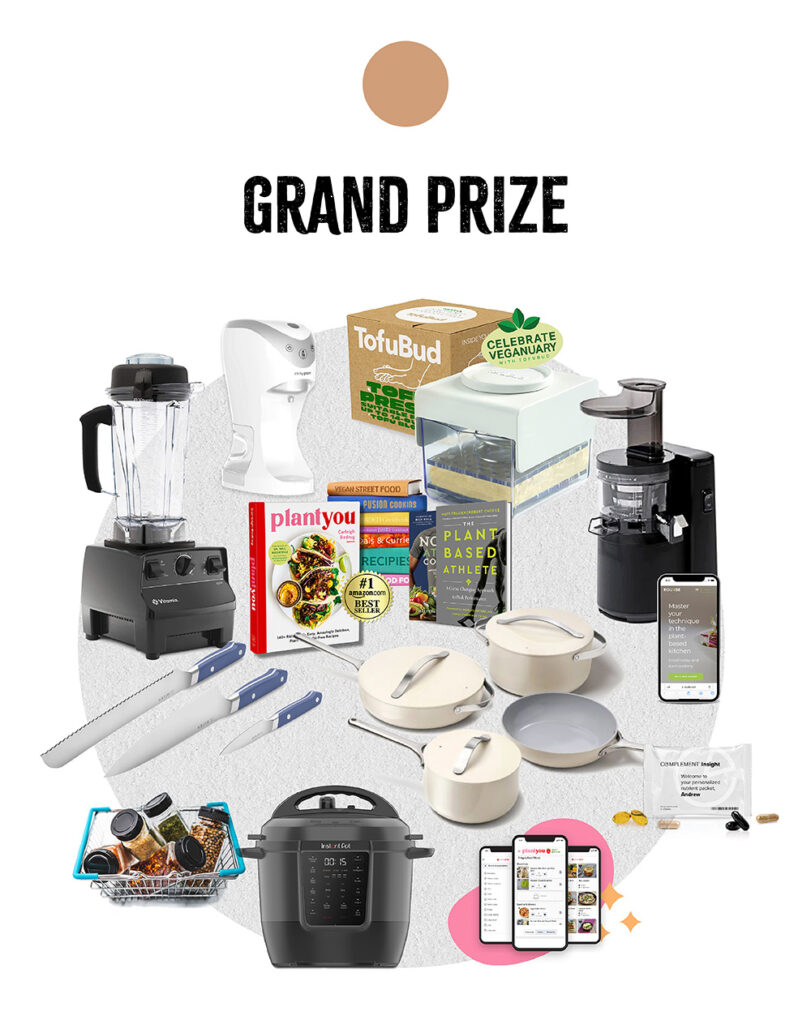 First runner-up
Upgrade your plant-based meals with all of the best recipes from renowned chefs and experts, including Carleigh Bodrug of PlantYou with a one-year subscription to the PlantYou meal planning app.
Plus, get a six-month subscription with Complement Insight for truly personalized nutrition. ($1420 value)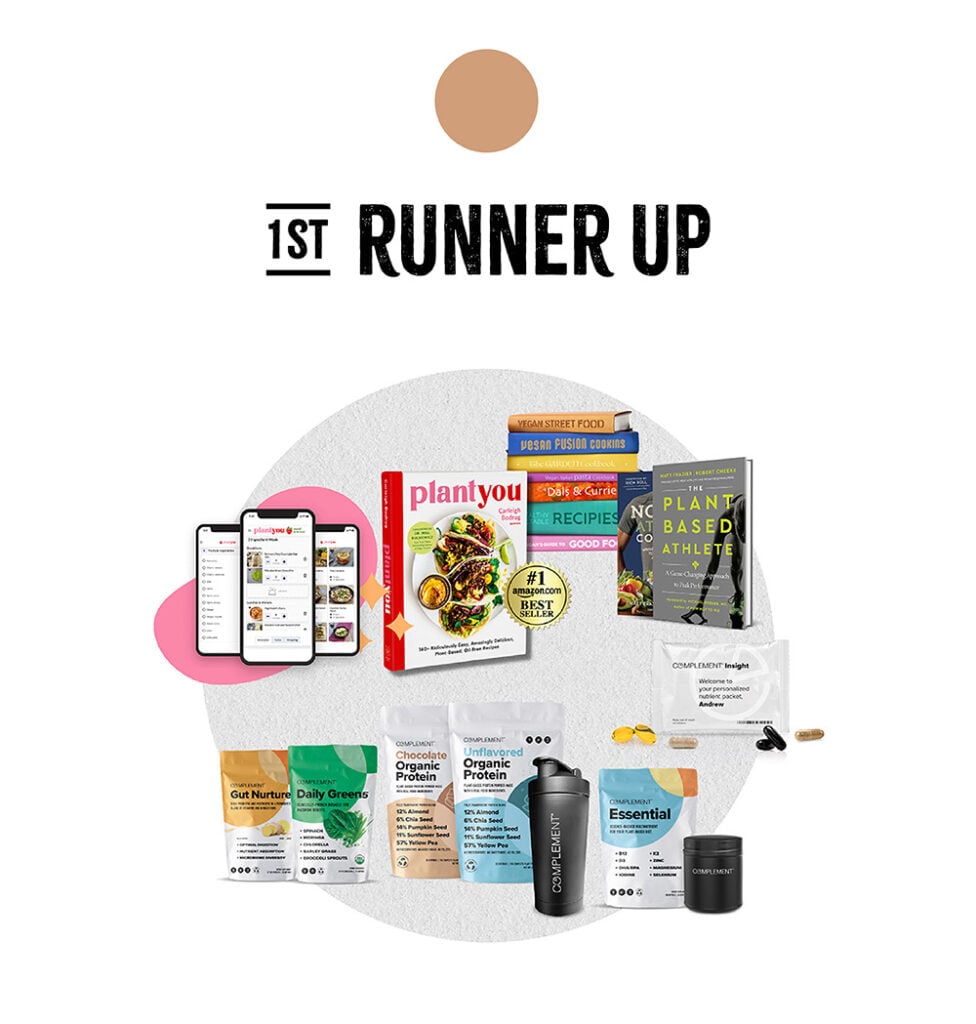 Second runner-up
A full year of plant-based meal inspiration with the PlantYou meal planner app by Carleigh Bodrug.
Additionally, two six-month subscriptions for you and a loved one for Complement's newest service, Insight. Get truly personalized nutrition with at-home diagnostic testing, access to a plant-based Registered Dietitian, and custom-designed nutrients sent straight to your door! ($720 value)
Total prizes valued at over $5,400!
Entering the Ultimate Plant-Based Kitchen Sweepstakes is easy, with no purchase necessary and nearly a dozen simple ways to increase your chances of winning.
So what are you waiting for? Head here to enter – and good luck!
Who are the hosting partners?
Complement is a precision nutrition company on a mission to help the world thrive through plant-based eating. They specialize in optimizing your plant-based lifestyle through at-home blood testing with 1:1 RD recommendations, plus science-backed essential nutrients, clean protein and superfood greens, and prebiotic and postbiotic gut health solutions. Complement's products arrive in eco-friendly packaging, with each product sold providing a plant-based meal for a child in need.
No Meat Athlete is a digital stratosphere (blog, podcasts, social media) of a thriving plant-based and plant-curious community. It was founded by Matt Frazier over a decade ago. Humble beginnings as a blog turned into a top-listened podcast (more than 10,000 downloads per month), along with 175,000 page views to its site, and 73,200 followers on Instagram.
Plant Based News (PBN) is a mission-led, impact media platform focused on elevating the plant-based diet and its benefit to human health, the planet, and animals. With more than one million followers on Instagram alone, PBN's award-winning news team, along with health and climate experts, produce unique and hard-hitting content that speaks truth to power. And, helps make transitioning to a vegan lifestyle more accessible.
PlantYou's Carleigh Bodrug is a leading voice in the plant-based recipe space. Her debut cookbook, PlantYou, is a New York Times bestseller. Bodrug's approachable, delicious recipes and cooking techniques have drawn highly engaged communities on nearly every platform — with more than 2.7 million followers on Instagram, 2.3 million on TikTok, and nearly 200,000 subscribers on YouTube.
Enter the sweepstakes now for a chance to win your dream plant-based kitchen set-up.
—
* This content is part of a branded partnership. Funds from this article help Plant Based News continue to provide millions of people around the world with free content they know and love. We only work with brands we support and use ourselves.