This is a sponsored post * [what is this?]
From the get-go, VFC's mission has been to protect farmed animals. And, to help take down the system that exploits them by putting plant-based food center-plate. It's what motivated the brand's very creation (VFC first launched in 2020), and what inspired its latest campaign:
Free. Vegan. Chicken.
Meatless fried chicken
The initiative allows shoppers in the UK to try VFC's Vegan Fried Chick*n free of charge until Aug 2, 2022. The offer includes all three of the brand's products: Vegan Fried Bites, Fillets, and Popcorn Chick*n, which are made with wheat protein and feature a crispy, southern fried cornflake coating. As well as being free from cholesterol and trans fats, the vegan options pack 14-15 grams of protein per 100 grams (depending on the item).
After purchasing a VFC product from Tesco, Sainsbury's, or Vegan Kind, shoppers can head to a dedicated microsite to get a refund. The offer is limited to one person/email/household for up to a value of £3 (which is the RRP of all three products).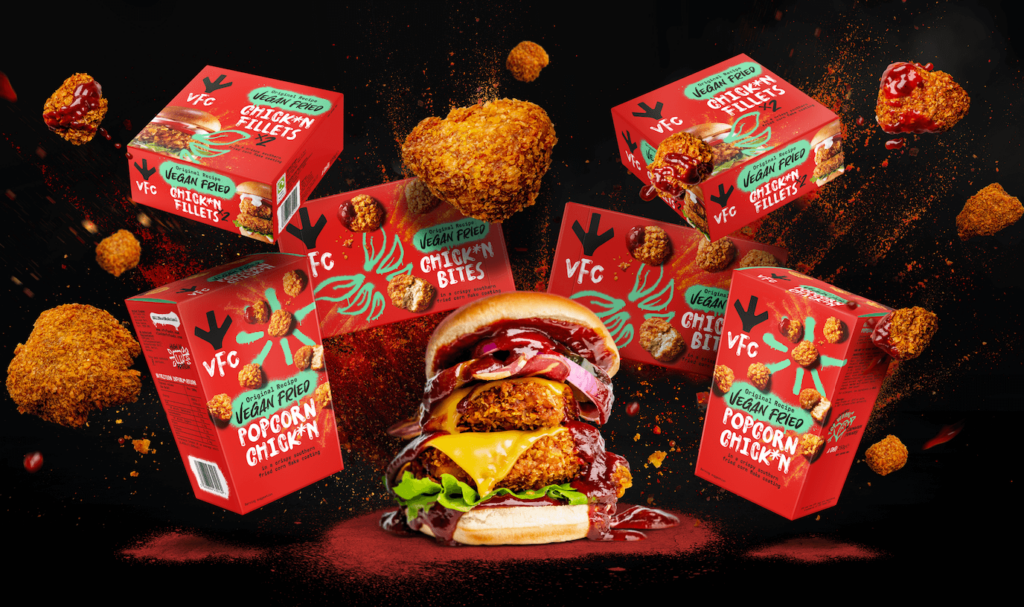 The brand hopes the campaign will draw in those who haven't had a chance to try its vegan chicken, or who may be skeptical of the concept. VFC insists that its meat alternatives can change their minds.
"Our mission is to spare the lives of chickens, and to do that we need to break down some barriers around vegan food. We feel sure that if only people would try our vegan fried chick*n, they'd see just how good it is, and that there is no need to harm animals to get the tastes we love," commented Allison Reilly, marketing director for VFC.
"And since every 1.5kg of VFC is equivalent to the life of one bird, we hope this offer will go a long way towards emptying those factory farm sheds for good."
Shaking up the food system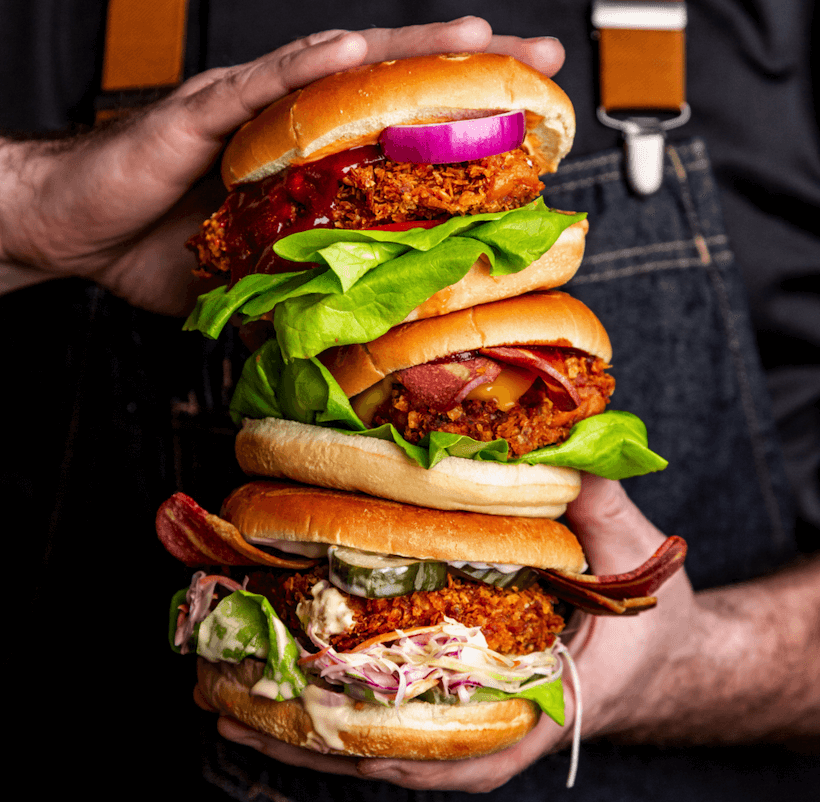 VFC is no stranger to out-of-the-box initiatives. Earlier this year, the startup rolled out a cheeky marketing campaign that saw hate comments left on the brand's social media platforms displayed in high-traffic areas across the UK.
The comments – which called vegan food "absolute garbage" among many other "creative" names – were displayed for millions of commuters passing through 115 of London's Underground stations, as well as on phone boxes all around the country.
VFC hasn't shied away from more dire matters either. Last year, fast-food titan KFC released a short film called Behind the Bucket, which claimed to pull back the curtain on KFC's production methods by visiting a supplier's farm.
The footage showed chickens gladly pecking fresh straw in a spacious environment with swings and perches, being pet by humans, and "enjoying" themselves, according to farmer Tony, who KFC refers to as a "chicken whisperer." The clip could nearly ease the mind of the most hesitant meat-eater, but VFC was not convinced.
And so, VFC's co-founder Matthew Glover (who also co-founded the Veganuary initiative with his partner Jane Land in 2014), paid a visit to the facility himself. There, he and the team discovered a very different state of affairs.
Thousands of chickens were crammed into the facility, which contained very little straw (that was "sodden with animal feces," Glover noted). Many birds were injured, or lying dead on the floor.
"People have a right to know how filthy and crowded these farms are; how birds suffer and die right there in the sheds; and that the bins overflow with the carcasses of the poor animals who could not survive even a few weeks in such conditions," Glover said at the time, adding that KFC's animal welfare claims were "disingenuous" and "utterly misleading."
Taking animal cruelty out of the recipe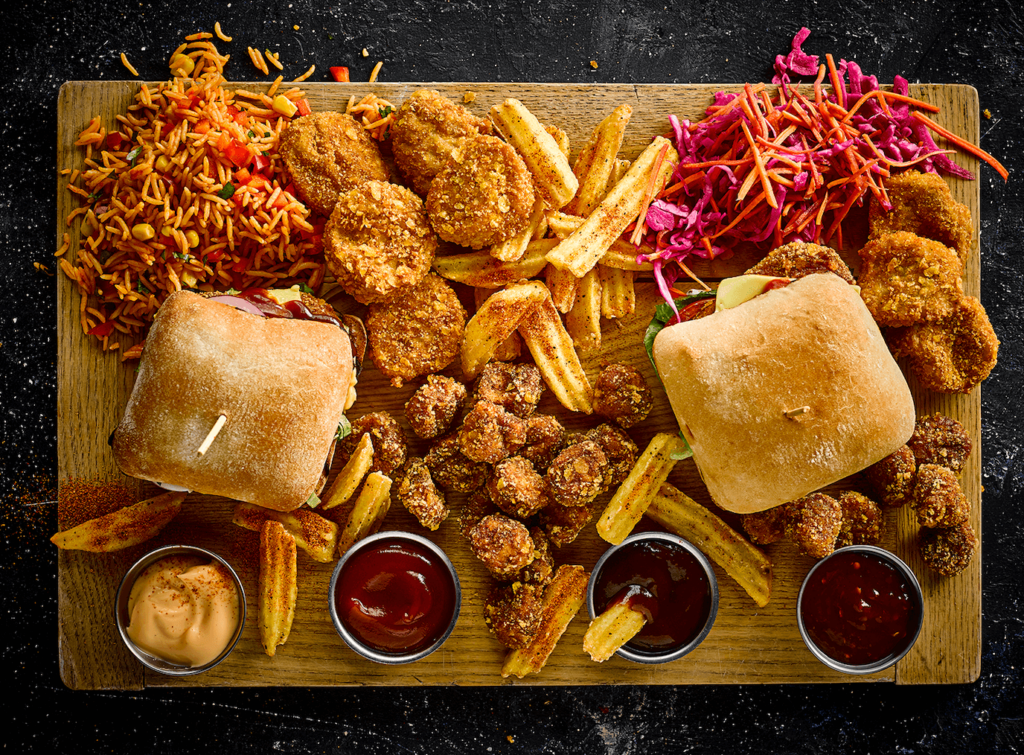 Luckily for KFC fans, there's a kinder alternative. "There is a better way to make great-tasting food, one that requires no farms or slaughterhouses, and minimizes our impact on the planet," VFC's Reilly said. (Conventional chicken meat has twice the climate impact of VFC's version).
"VFC is part of that wave," they said, adding that the team is excited to introduce more people to vegan alternatives through their latest campaign.
And there's no need to take their word for it. Give VFC a go (for free!) until Aug 2, 2022, by purchasing a pack from Tesco, Sainsbury's, or Vegan Kind, and entering your receipt information right here.
To learn more about VFC, check out its website, Instagram, Twitter, or Facebook.
—
* This is paid-for content; funds from this article help Plant Based News continue to provide millions of people around the world with free content they know and love. We only work with brands we support and use ourselves.