Häagen-Dazs has unveiled three new dairy-free ice cream flavors, which are available to buy now in Canada.
The ice cream brand, which is owned by Nestlé, used oat milk to create the new vegan products. The flavors are Chocolate Peanut Butter, Caramel Fudge Chip, and Vanilla Raspberry Truffle.
"We believe that everyone, no matter their dietary preference, should be able to enjoy Häagen-Dazs," said Juliane Trenholme, Marketing Vice President at Nestlé Canada, in a statement.
The new plant-based flavors are available to buy in supermarkets across Canada.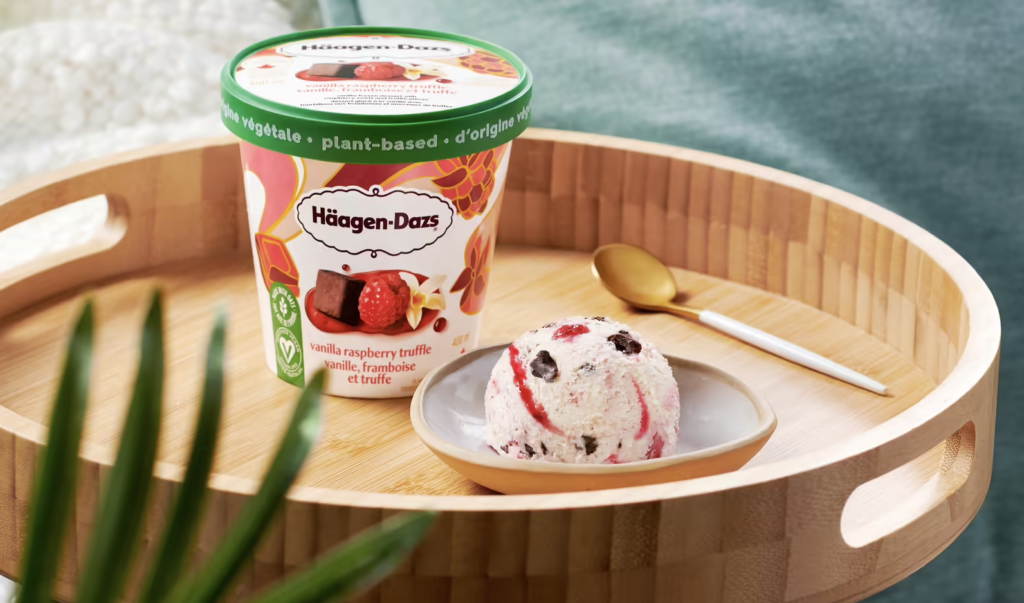 The rise of dairy-free market
While these are the first oat milk-based flavors, this isn't the first time Häagen-Dazs has embraced the ever-growing dairy-free market.
It released four flavors – Coconut Caramel, Chocolate Salted Fudge Truffle, Peanut Butter Chocolate Fudge, and Mocha Chocolate Cookie – in 2017. It then added Crunchy Peanut Butter and Coconut Cookies and Crème to its collection in 2018. 
A few years ago, it would have been almost impossible to find vegan ice cream in supermarkets. Now, however, a variety of versions can be found in stores all over the world.
The global vegan ice cream market was valued at $520.9 million in 2019. It's been expected to grow to $805.3 million by 2027. Ben & Jerry's, Jude's, and Magnum have all released a number of popular vegan versions of their ice creams in recent years.