A company in Kanpur, India, is converting waste flowers that pollute the Ganges river into a vegan leather alternative.
Dubbed "Fleather," the material is the brainchild of startup Phool. The company states that it has captured the soft feel of lamb's leather, but with none of the cruelty. And it should know, given that Kanpur is the hub of India's leather industry.
Similarly to mycelium leather, which is currently being used by a slew of high-profile designers, including Stella McCartney, Fleather is made using bioreactors. This allows fungal microorganisms to grow into a material-like fiber.
Initially, Phool's experiments with manufacturing conditions produced a thick fibrous material, not dissimilar to styrofoam, but it had a familiar feel. This led researchers to suggest it could be used to make a more delicate leather alternative.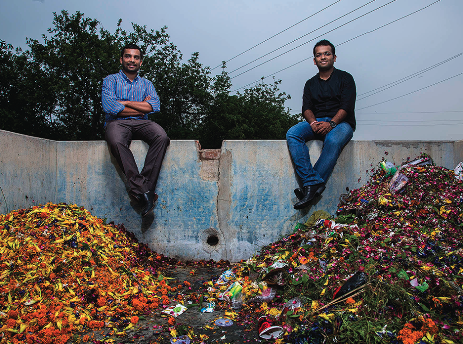 Repurposing India's floral waste
Phool, meaning "flower" in Hindi, was launched in 2017 after its founder, Ankit Agarwal, observed the amount of rubbish floating in the Ganges. A vast proportion of the waste consisted of tons of flowers which were discarded as part of Hindu worship.
Having been used in religious practices, the flowers are considered sacred and cannot be thrown away with regular garbage. This leaves worshippers with little option but to throw their floral tributes into India's most sacred river.
Despite being natural entities, the flowers are laden with pesticides, which leech into the river as they decompose. The result is a threat to both marine and human health, as many Hindu worshippers bathe in and drink the Ganges water.
Agarwal initially planned to convert the floral discard into incense sticks. However, the collecting and storing of flowers led to an accidental discovery that made the company change tack.
In the humid conditions, the flowers had begun to grow a microorganism-filled fungal layer that resembled a fibrous sheet. Some experimentation later, the company successfully produced feed cultures for the microorganism, allowing for commercial production to begin.
Through trial and error, Phool discovered that it could manipulate and process the fungal fiber to grow in thick sheets. This can be used to create a viable flower alternative to animal leather.
"I want to make animal leather history," Agarwal told the BBC.
How durable is flower leather?
Phool began making Fleather in earnest in 2021 and has so far successfully prototyped bags, wallets, and shoes.
The material can be embossed to take on the appearance of exotic animal skins and natural dyes can be applied. Trials are said to have been successful, though more heavy-duty products, such as belts, are not yet possible. This is due to the material needing more strength.
Agarwal claims that the company is "10 percent away from the final thing," and that when the breakthrough comes, his flower leather will be a revelation.
Interest in Fleather is already growing. A finalist in the 2022 Earthshot Prize, an environmental awards event, Phool is now working with Calvin Klein and Tommy Hilfiger's parent company, PVH.
It has also been claimed, by Agarwal, that other fashion companies and a British car manufacturer have registered their curiosity.