The vegan Atlas Community School in Uganda, East Africa, has been presented with a TeachKind Compassionate School Award.
Animal rights organization PETA's humane education division, TeachKind was set up to help promote kindness and anti-speciesism to children. It does so through free advice, resources, and presentations that can be used in schools.
Built in the Kassanda district, by charity LUV4ALL, the Atlas primary school was recognized for its upholding of vegan values. Particular reference was paid to the provision of an all-vegan menu and clear examples of anti-speciesism being taught.
As well as a certificate, the school received a number of books centered around themes of kindness and empathy towards animals. However, the most vital gift was a $1,000 donation.
"This is an absolute God-Send and we will be able to do so much good with it," a spokesperson for Atlas Community School said.
"The much-needed funds will go towards the school's running costs and the teaching materials will help not only Atlas pupils, but also those who attend the other schools we visit as part of our vegan outreach program."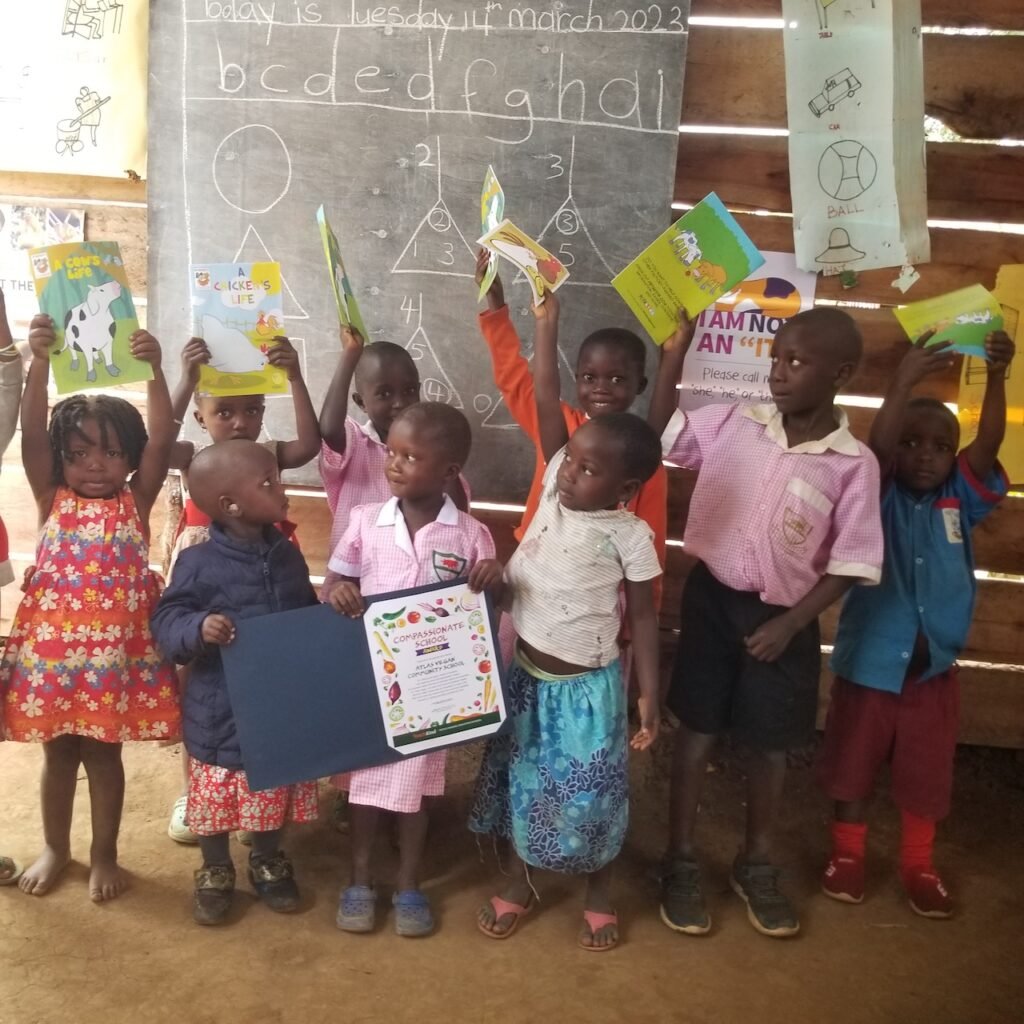 Atlas School nets vegan activist grant
Alongside being recognized by PETA, the Atlas School was awarded a mini-grant by a fellow the animal protection organization. In Defense of Animals (IDA) gave the facility $250 for its continued efforts to support animal rights. This, and for nurturing children to create a compassionate future world.
The grant was allocated as part of IDA's Activist Appreciation Month 2023, which is held annually, throughout February. It is reported that the grant will be used to help cover running costs, as most donations are.
The need for veganism in Uganda
According to the vegan Atlas School, ill health due to complications after eating meat is commonplace in Uganda. It states that tapeworms and other zoonotic infections, including brucellosis (caught by eating unpasteurized dairy) are part of everyday life. As such, it has set out to educate younger generations about how to eat healthily.
"Year after year, we have to face new emerging infectious diseases, because of the disease-generating practice of breeding, confining, and butchering animal slaves," the school's website says.
"If we can't get people—not just our own community, but the whole world—to understand that animal agriculture must be abolished, then these crises will never end. And they will get worse."