The UK government has been accused of giving more thought to blood sports than women's needs during the Covid-19 pandemic.
Former deputy cabinet secretary Helen MacNamara gave her damning account of government decision-making as part of her witness statement for the UK Covid-19 Inquiry. Issues such as domestic abuse and childcare were given little thought, leading to "significant negative consequences," said MacNamara.
Meanwhile, "[t]here was a disproportionate amount of attention given to more male pursuits in terms of the impact of restrictions and then the lessening of the same (football, hunting, shooting and fishing)."
The public inquiry is investigating the government response to Covid and the pandemic's impacts to provide "lessons for the future."
Blood sports given priority
During the Covid restrictions of 2020, fox hunting (officially called "trail" hunting) and grouse shooting were given exemptions along with outdoor team sports such as football and rugby. While fox hunting was banned in 2004, "trail hunting" is still permitted. Trail hunting refers to a pursuit that supposedly mimics actual fox hunting by encouraging dogs to pursue their scent. But multiple investigations have found that foxes are still killed on hunts.
In September 2020, the government, then led by Boris Johnson, introduced the "rule of six." This made it illegal for any indoor or outdoor social gatherings to have more than six people, unless they were engaging in exempted activities. At the time, many questioned why blood sports should get a pass when people could not engage in other outdoor social activities with friends and family. The exemption allowed blood sports enthusiasts to gather in groups of up to 30 people.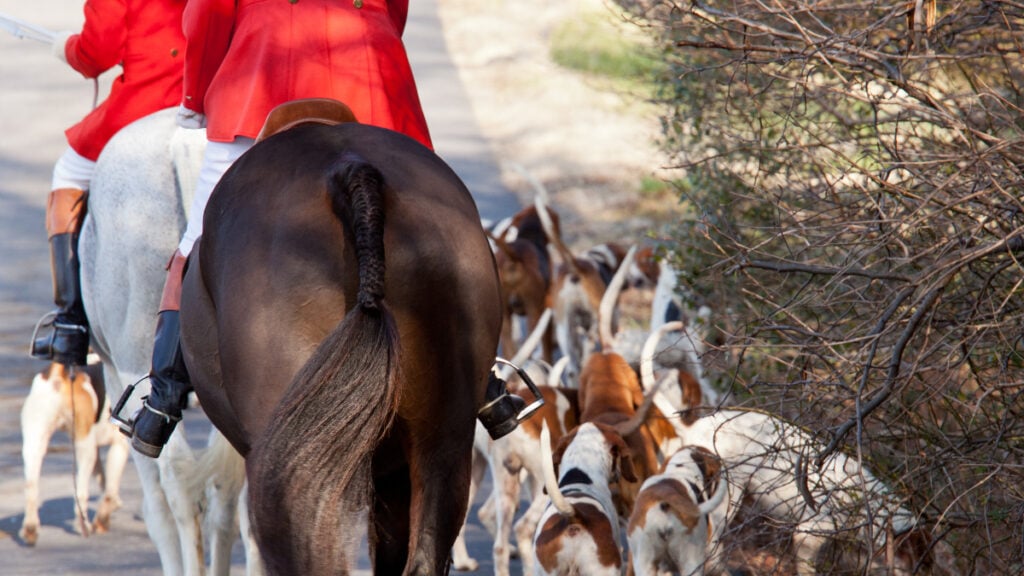 According to the Huffington Post, a Cabinet Office Covid-19 Operations ministerial committee scheduled a meeting two days before the rule of six came into force. An item on the meeting agenda was titled, "Exemption: hunting and shooting." But the meeting was cancelled at the last minute, apparently to avoid ministers raising objections to the blood sports exemption.
Former minister Tracey Crouch told the Huffington Post at the time: "I've had queries about choirs, community bands, addiction therapy groups, all of whom would be worthy of an exemption and instead we are scrabbling around prioritising shooting animals. It's bonkers."
Covid safety measures including social distancing were supposed to be observed by those participating in exempted activities. But hunt saboteurs observed fox hunts taking no precautions. They also documented them apparently carrying out illegal activities including hunting fox cubs, known as "cubbing," and allowing dogs to hunt a hare.
Women forgotten
In MacNamara's view, the same level of concern was not shown towards women as to "more male pursuits" due to "the exclusion of a female perspective." While hunts and shoots were given freedom to carry on as normal, MacNamara said the "restrictions around birth and pregnancy care seemed unnecessarily restrictive and were comparatively slow to adapt."
Other areas of women's health were overlooked, such as domestic abuse. As early as May 2020, experts in women's and public health warned that safeguards for women and girls needed to "built into" Covid response plans. They cited data from a UK project tracking violence against women which showed that deaths from domestic violence more than doubled during the first lockdown compared with the average rate over the past decade.
Yet MacNamara said: "There was a serious lack of thinking about domestic abuse and the vulnerable, about carers and informal networks for how people look after each other in families and communities."
A number of Tories have ties to the hunting and shooting communities. In 2005, just before fox hunting was banned, Boris Johnson urged hunts to "defy the police and the magistrates and the government" in a column for the Spectator. Jacob Rees-Mogg, who was Leader of the House of Commons in 2020, has hosted hunt meets on his property. Greg Smith, Tory MP for Buckingham, is a member of the British Association for Shooting and Conservation and argued against a proposed ban on grouse shooting in 2021.