UK plant-based chicken brand VFC has used real anti-vegan social media comments to spearhead a new nationwide advertising campaign titled: "Would You Rather."
Featuring some of the more extreme and humorous responses to its products, VFC places them next to images of its food, with the commenter credited. In response to the question "would you rather eat VFC or…," for example, "Wayne from Facebook" responded that he'd rather "stick a wasp up his bum."
Other billboards read messages like "I'd rather eat dog poo covered in breadcrumbs" and "I'd rather eat my dog" (credited to Mark from Facebook and Aaron from Facebook respectively).
The ads are being displayed on billboards up and down the country, as well as 2,200 tube cars on the London Underground.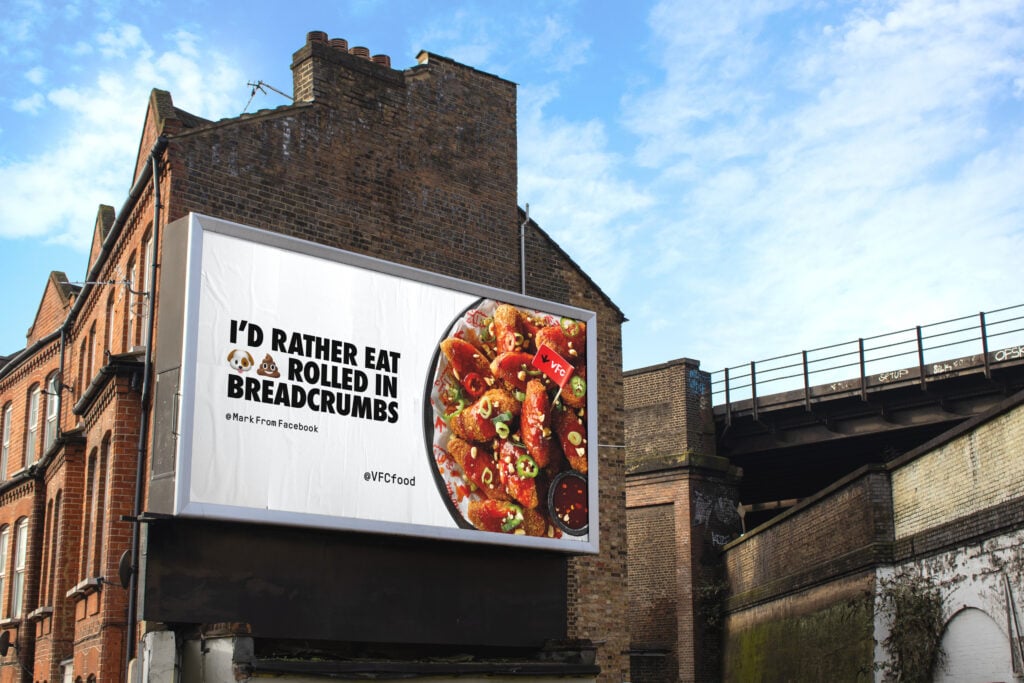 "We receive rude comments all the time from our haters telling us all the things they would rather do than eat Vegan Fried Chick*n, but of course most of them haven't even tried it!" Alison Reilly, head of marketing at VFC said in a statement.
"The levels of outrage around the concept of vegan meat alternatives is astounding… and slightly bemusing. But, on the other hand, the material was just too good to ignore. The contrast between their extreme language and the delicious food they're referring to made for a perfect campaign to showcase taste. No preaching, just putting it to the public and letting them decide 'what they would rather'."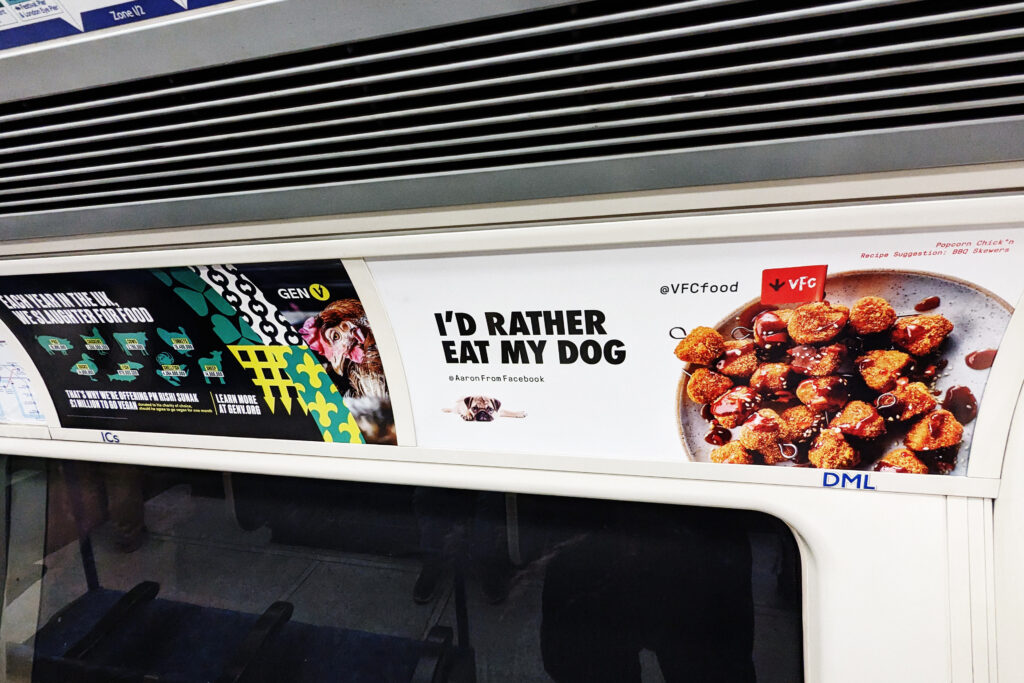 All hail the 'Cluckwits'
Calling its trolls "Cluckwits," this is not the first time VFC has sought to use haters to its advantage.
In March 2022 the activist-led food company launched its "humane troll slaying" campaign. This saw the marketing team turn real conversations with negative social media users into telephone box posters and London Underground billboards.
"Over the last year or so, our Cluckwits have consistently entertained us, but until now, for the good of humanity, we have kept them safely kettled online," the vegan chicken producer said at the time.
"And then one day, the devil got into us, and we started to wonder what would happen if we released them into the wild. And so we did."
Improving vegan chicken
VFC's latest troll-led campaign comes shortly after the brand released its new vegan chicken recipe.
Said to replicate the taste and texture of real chicken more than previous incarnations, the new development was used in its first kids' product, called "Stompers."