An investigation has found that many media outlets that take the climate crisis seriously are failing to prioritize vegan food and are still producing mostly meat recipes.
That is despite extensive research showing that a plant-based food system is one of the most effective ways to reduce greenhouse gas (GHG) emissions.
The authors analyzed the cooking sections of eight major news outlets to check whether their recipes were as climate-conscious as their reporting. They found that of the top four UK-based outlets and top four US-based outlets with responsible climate reporting, five have recipe sections dominated by meat-based recipes.
Claire Hamlett, co-author on the report, said: "Despite the strong evidence that dietary change is a key way for individuals and nations to reduce their climate impact, many media outlets are still supporting the status quo of high meat consumption with their choice of recipes."
More than half of recipes still meat-based
Published by the Better Food Foundation and Sentient Media, the report highlights the gap between climate news and recipe suggestions.
The researchers used a script to select around 100 recent recipes from eight media outlets. This script categorized recipes as omnivorous, vegetarian, or vegan. The categorizations were then manually checked to confirm accuracy.
The US outlets had an average of 53.6 percent omnivorous recipes. Vegetarian dishes made up 26.2 percent of recipes, while 20.2 percent were vegan.
Likewise, in the UK, there were 60.6 percent omnivorous, 27.9 percent vegetarian, and 11.6 percent vegan recipes.
Only the Washington Post, the Guardian, and Yahoo News had fewer than half of their recipes categorized as "omnivorous."
Impact of animal agriculture still too easily ignored
The report follows an investigation earlier this year by Faunalytics and Sentient Media, which found that only seven percent of climate articles mentioned animal agriculture.
This is despite animal agriculture being one of the biggest contributors to greenhouse gas (GHG) emissions. The United Nations has stated repeatedly that the world needs to reduce meat consumption to fight climate change and improve food security.
Indeed, climate scientists consistently agree that a widespread shift towards plant-forward diets is one of the key solutions to the climate crisis.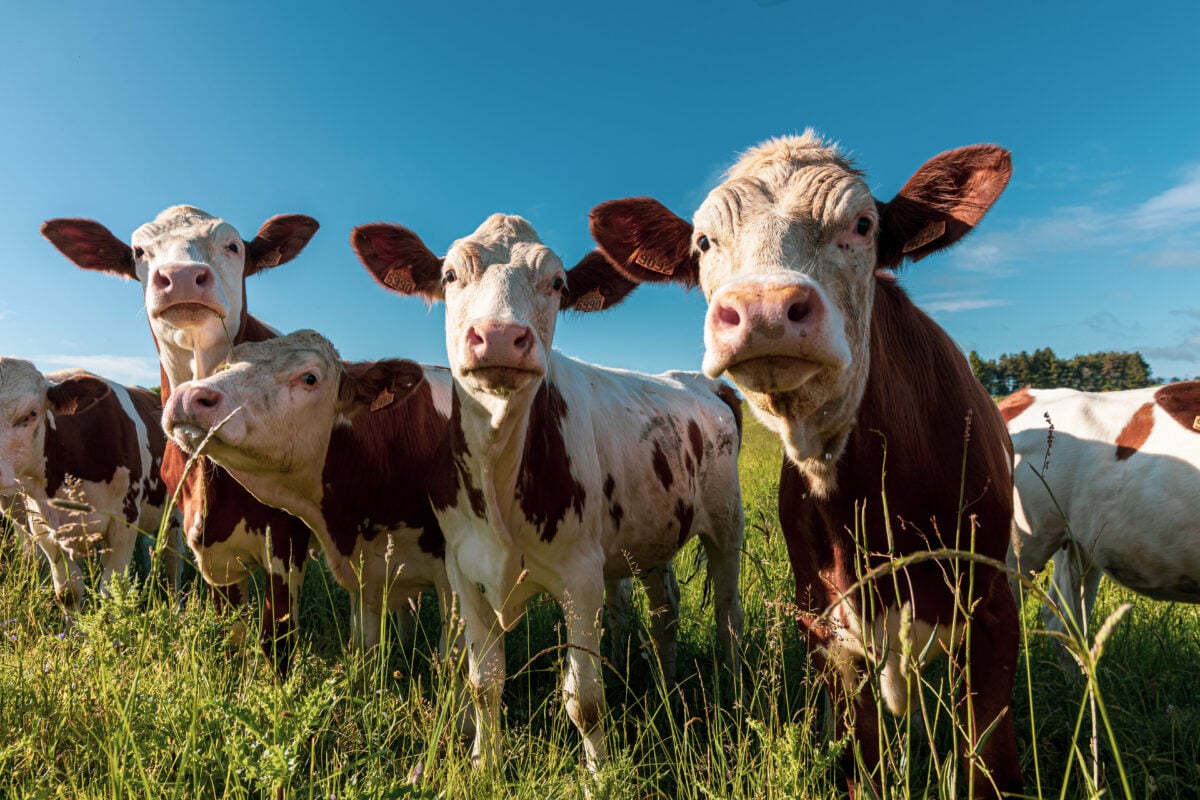 Simple nudges to align recipes with climate science
Making more recipes plant based would be a simple but significant shift. The report points to five "behavioral nudges" that recipe sections could take:
1. Maintain a ratio of at least 2-to-1 for plant-based versus animal-based recipes
2. Present plant-based options first, by default
3. Make editors' picks or seasonal recommendations plant-based by default
4. Swap out animal-based ingredients for plant-based ingredients in popular recipes
5. Add a climate score to each recipe based on the emissions intensity of the ingredients, and present climate-friendly options first
Easy to replace dairy with plant-based alternatives
The report highlights that swapping meat for vegetarian recipes would not go far enough to tackle the climate crisis.
Studies have shown that the dairy industry contributes some 3.4 percent of the world's total greenhouse gas emissions. That means that dairy is responsible for as much as the aviation and shipping sectors combined.
The BBC is one media outlet that has reported this fact. Yet it continues to create recipes featuring dairy products where simple plant-based switches could be made.
Differences between the UK and US
In total, the UK and US outlets had more than half meat recipes. However, some outlets have made more progress than others.
For example, the Guardian updated its style guide in 2019 to report more accurately on the climate crisis. Since then, it has also seen a shift in the focus towards more plant-based recipes.
In contrast, the New York Times produces high-quality climate journalism but has so far failed to prioritize vegan recipes.
Commenting on the discrepancy, Hamlett said: "The Guardian has demonstrated how media outlets can align their recipe sections with the climate science. Outlets like the New York Times could easily follow suit and show their readers how easy it is to choose plant-based first."
More like this: