The White House hosted a plant-based state dinner last week to mark the visit of India's Prime Minister Narendra Modi, who is a vegetarian.
First Lady Dr. Jill Biden enlisted renowned plant-based chef Nina Curtis to curate the menu. Curtis worked with White House executive chef Cristeta Comerford and executive pastry chef Susan Morrison to celebrate American cuisine while incorporating Indian flavors and elements. According to chef Curtis, the state dinner "aimed to promote sustainability and inclusivity while bridging cultural influences." 
Taking to Instagram after the dinner, Curtis wrote: "Words can not express my gratitude for this opportunity to work with Dr. Jill Biden… Dr. Biden's grace, kindness, and brilliance truly inspire me, and I will never forget this pinnacle moment in my career."
The menu
It's thought that 400 people attended the three course dinner, which took place on Thursday, June 22. The starter was a marinated millet and grilled corn salad featuring seasonal produce such as silver corn, cherry tomatoes, and English cucumbers. The main dish was stuffed portobello mushrooms and creamy saffron-infused risotto, which included plant-based milk and cheese. Dessert was a rose and cardamom-infused strawberry shortcake with coconut whipped cream. While the main menu was plant-based, guests could order fish if they desired.
President Joe Biden is reportedly known for being a picky eater. When asked by reporters if her husband would opt for fish, the First Lady is said to have laughed and said "we'll see."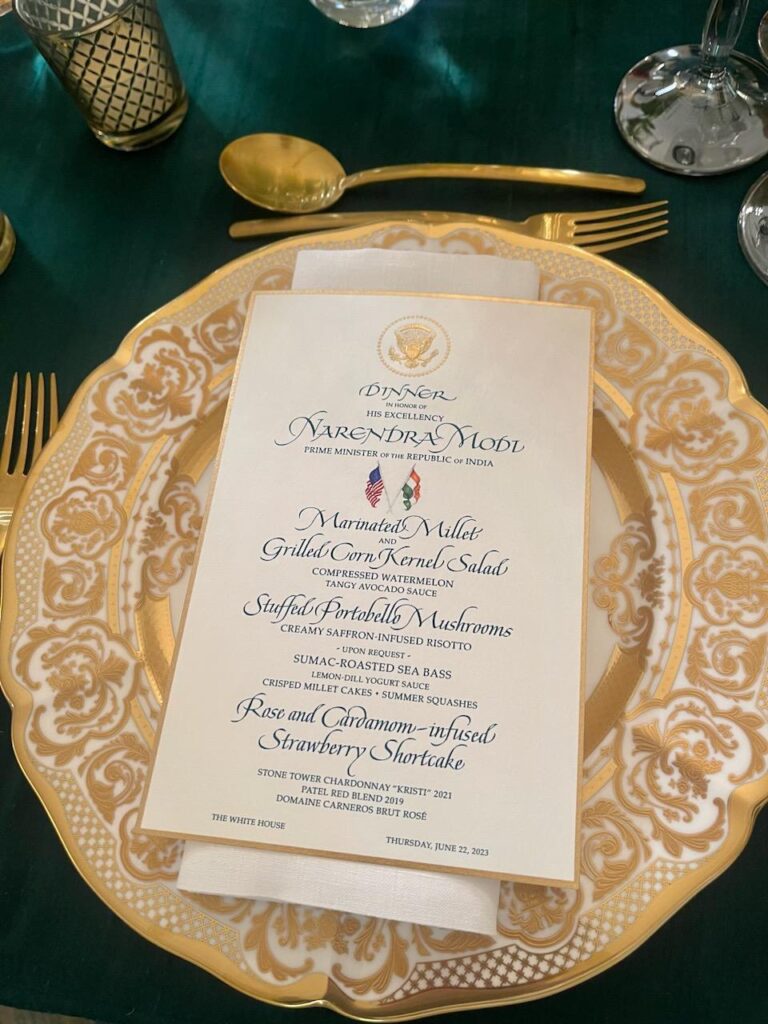 Plant-based cuisine on the global stage
This isn't the first time meat-free food has been seen at major meetings of world leaders. Last year's G7 summit (attended by the world's seven biggest "advanced" economies) served a predominantly plant-based menu. Hosted in Germany, where meat consumption is falling, the summit saw world leaders discuss a range of issues, including the climate crisis.
The plant-based menu was said to have been served in the interest of sustainability, and meat and fish were available as "add-ons" only.
Animal agriculture is responsible for at least 14.5 percent of global greenhouse gas emissions. This figure has been disputed, however, with some experts believing it to be higher. Farming animals is also driving deforestation and biodiversity loss. Experts from bodies like the UN and University of Oxford have argued that there should be a global shift towards more plant-based diets to combat the environmental impact of our food system.