The US Fish and Wildlife Service recently announced that the common hippopotamus may qualify as an endangered species, meaning they could receive new protections. But change isn't coming soon enough for hippos, animal advocates warn.
The revelation came after furious campaigning from Humane Society of the United States (HSUS). This includes a petition and threats of legal action.
The petition, co-sponsored by Humane Society International (HSI), Humane Society Legislative Fund (HSLF), and the Center for Biological Diversity, was filed in March 2022. It called for US-wide protection for hippos, which are thought to be rapidly dwindling in numbers.
Indeed, the International Union for Conservation of Nature estimates that there are 130,000, at most, left in the world.
Inaction to protect at-risk species
However, the Fish and Wildlife Service failed to respond by the deadline of June 2022. As a result, the petition collective threatened to sue. Their intent to do so was registered on February 15, 2023, also known as World Hippo Day. This triggered the new announcement from the service, which is legally considered its response to the original petition.
"This is an important first step towards saving hippos by providing the protections they so badly need under the Endangered Species Act," said Adam Peyman, wildlife programs director for Humane Society International, speaking on behalf of HSI and the HSUS.
"These animals face threats from climate change, poaching, and the commercial demand for their skin, bones, teeth, and other parts and products. Protections for hippos cannot come soon enough."
Hippos are currently not listed as threatened by extinction but are considered at risk. This will be heightened if the trade of their body parts is not closely controlled. As such, 10 African countries, including Liberia, and Togo, have called for an international ban on trading hippo parts.
Why hippo populations are becoming endangered
The US is a large and voracious consumer of hippo goods, importing thousands of items every year.
Between 2009 and 2018, it is assumed that 4,400 small leather items, 2,000 hunting trophies, and many smaller items, including teeth (sold as ivory) and skin, were brought into the country. Furthermore, it is estimated that 3,081 hippos were killed to fulfill the imports, which are still fully legal.
Outside of the import trade, hippos are at risk from the climate crisis (due to droughts, overheating, and habitat loss). They are also frequently poached for meat and high-value commodities such as their fat and teeth.
Biden administration not 'doing nearly enough'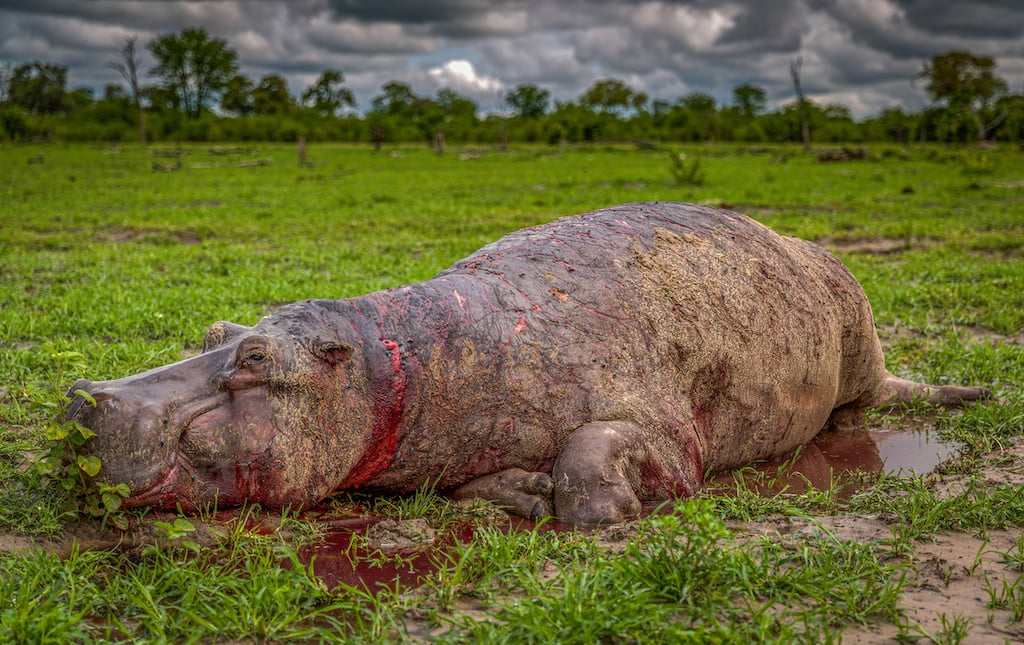 Despite acknowledging that there is "substantial scientific or commercial information" present to consider making hippos an endangered species, there could be up to a 12-month delay until a decision is formally reached. This, after the Fish and Wildlife Service failed to respond to HSUS's petition for almost a year already.
This unnecessary delay has caused those invested in the plight of the hippo to decry the Biden administration's tardiness.
"With the many clear threats they're facing, hippos are a shoo-in for Endangered Species Act protections. But the Biden administration dilly-dallied an extra nine months before making this finding," Tanya Sanerib, international legal director at the Center for Biological Diversity, said in a statement.
"This hippo delay is just the tip of the iceberg. It highlights that the Biden administration isn't doing nearly enough to combat the burgeoning extinction crisis. If iconic species like hippos are waiting in purgatory for protection, that doesn't bode well for the future of life on Earth."
Elsewhere, HSLF focused on the potential for protections to make a vast difference to the global hippo population. It referenced that in the last 50 years, the US Endangered Species Act prevented 99 percent of species covered by it from becoming extinct. These include the US national symbol the bald eagle and American alligators.