This is paid for content* [what is this?]
Complement and Plant Based News have joined forces to host the year's biggest (and happiest) online festival for plant-based health and longevity, Plantapalooza.
Join hundreds of thousands of plant-forward eaters as we learn from medical doctors, registered dietitians, bestselling authors, weight loss experts, recipe creators, and thought leaders at a virtual health festival unlike any other.
Over the course of eight days, Plantapalooza will feature in-depth discussions on everything from nutrition to fitness and lifestyle for longevity, plus cooking demos, guided meditations, on-demand fitness classes, and more.
Claim your free VIP ticket before October 24th to instantly unlock bonus guides, cookbooks, and events.
Live Healthier (and Happier), Not Just Longer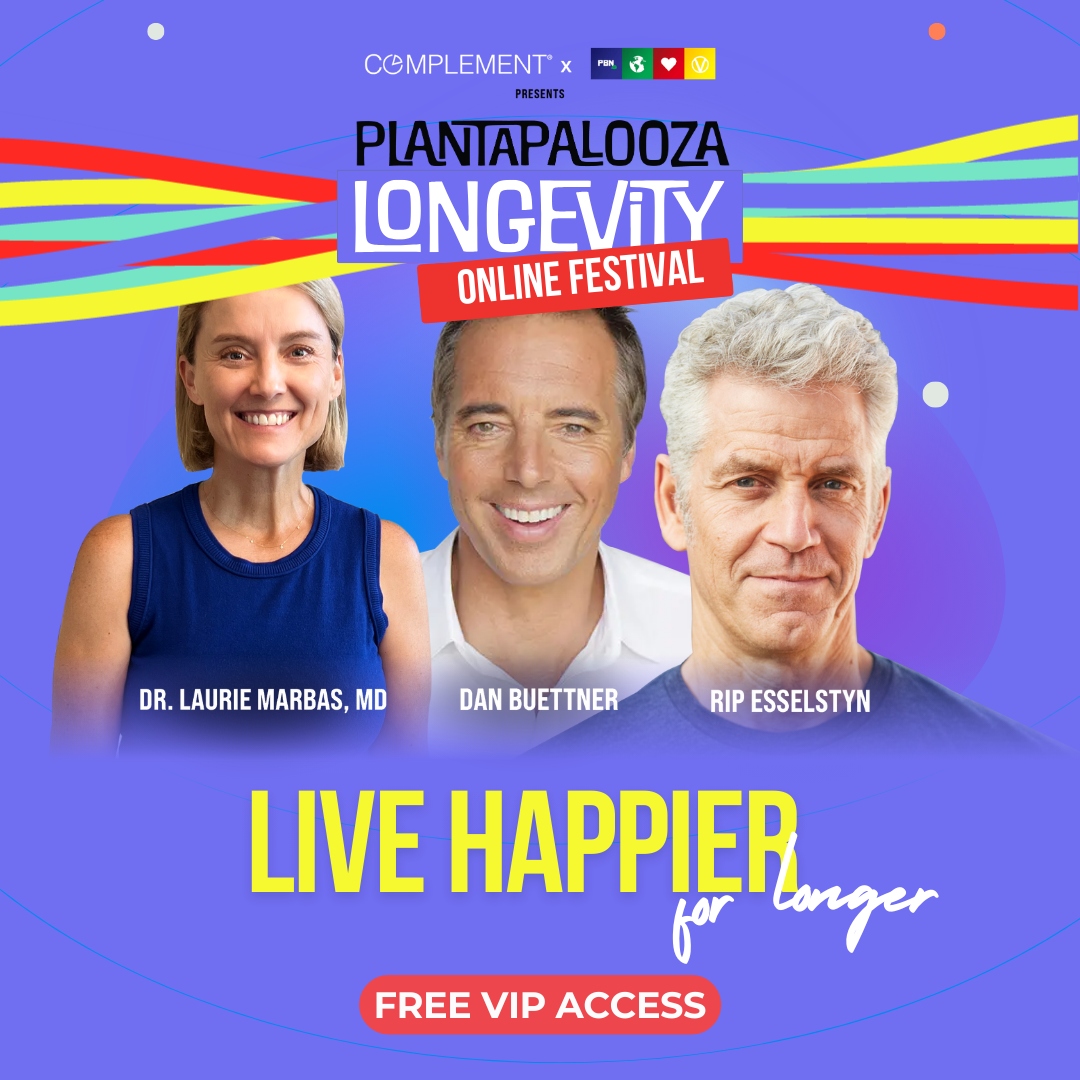 The longstanding discussion around longevity too frequently misses the point…
The goal isn't to live longer, it's to live healthier for longer.
You want to run around with your grandkids, explore new hobbies, and travel the world with your partner — taking full advantage of life no matter the age.
Longevity isn't about extending your lifespan through medications and treatments, it's about extending your healthspan.
Nutrition, mindfulness, and fitness don't just help you feel your best today, they're essential pieces to the long-term health and happiness puzzle.
At the Plantapalooza Longevity Festival, an incredible collection of expert headliners come together to share their actionable advice and groundbreaking strategies to help you live your healthiest, most vibrant life.
Advice that can help you:
Gain all-day energy
Unlock deeper sleep
Find peace of mind about your diet
Live happier
Build muscle, endurance, and mobility
Increase your confidence in the kitchen
Plantapalooza won't just give you the information, it will empower you with tools and knowledge to revolutionize your life for an improved healthspan.
The Plantapalooza Lineup
Covering topics from plant-based nutrition to disease prevention and fitness, the festival's lineup features experts from a wide range of expertise and backgrounds.
Here's a peak at who will be there, and what they're sharing at the festival:
Dan Buettner, NYT bestselling author of The Blue Zones and host of Live to 100 on Netflix, on the single most important thing you can do to extend your healthspan.
Kris Carr, NYT bestselling author and wellness leader, on the life-changing power of meditation.
Cyrus Khabatta, PhD, co-founder of Mastering Weightloss, on weight management, metabolic health, and high-fat vs. high-carb diets for long-term health.
Dr. Joel Kahn, MD, bestselling author and leading cardiologist, on fighting and preventing chronic diseases through diet and nutrition.
Rip Esselstyn, NYT bestselling author and founder of PLANTSTRONG, on the seven pillars of eating for longevity and disease prevention. 
Carleigh Bodrug, NYT bestselling author and founder of PlantYou, on reducing food waste, nutrient-dense cooking, and sustainable meal planning.
Matt Frazier, NYT bestselling author of The Plant-Based Athlete, on fitness for longevity, plus a blueprint for building a sustainable plan for long-term strength and mobility.
Dr. Laurie Marbas, MD, on the unique power of a plant-based diet and the pitfalls of a reductionist approach to nutrition.
Jeffrey & Jill Dalton, hosts of the Whole Food Plant Based Cooking Show, with incredible plant-based recipes and a step-by-step cooking demo.
Ella Magers, author and podcast host, with a practical guide to building life-long strength and fitness.
Doug Evans, bestselling author, on "ultra-foods," micronutrients, and meals that empower your lifestyle.
Click here to get your FREE VIP ticket to Plantapalooza.
How to Get the Most out of Plantapalooza
Over the course of eight days, you'll receive exclusive access to new discussions, trainings, and guides through email and your online festival portal.
And when you claim your ticket today, you'll also gain immediate VIP access to the Plant-Based Longevity Toolkit, containing:
The new Plantapalooza cookbook, with recipes from Carleigh Bodrug of PlantYou, Rip Esselstyn of PlantSTRONG, Dan Buettner of The Blue Zones, Matt Frazier of No Meat Athlete, the Whole Food Plant Based Cooking Show, and several others
Yoga and fitness videos
Nutritional guides and recipes
Guided Meditations
Free Month Access to The Healing Kitchen
And more!
While each day's theme will cover a unique aspect of health and wellness, they're all unified behind a single goal:
To help you live a longer, more energized, happier, and fulfilling life.
As a VIP ticket holder, you'll be able to stream the interviews and download the resources to use both during the event and after.
Get your free ticket before October 24th to ensure you gain access to all of the incredible Plantapalooza resources.
* This content is produced in collaboration with Complement. Our commercial partnerships with organizations like this help us to provide our free services to millions of people each week.