Project Eat Less Meat (Project ELM) has launched a campaign to raise awareness of the meatpacking industry's treatment of its workers, who often come from disadvantaged communities. Project ELM's new campaign encourages Americans to participate in Meatless Labor Day. The initiative's aim is to ease pressure on meatpacking laborers on one of the busiest days of the year.
Conditions for meatpacking laborers
Meatpacking laborers typically work 10 to 14-hour shifts, six days a week, and are severely underpaid, according to Joe Loria, the Meat Reduction Campaign Manager at World Animal Protection, US.
Workers are often not unionized or provided with health insurance. Yet the industry forces employees to work quickly in dangerous conditions. This increases the risk of lacerations, slips and falls (due to animals' blood), and ergonomic injuries.
In fact, meat workers in the US are three times more likely to suffer serious injury than the average American worker, The Guardian reported in 2018. Meanwhile, pork and beef workers are nearly seven times more likely to suffer repetitive strain injuries.
Exhaustion from being overworked means injuries are more likely toward the end of shifts, says Noga Golan of Project ELM. Golan had visited some of the plants in the Central Valley to get a better understanding of the conditions. She referred to one incident whereby a woman's arm was torn off while cleaning a machine at 1am.
Besides the horrific physical toll, these traumatic incidents impact employees' psychological health, too.
"We've heard this multiple times from talking to employees, yet I haven't come across any press or information online about this. We've heard that most new employees aren't able to make it past their first 30 days working in a meatpacking plant primarily because of the sheer quantity of blood, gruesomeness of the job, and the putrid smells," Golan said to Plant Based News.
"We generally know where meat comes from. And although we might not want to see 'how the sausage is made', it just feels wrong that the industry goes to so much trouble to keep the public eyes away," she continued. Facilities are made with high, windowless concrete walls. They enforce bans on cell phones, and keep tabs on employees with undercover staff.
"I've never seen anything like it – not even in the several different military bases I served in or guarded during my military service in Israel," Golan said.
Disadvantaged workers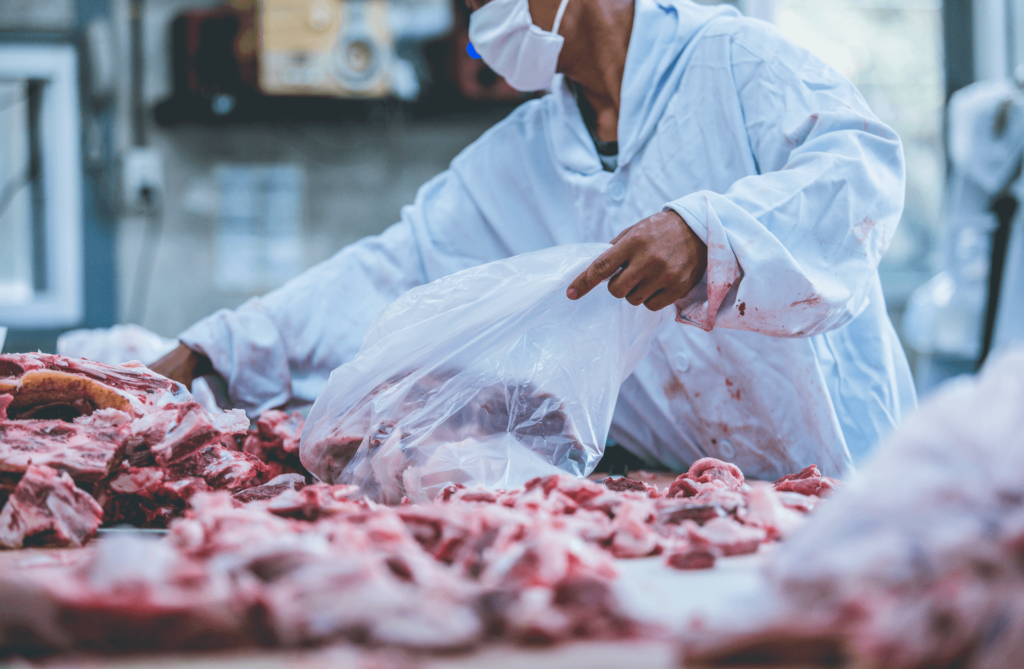 "No one wants to work in a meatpacking plant," Golan said.
The industry employs many immigrants or undocumented people, as well as documented workers who live in fear of being deported.
"You have to understand that these are people who are often desperate for work, lack formal education and college degrees, and are vulnerable to the predatory practices of the meat industry," Loria added.
"They're individuals who often need to provide for their families and are willing to work hard. Sadly, this is exactly why the meat industry preys on them."
The call to reduce meat consumption
Many organizations encourage people to remove animal products from their diets and lifestyles for animal welfare and environmental reasons. Project ELM works to raise awareness about the industry's social justice downfalls too.
"There are large demographics that those messages [regarding animal welfare and the environment] might not resonate with strongly enough, or might not even reach in the first place," Golan said. "At Project ELM, we are trying to reach those demographics with reasons that they care about and identify with."
It's what motivated the launch of the Meatless Labor Day campaign. The initiative targets a day of the year that meatpacking workers must process even more meat and work longer hours.
Celebrity chef and activist Eddie Garza said in a statement: "Labor Day is meant to pay tribute to hardworking laborers, not make them work longer hours at greater risk. The pledge to reduce meat consumption on Labor Day is targeted at raising awareness of these issues and alleviating some of the pressure for meatpacking workers this holiday weekend."
Resources
The Brave New Life Project assists workers in transitioning out of the industry and into more humane, sustainable careers.
Those interested can sign up for World Animal Protection's 21-day meat reduction journey here.
Learn more about Meatless Labor Day here.