Coffee Wars, a new feature film starring British singer-turned-actor Kate Nash, will soon be available to watch on Amazon Prime.
The film follows Nash's character, Jo, as she attempts to run a successful vegan coffee shop. All the while, she is hampered by her team of loveable but unreliable staff. In a bid to win some money to keep the shop open, the group enter the World Barista Championships. The lingering question is: will they beat their dairy-fuelled opponents?
While being an entertaining watch, the comedy also aims to shine a light on the need to embrace dairy-free living. This, while also underscoring the importance of ethical consumption and women empowerment in the professional world.
What the cast say
Nash, a passionate vegan and feminist activist, said in a statement: "Coffee Wars brings pressing issues to a global audience in a laugh-out-loud comedic way.
"It invites viewers to challenge their beliefs about what it means to be an ethical consumer and the overall environmental impacts of their purchases.
Fellow cast members, including Toby Sebastian, who play's Nash's nemisis Rudy, agree. The notion of delivering critical messaging through lighthearted entertainment seems to be a driving force behind the entire production.
"I think a lot of the hardest issues in the world, the biggest problems such as the issues of global warming and it's dire effects, are often tackled, sometimes best, through comedy," Sebastian told Plant Based News.
Vegan behind the scenes
Viewers won't be able to tell, but all products used in Coffee Wars, including scenes of "dairy milk," are vegan and sustainably sourced. Likewise, all hair, makeup, and wardrobe choices were made with ethics and the environment in mind.
Taking things even further, all animals featured in the production are reported to have been rescued by the production team. When the film wrapped, they were taken to reputable sanctuaries to live out their lives in peace and contentment.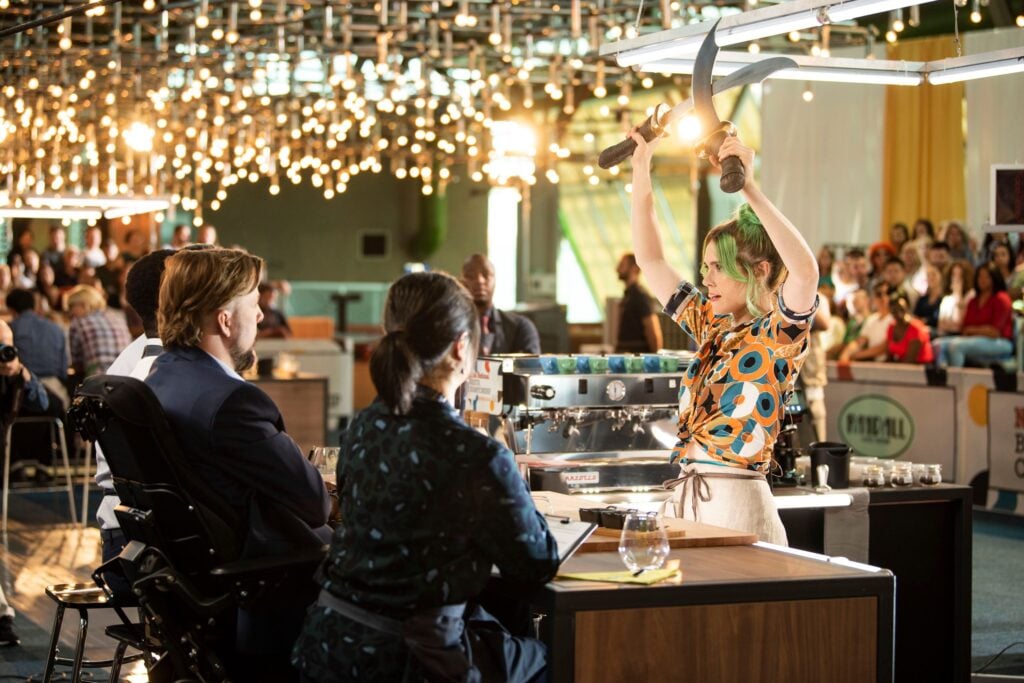 'Coffee Wars' puts its profits where its mouth is
Alongside spreading the message that dairy has no place in an ethical or environmentally stable world, VegGood Films, the producer of Coffee Wars, has pledged to donate 100 percent of the film's proceeds to charity.
"Our society simply cannot continue to consume planet-crippling dairy products. Especially as plant-based alternatives, such as the ones featured in our film, are readily available, healthy for our bodies and the planet and, most importantly, delicious," Jay Karandikar, executive producer of VegGood Films, said in a statement.
"We are 100 percent committed to this cause and are proud that our film's proceeds will support organizations that are working to ensure the health and sustainability of the planet."
VegGood Films was founded by a cohort of impact investors who want to use mainstream media to inspire ethical change. Proceeds donations will be made to environmental and animal-focused beneficiaries, via a charitable trust.
The impact of dairy
The global dairy industry currently produces around 600 million tons of milk each year. This represents the systematic abuse of more than 274 million dairy cows.
In addition to generating an estimated 2.7 percent of all human-made greenhouse gas emissions, the milk sector also contributes to deforestation and vast water use.
Coffee Wars will be available to watch from March 21, 2023 on Amazon Prime Video, Google Play, and iTunes.