An animal branded "Britain's loneliest sheep," has attracted huge media attention over the last few days. After being stranded beneath a steep cliff in the Scottish Highlands for more than two years, she was "rescued" by a group of farmers last week.
Activist group Animal Rising, who had initially agreed a plan with the landowner to rescue the sheep, had prepared to move her to a sanctuary. However, a group of farmers made their own rescue mission – and handed the sheep to a petting zoo.
The resilient ewe was in good health when she was rescued, despite fending for herself for all that time. While the country is celebrating her rescue, animal rights campaigners have slammed the decision to move her to a petting zoo, as these businesses are widely considered to be exploitative.
But what happened to Fiona? How did she become known as Britain's loneliest sheep? And why is there so much controversy surrounding her rescue? Here's everything you need to know.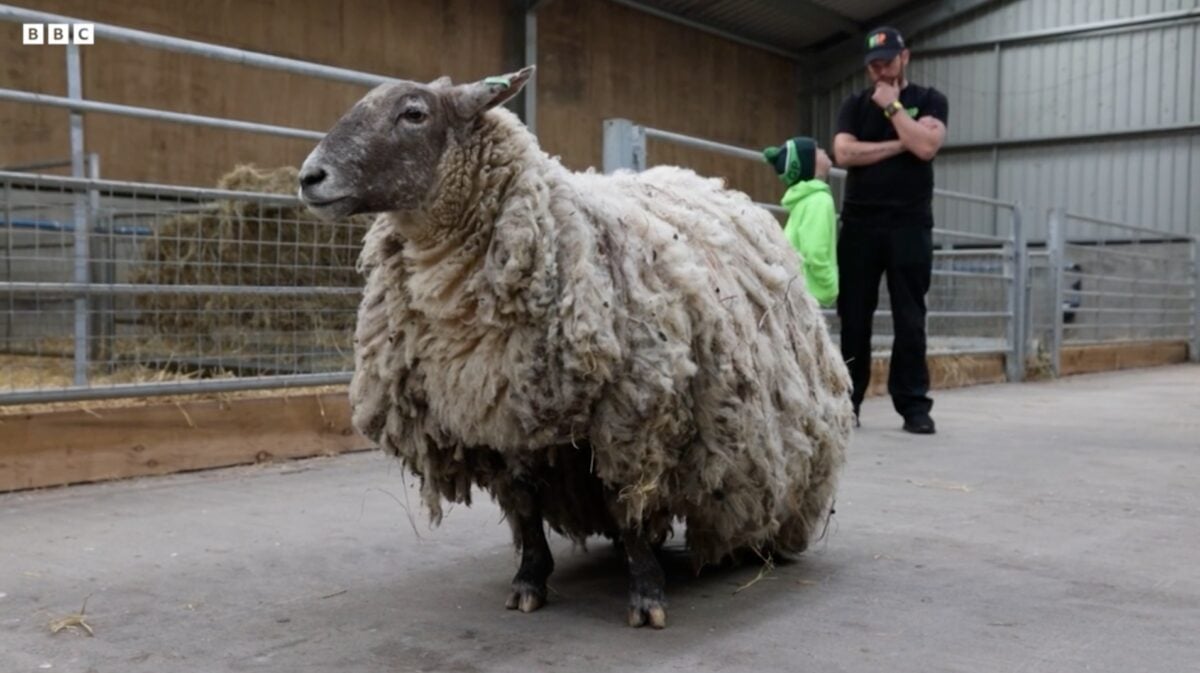 Who is Britain's loneliest sheep? What happened to her?
The ewe – now named Fiona – lived alone at the foot of cliffs in the Scottish Highlands for more than two years. It's thought that she got trapped there in 2021.
A local kayaker named Jillian Turner first spotted the sheep at the foot of a steep cliff at Cromarty Firth two years ago. Turner later described how Fiona had called to her as she went by, but had turned back "looking defeated" as she passed the beach. Turner assumed at the time that Fiona would make her way back up the mountain, but was shocked to see her at the same spot when she went kayaking two years later.
Turner decided to contact animal welfare organizations in the hope that they might be willing to help free her from her isolation. Frustrated by their lack of action, the kayaker launched an appeal for support to rescue the sheep. The story then hit the headlines and gathered widespread media attention.
Her isolated existence led her to become known as "Britain's loneliest sheep" across the media. An online petition to rescue her attracted more than 52,000 signatures.
The Scottish Society for Prevention of Cruelty to Animals (SPCA) said that it was aware of a stranded sheep but was not able to facilitate a rescue. The rocky conditions of the area that she was in meant that a rescue mission would be "incredibly complex" as it would be very difficult to reach her on boat or dinghy, the organization said.
Despite the tough living environment, Fiona had managed to stay in good health. That is despite having excessive wool as a result of the way human sheeps* are bred by humans. She used a cave for shelter and grazed on grass, weeds and shrubs.
Animal activists prepare to rescue stranded sheep
On Monday, October 30, five members of Animal Rising began preparations to rescue "Britain's loneliest sheep."
The group found a passage down the cliff face. They then visited the sheep multiple times to gain her trust. They brought food and spent time letting her become accustomed to them.
Having discussed their plans with the landowner, the group agreed to carry out the rescue on Sunday, November 5. They were told that the landowner would also provide rescuers to offer extra support.
Writing on Instagram, Animal Rising said: "Since Monday we have had a team in the Highlands, preparing to rescue Britain's Loneliest Sheep, who we have been affectionately calling 'Sheepie' (now known as Fiona).
"Over the last 5 days we formed a strong bond and connection with this gentle, neglected soul. A rescue was agreed with the local landowner, whose royal connections meant he was uncomfortable about the sustained press attention.
"In return for carrying out the rescue and keeping his name out of the press, he accepted that we would take Sheepie to Tribe Animal Sanctuary near Glasgow, where she could live out the rest of her life in peace and security."
Snatched from sanctuary
On Saturday, November 4, however, a team of five farmers made a similar descent to rescue the sheep.
The farmers descended a rocky gully using a winch, and brought Fiona back up in a canvas sack. Their "rescue" operation undermined the agreement that Animal Rising had in place with the landowner.
Once retrieved from the base of the cliff, the farmers planned to deliver Fiona to a commercial petting farm.
"[The landowner] insisted our rescue had to go ahead on Sunday the 5th November," said the Animal Rising team on Instagram, "but, this morning, he facilitated a covert operation to remove Sheepie and take her to 'Dalscone Farm Fun' petting zoo on the outskirts of Dumfries instead."
Jamie Moyes from Animal Rising told Plant Based News: "We spent a few days getting to know her while waiting for the weather to clear. We planned to carefully rescue her using a sling and rope, which we believe helped inspire the other rescue that took place.
"We had an agreement with the landowner for her to go to Tribe Animal Sanctuary. When we were ready the landowner delayed our rescue under false pretenses of cows being moved and, while we waited, he got his friends in to take her to a petting zoo."
What are campaigners calling for?
Following Fiona's "rescue" from the bottom of the cliff, she now looks set to lead a life of exploitation rather than freedom.
"Whilst we are pleased this poor ewe is no longer stranded at the base of a cliff, she has just gone from isolation to exploitation," Animal Rising wrote on Instagram.
"It is completely inappropriate that she would be taken to be made a spectacle of at a petting zoo."
Instead, campaigners believe that Fiona deserves a chance to live free from exploitation at an animal sanctuary. Unlike the animals at a commercial petting zoo, sanctuary animals are free to live their own life on their own terms.
What's the problem with petting zoos?
Petting farms are another part of the cycle of use and abuse of animals. Contact with people can be deeply stressful for the individuals who are used as a spectacle and plaything. Many of the animals come from meat production and will ultimately end up back in it.
At petting farms, animals have no choice whether or not they are handled. Breeders produce animals that will appeal to paying guests. This also means that many older animals are abandoned once they lose their "cuteness."
Moyes told PBN: "A petting zoo is not an appropriate environment because Fiona is going from isolation to exploitation. The Scottish SPCA themselves said: 'the sheep has been living as a feral animal for some time and will be extremely stressed by human contact​'."
The right to rescue?
In May 2023, Animal Rising rescued three lambs from the royal family-owned Sandringham Estate in Norfolk.
These lambs, like millions of others, would have faced slaughter after only a few months of life. They would already have experienced mutilations like tail docking and castration, which are commonplace soon after birth. These are often performed with no pain relief.
Rescuing any living being from suffering is a natural instinct for most people. However, the fact that Fiona is due to be placed back into an environment of exploitation could be seen to highlight how ingrained animal use has become.
Indeed, in the US, animal rescuer Wayne Hsiung was convicted in November 2023 for openly freeing dying chickens and ducks. In the trial, he was barred from describing the appalling conditions in which the animals he rescued were kept.
The UK media seems to have a similar ignorance for the conditions that animals suffer on farms and in petting zoos. The BBC described Fiona's new home in glowing terms without making mention of the psychological distress she may face.
Sheep farming in the UK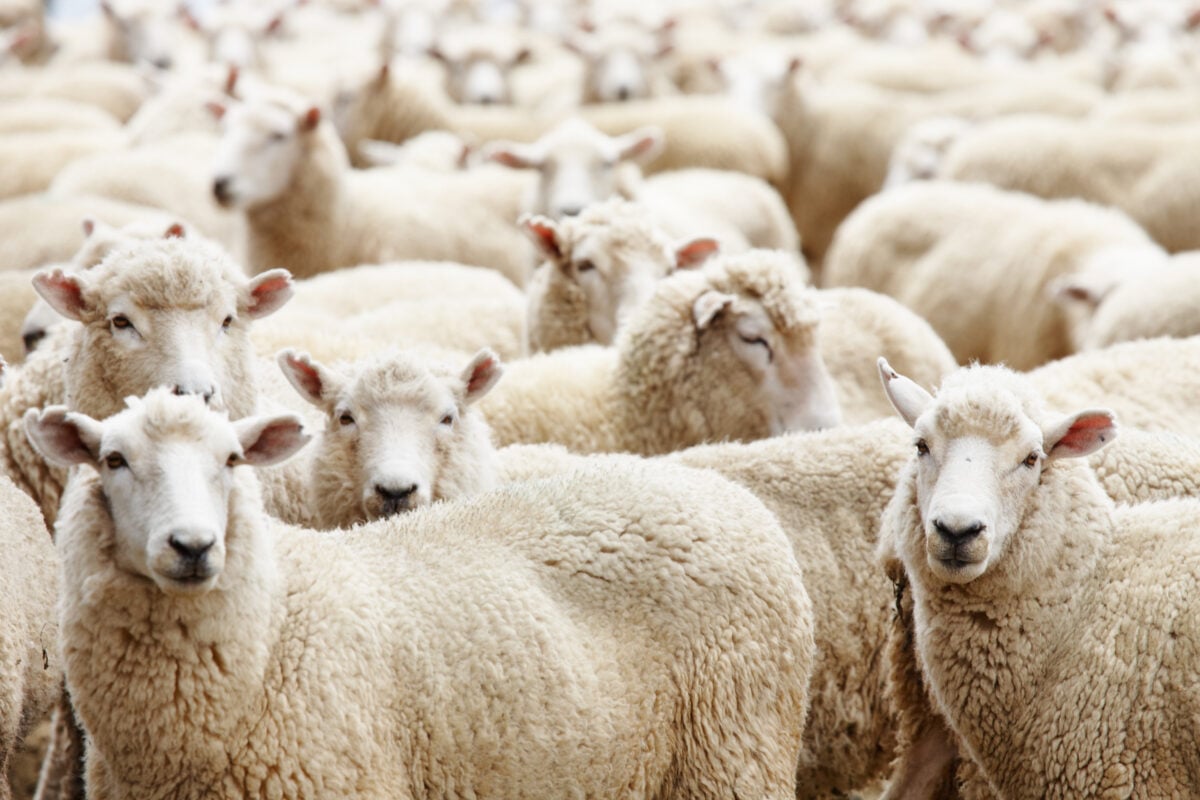 Farming sheeps for wool and meat is big business in the UK. It is also an industry that inflicts suffering on millions of individuals.
Sheeps* farmed for their wool suffer great pain and distress too. Shearing is often portrayed as a wholesome and gentle process but this is not a true picture of the experience.
Sheeps are easily frightened and don't like being handled, meaning they will be forcibly restrained. In the UK, there is also no legal requirement for shearers to be trained. Many will often sustain injuries while being sheared for their wool.
While farmers will have you believe that sheep farmers are doing the animals a favor by relieving them of their wool, this is only necessary because they have been selectively bred to produce considerably more than they should. In the natural world, their wool would shed of its own accord.
What next for Fiona?
After two years living alone, it has been reported that Fiona is in great condition.
Protests initially looked like they might have saved the rescued sheep from being moved to the petting farm. However, she is now said to have arrived at Dalscone Farm "under the cover of darkness" on Sunday night.
"We held up our side of the deal," the Animal Rising rescuers said. "Now it is time for the landowner and the Scottish SPCA to make sure Sheepie can live out the rest of her days peacefully, and safely, in a sanctuary; not as an attraction."
* While the English language typically refers to multiple sheeps as "sheep," we choose to use "sheeps" to emphasize their individuality.