Zucchini can get stuffed! With a tofu based ricotta, that is, before being baked in marinara sauce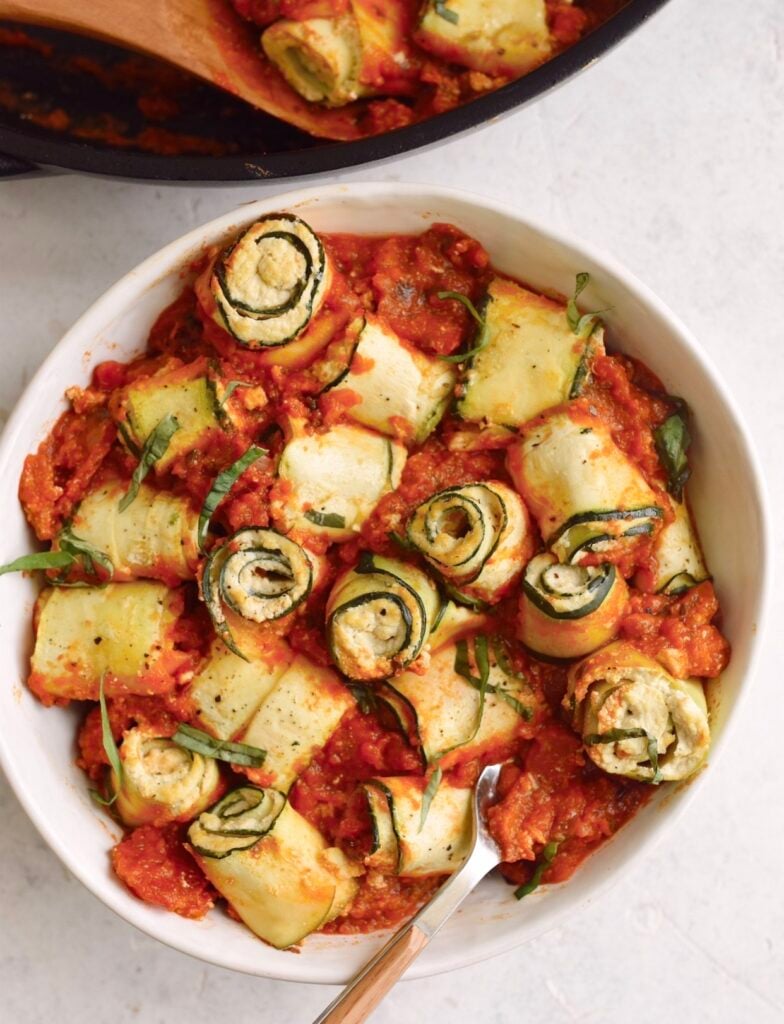 Ingredients
2

3 zucchini

32

ounces

marinara sauce

1

14 ounces container firm tofu

Juice of 1 lemon

1/2

tsp

salt

4

tbsp

nutritional yeast

1/2

tsp

garlic powder

Fresh basil to garnish
Instructions
1. Remove tofu from package and wrap tofu block in 2 paper towels. Squeeze for 10 seconds then break apart tofu into your food processor. To the food processor add salt, lemon juice, nutritional yeast, and garlic powder. Pulse 6-10 times until you reach the consistency of ricotta cheese. Taste and adjust salt and seasonings as needed.

2. Preheat oven to 400°. Slice zucchini lengthwise into 1?8" thick strips, I used a vegetable peeler!

3. Spread marinara sauce onto the bottom of an oven-proof skillet; set aside.

4. Spread 1 tablespoon ricotta mixture evenly along each zucchini slice. Roll up and place in the prepared skillet; repeat with remaining zucchini slices and filling.

5. Place into oven and bake for 25-30 minutes, or until lasagna rolls are heated through and the cheese is beginning to brown.

6. Serve immediately. Garnish with ground pepper and fresh basil.