Brett Cobley, aka EpiVegan, puts a vegan spin on the French classic Quiche Lorraine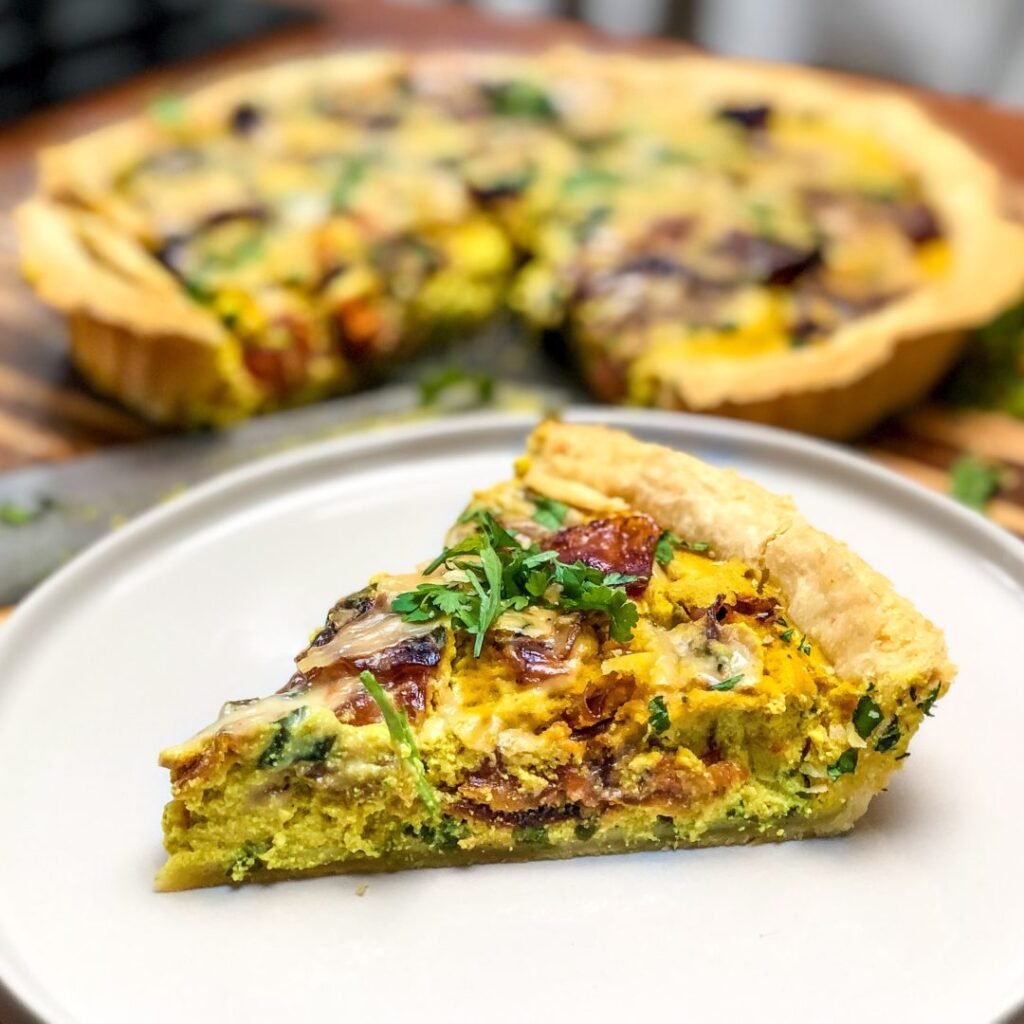 Ingredients
400

g

firm tofu

4

table spoons nutritional yeast

A pinch smoked paprika

1/2

teaspoon

turmeric

1/2

cup

gram flour

chickpea flour

1

tin of chickpea juice

1/2

cup

water

Pinch

of salt

Handful of chopped spinach

8

vine tomatoes

6

rashers rice paper bacon

1

cup

vegan cheese

A dash of vegan milk
Instructions
1. Grease your flan tin with some vegan butter then dust with flour to stop the pastry sticking.

2. Dust your surface and start to roll the pastry out large enough so that it completely covers the tin and allows for shrinkage.

3. Carefully line the tin with the pastry, pressing it into the corners and allowing the excess to over hang by 2cm cutting away any additional excess. Blind back with grease proof paper and baking beans for 20 mins on 170c.

4. While the base is blind baking you can make the 'Egg'. Filling. Add the firm tofu, nutritional yeast, smoked paprika, turmeric, gram flour (chickpea flour), chickpea juice, water, and salt to your blender and blend into a smooth consistency.

5. Pop your vine tomatoes on to a baking tray and coat with olive oil and pop in to the oven with the tart for the remaining 15mins.

6. Remove the tart based and take out the beads. Now you can fill the base with the 'egg' mix and start to add the fillings. Scatter your chopped spinach and poke into the mix with a fork. Now you can evenly distribute the tomatoes and 'bacon' throughout the tart then return to the oven for a further 30 mins on 140c.

7. After 25 mins begin to prepare your cheese topping. Add a little plant milk to your sauce pan and add the vegan cheese and stir on a low heat until completely melted.

8. Remove the quiche from the over and cover with the cheese sauce. Even out the sauce the bake for a further 10 mins.

9. Remove the quiche from the oven and trim the edge neatly then allow it to rest for 1 hour.

10. Pop the quiche out of the tin and slice up. Enjoy!
This recipe was republished with permission from Brett Cobley. Follow Brett here.