This hearty vegan potato bake (potatoes au gratin) with pumpkin and lentils is a great fall recipe for those cosy nights spent inside watching horror films on Netflix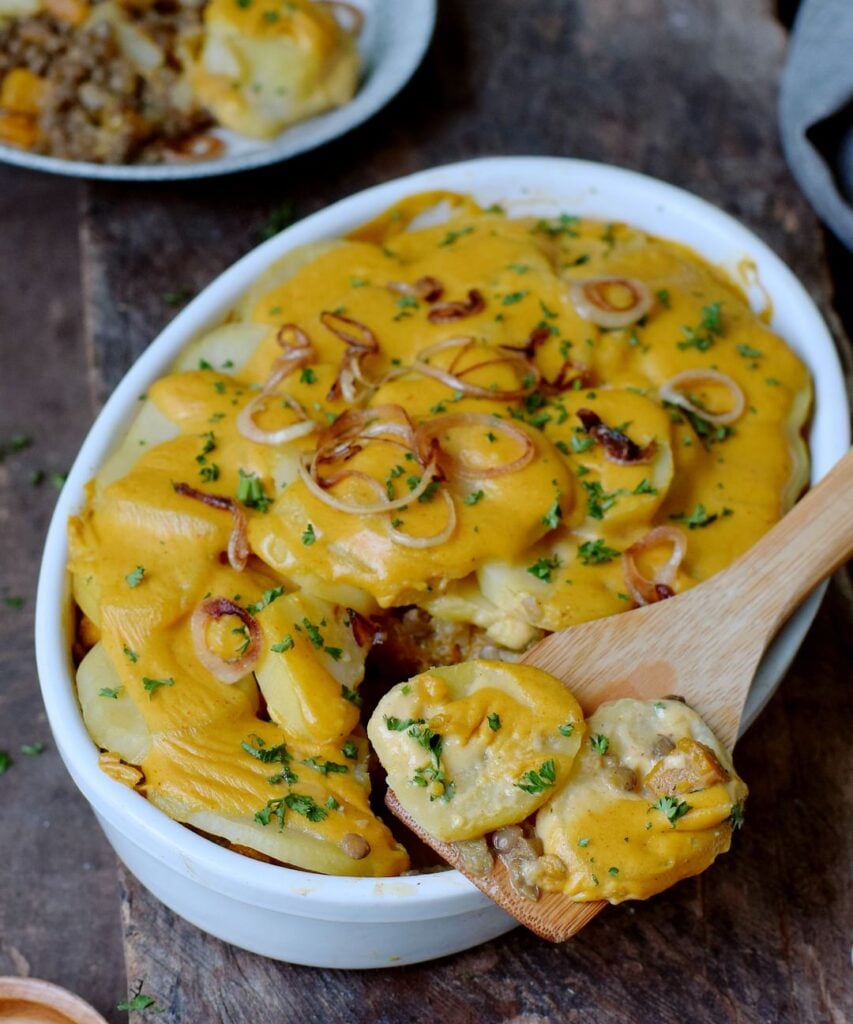 Ingredients
2

pounds

potatoes peeled and sliced

900 g

3

cups

pumpkin chopped into 1

inch cubes (400 g)

1

heaping cup dry lentils

I used brown ones (200 g)

2

cups

of vegetable broth or water

480 ml

1

tbsp

vegetable oil divided

1

large onion diced

3

cloves

of garlic minced

1

batch of

or 7 oz

200 g vegan cheese of choice

2/3

cup

vegan cream cheese

150 g

Spice mix: 1/2 tbsp onion powder

1/2 tbsp garlic powder, 1 tsp ground cumin, 1/2 tsp ground nutmeg, 1/2 tsp smoked paprika, 1/4 tsp red pepper flakes, sea salt & pepper to taste, and fresh or dried thyme to taste (optional)

Fresh herbs to garnish

e.g. parsley or thyme

Fried onion rings to garnish

optional
Instructions
Rinse lentils under running water. I prefer to soak the lentils for about 10-15 minutes in lukewarm water because they are better digested this way (this step is optional). Drain the water afterward.

Meanwhile, peel and slice potatoes about 0.25 inches thick (0,6 cm). Cook in salted water for 12 minutes or until fork-tender (but not too soft).

Chop the pumpkin, onion, and garlic.

Heat 1/2 tbsp oil in a pot, stir in the onion and fry for about 3-4 minutes over medium heat. Add garlic, all spices, the lentils and 2 cups of vegetable broth. Bring to a boil and let simmer for about 15 minutes or until there is no water left in the pot.

Preheat oven to 390 degrees F (200 degrees C).

While the lentils cook, you can prepare the vegan cheese sauce (or use store-bought vegan queso instead). Next, add the vegan cream cheese to the vegan cheese sauce and stir with a whisk.

Toss the pumpkin with the other half tbsp of oil and fry in a pan for 3-5 minutes.

Add a layer of the cooked potato slices into a greased baking dish.

Then add the cooked lentil mixture.

Now pour about half of the vegan cheese sauce/cream cheese mixture on top.

Add the pumpkin cubes and the remaining potato slices.

Finally, pour the other half of the vegan cheese sauce/cream cheese mixture on top.

Cook in the oven for about 25 minutes. Garnish with fresh herbs (e.g. parsley). Enjoy!