These Vegan Pan Fried Buns have the best of both worlds – soft and fluffy bun with a crispy bottom! Featuring a savory nutritious filling with mushrooms, walnuts and chives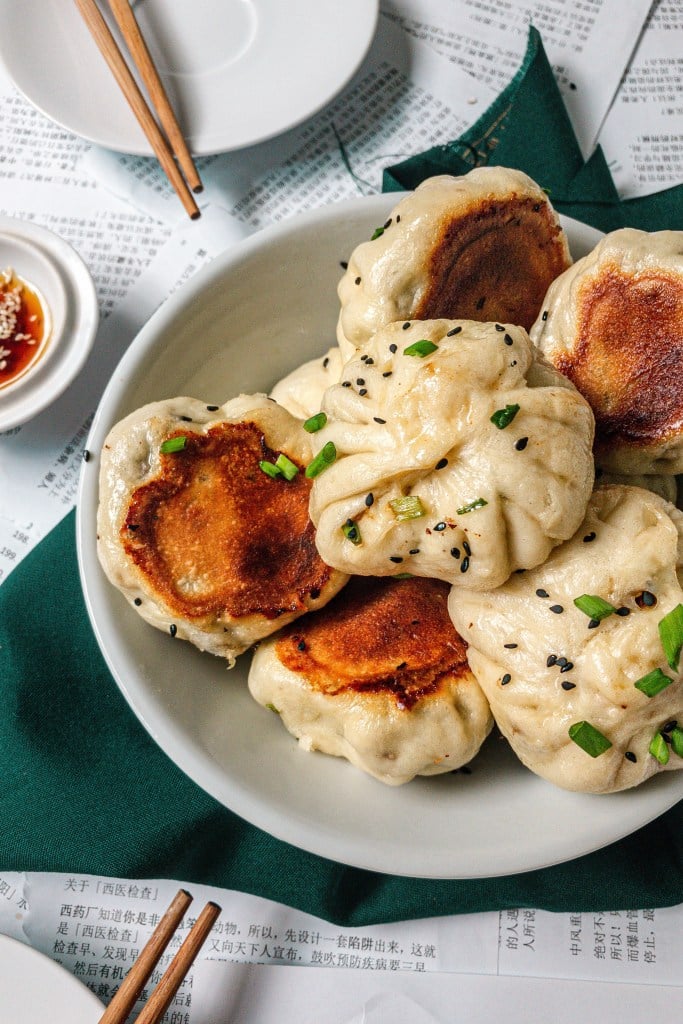 Ingredients
Bun Dough
¼

tsp

yeast

1

tsp

sugar

½

cup

warm water

1¼

cup

all

purpose flour more for dusting

½

tsp

baking powder

? tsp salt

1

tsp

oil
Mushroom + Chive Filling
6

7 dried shiitake mushrooms (rehydrated and chopped roughly, sub for fresh mushrooms)

½

cup

100g walnuts sub for more mushrooms

100

g

chives diced

2

garlic cloves

½

inch

ginger

1

tsp

dark soy sauce

1

tbsp

light soy sauce

1

tsp

sesame oil

1

tsp

Chinese cooking wine

1

tbsp

cornstarch

1

tsp

sugar

½

tsp

white pepper

½

tsp

salt

reserved mushroom water
To Serve
black sesame seeds

scallions

dipping sauce*
Instructions
Soak the dried shiitake mushrooms and walnuts overnight to soften.
Make the bun dough
In a measuring cup mix water, sugar and yeast. Let sit for a few minutes until foamy.

Mix the dry ingredients together then pour in the yeast mixture and oil. Mix until a sticky dough forms. Pour out onto a floured work surface. With floured hands, knead the dough for a 3-4 minutes, dusting with flour whenever it starts to stick. You should get a dough that is smooth, no longer sticky and springs back when you poke it.

Shape into a ball and let rise covered with a kitchen towel in an oiled bowl for 1 hour or until doubled in size.
Make the filling
Add all the filling ingredients into a food processor and pulse until you reach your desired texture. Fewer pulses for a chunkier filling and vice versa. If it seems too dry, add in the reserved mushroom water a tablespoon at a time.
Fill the buns
On a floured working surface, divide the dough into 8-10 equal parts.

Roll each part into a small rectangle, fold the opposite sides towards the center and turn upside down. Pinch down the sides of the dough and rotate with another to produce a smooth round ball. Cover the dough with a kitchen towel to prevent them from drying out.

Flatten each ball of dough into a small round. Then start to roll only the edges of the dough, rotating the round 45° after each roll. The edges should be thinner then the center.

With the dough on your left palm, place 1½-2 tbsp of filling in the center of the round. Use your right thumb and first forefinger to pleat the dough while using your left thumb to press down on the filling. Rotate the bun as you pleat. Once you reach the end, pinch the last bit of dough together then press it down.
Cook the buns
In a large pan with some oil over medium heat, arrange the dumplings while the pan is still cold. It's okay if they touch. Once it starts to sizzle, pour in enough water to cover half the buns*** and let steam for 7 minutes with the lid covered.

After 7 minutes, most of the water should have evaporated. Continue to fry the buns until the bottoms are golden brown and crispy. Top with black sesame seeds and diced scallions.

Serve with some dipping sauce while they are warm and fresh. Enjoy!
Make the bun doughMake the fillingFill the bunsCook the buns