This omelette is by far one of the tastiest things you can make for breakfast! The chickpea flour combined with silken tofu creates the fluffiest texture so close to a regular egg omelette!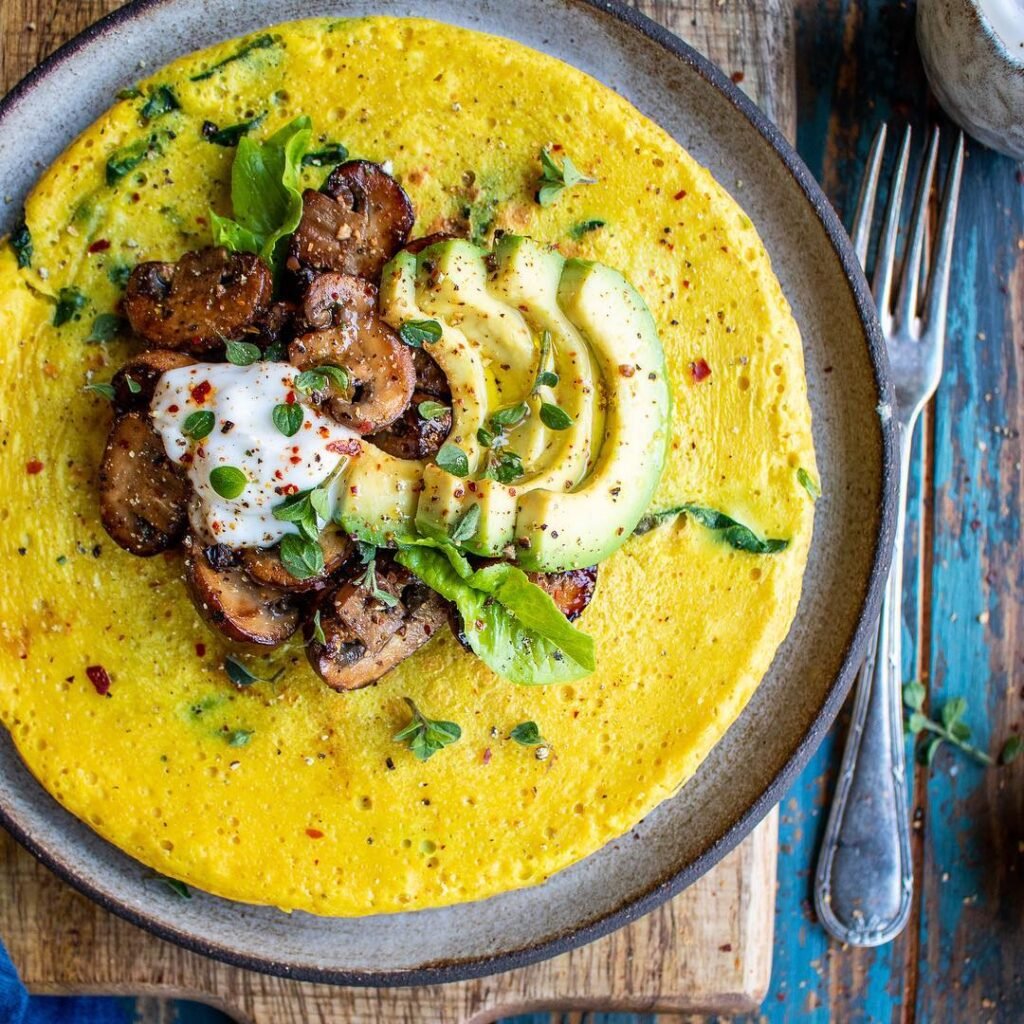 Ingredients
Omelette
1/2

block of silken tofu

about 150g Please don't sub it with the regular firm tofu as it won't work!

1/2

cup

of chickpea flour

also called Gram flour

1/2

cup

of water

3

tbsp

of nutritional yeast

1/2

tsp

of salt

1/2

tsp

of turmeric powder

for color

1

tsp

of baking powder

A dash of oil for cooking
Filling
1/2

avocado

A squeeze of lime juice

Salt and pepper to season

About 150g of chestnut mushrooms sliced

A generous handful of finely chopped kale

1

garlic clove crushed

A dash of soy sauce

Optional: Some cashew cream cheese or any other vegan cheese of your choice
Instructions
Place all the ingredients for the omelette Into a blender and blend util smooth and creamy. Let the batter sit in the blender for 5 minutes, this will help to thicken it up. Heat up a dash of oil into a large non stick pan. Once hot pour in the batter and try to create a round shape. Cover the pan with a lid and cook the omelette for about 5 minutes on the first side. Flip on the other side and cook for another 2-3 minutes. In the meantime in separate pan add a touch of oil and the crushed garlic. Cook the garlic on a low heat for only a couple of minutes. Add in the sliced mushrooms and chopped kale. Add the soy sauce and cook for 5-8 minutes on a medium heat until all the water from the mushrooms has evaporated.

Serve the omelette in a large plate. In a small bowl mash the avocado with a fork and add the lemon juice, salt and pepper. Spread the guacamole onto the omelette, add the mushrooms and kale and top it with some cashew cream cheese. Enjoy while still warm!