These vegan lemon curd shortbread cookies are a very decadent dessert served best with vegan vanilla ice-cream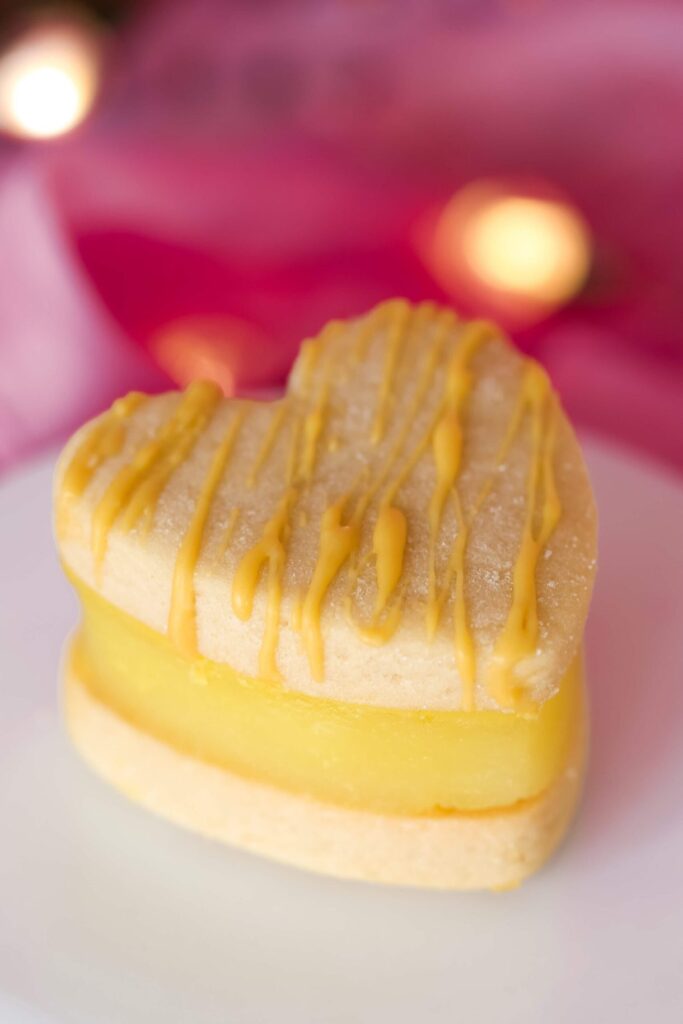 Ingredients
Lemon Curd Filling
45

g

cornflour or cornstarch

45

g

vegan butter or margarine

350

ml

lemon juice

120

g

caster sugar
Shortbread Cookie
250

g

vegan butter or margarine at room temp

80

g

icing or powdered sugar

300

g

plain all

purpose flour plus extra

1

tsp

vanilla bean paste or extract

100

g

vegan white chocolate

vegan yellow food colouring

suitable for candy and chocolate
Instructions
HOW TO MAKE THE LEMON CURD
Line a small baking tin with baking paper. You want to make a rectangle 14 cm x 20cm.

Melt butter in a small saucepan. Take off heat and mix in flour to form a paste.

Return to medium heat and add remaining ingredients and continue to stir until sugar has dissolved and curd thickens. You can add a little yellow food coloring if you want a more yellow color.

Take off heat and pour into your lined baking tin. You want the curd to be about 1.5CM in height. Place in the fridge to set completely. You can leave this overnight or at least 2 to 3 hours. You want the curd to be very firm.

Using a heart shaped cookie cutter (5cm from middle tip to the bottom point) gently press the cutter into the curd and use a small metal spatular to lift the hearts from the curd. You should have 8 to 9 hearts. Set aside.
HOW TO MAKE THE SHORTBREAD
Pre-heat your oven to 175C / 350F and line 2 baking trays with baking paper.

Using a mix master with a paddle attachment, beat butter on low to soften it for minute. Then add sifted powdered sugar and cream together for 2 minutes until light and fluffy. Scrape down the sides half way through.

Add vanilla extract and beat on low for 30 seconds.

Add sifted flour and beat on low. The mixture will start to come together as crumbs and then will form a soft delicate dough. If needed, add 1-2 tbsp of water if it's not coming together.

Using your hands bring the dough together into a ball. If it's super sticky and sticking to your fingers (see my video example) add a little extra flour. Place in the fridge for at least 30 mins to a few hours. I even leave mine overnight sometimes. It makes it a lot easier to cut out the cookies.

Roll dough out on bench about 5-7mm or just over 1/2cm thick and cut with the cookie cutter. You want a minimum of 18 cookies. You may have some extra.

Place cookies on the tray and bake for 23-25 minutes on the top rack of your oven. Check them at the 20 min mark. They will remain quite pale. You want to slightly under bake them so they remain soft-ish.
ASSEMBLING THE COOKIES
Melt the white chocolate and stir through a yellow color. Using a butter knife turn a cookie upside-down and put a small dot of chocolate on the center of the cookie.

Put a lemon curd heart on top of the chocolate to seal it to the cookie. Make sure you line up the curd with the cookie so it's plush. Grab another cookie and add a dot of chocolate on the bottom and push it onto the top of the curd to complete the cookie.

Drizzle chocolate over the top of the cookie and allow to set on a cooling rack. I place them in the fridge to help them set. Repeat the process until done. You can decorate with coconut, nuts, sprinkles or other types of chocolate.

Serve with vanilla ice cream. These keep up to a week in the fridge.
HOW TO MAKE THE SHORTBREADASSEMBLING THE COOKIES
This recipe was republished with permission from Sara Kidd. Find the original recipe here.