If you're looking for a seriously lazy, quick-fix dessert then this is probably the one for you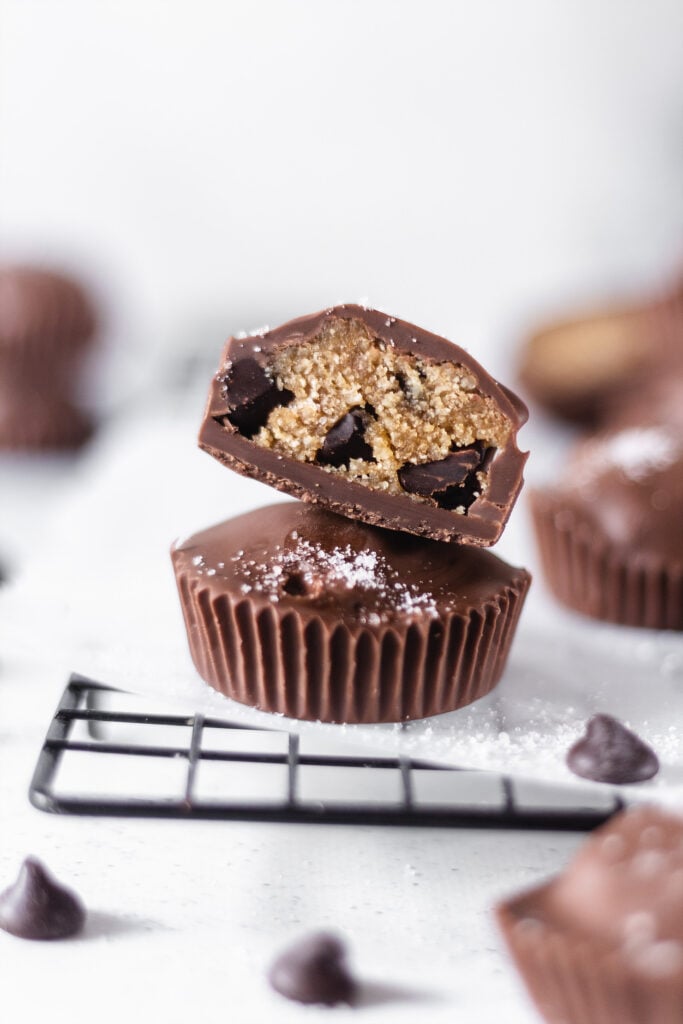 Ingredients
Cookie Dough
1

cup

almond flour

1 ½

tbsp

cashew butter

¼

cup

vanilla

flavored soya milk

3

tbsp

coconut sugar

¼

tsp

salt

¼

cup

coconut flour

½

cup

vegan

friendly chocolate chips
Chocolate Coating
250

g

vegan

friendly milk chocolate (use dark chocolate if preferred)

1

tsp

coconut oil
Instructions
Fill a saucepan approximately ? ways with water and bring to a simmer.

Add the chocolate and coconut oil to a large heat resistant bowl and sit the bowl on top of the saucepan.

Allow the steam to heat and melt the chocolate, ensuring that no water gets into the chocolate mixture.

Once melted, add 1 tbsp of the melted chocolate to each bun case (or just enough to create an even layer of chocolate as the case).

Allow to cool slightly before sitting the bun cases into the freezer to set for 20 minutes.

Meanwhile, combine the dry ingredients in a large bowl; almond flour, coconut flour, salt and coconut sugar.

In a separate bowl, whisk together the wet ingredients; cashew butter and vanilla soya milk.

Add the wet ingredients to the dry ingredients and mix using a spatula or knead with your hands.

Add the chocolate chips and work them through the mixture as evenly as possible.

Form the dough into a ball, if for some reason your mixture is too wet of dry you can add more almond flour or soya milk to adjust the consistency.

Sit the cookie dough into the fridge for about 15 minutes.

Add a tbsp of the cookie dough to each bun case and flatten using a spoon (leaving space around the edges for the chocolate coating).

Pour the remaining melted chocolate over each cookie cup and place back in the freezer to set for 10 minutes or longer if needed.

Once ready, garnish with some pink Himalayan salt or seat salt if desired.