A homemade flakey pie crust that is so rich and buttery (minus the butter of course) combined with a hearty, creamy filling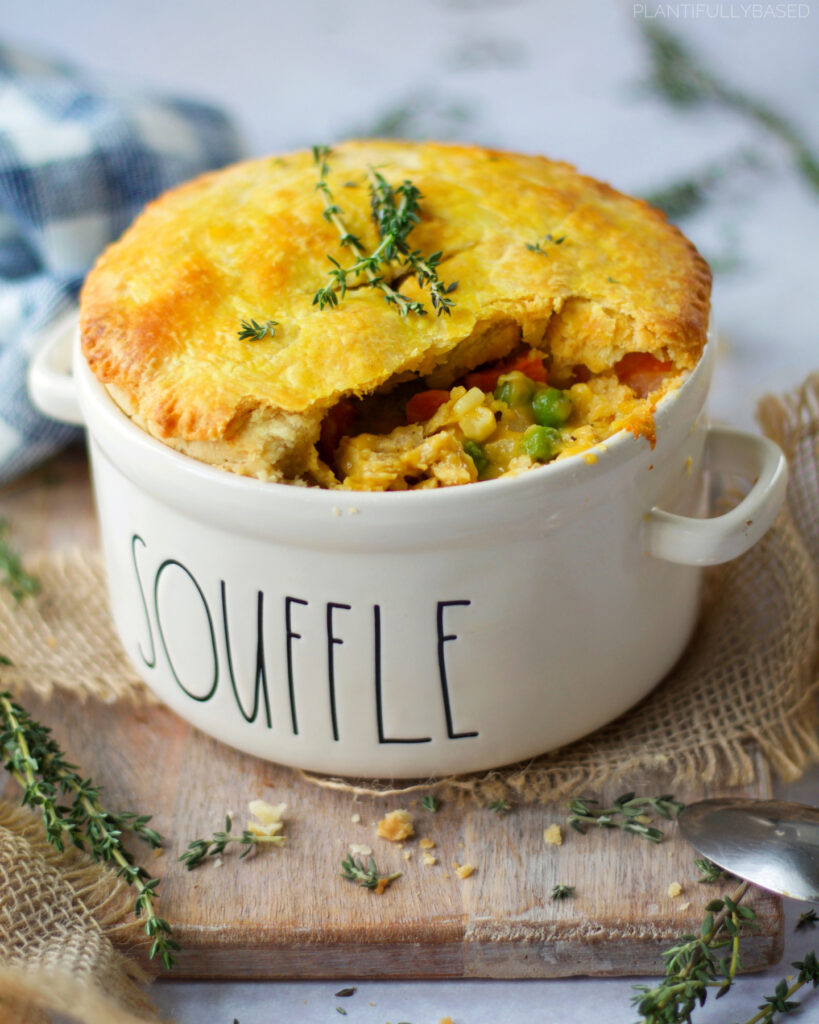 Ingredients
Crust
2 3/4

cups

all

purpose flour [330g]

1

cup

vegan butter

cold [224g]

6

tbsp

ice

cold water

1/4

tsp

salt

1/2

tsp

sugar
Filling
1

package Tofurky chick'n

1

tbsp

olive oil [15ml]

3

carrots

chopped [90g]

1/2

onion

chopped [100g]

1

garlic clove

chopped

3

tbsp

all

purpose flour [24g]

3

tbsp

vegan butter [42g]

1

cup

non

dairy milk, unsweetened and unflavored [240ml]

1

cup

vegetable broth [240ml]

1 1/4

cup

frozen peas [190g]

2/3

cup

corn [90g]

1/4

tsp

salt

1/4

tsp

black pepper

1/4

tsp

dried thyme
Instructions
Prepare the dough by sifting the flour.

Then add in the salt and sugar. Mix together.

Make a well and add in the water and cut in the vegan butter.

Using a fork work everything together until small pea sized crumbles form. You can also do this in a food processor.

On a clean, floured surface empty the dough out and knead with your hands. Knead for about 1-2 minutes until the dough comes together.

Cut the dough into two pieces and chill in the fridge for at least an hour.

While it chills add oil, onions, carrots and garlic to a big pan. Cook for 5-7 minutes on medium heat until onions are clear.

Then add the vegan butter in and cook until it melted.

Once it is melted add in the flour and stir. Cook until flour no longer looks raw and is brown.

Then add in the non-dairy milk and vegetable broth. Cook for 1-2 minutes until thickened and stir to make sure the flour does not form any clumps.

Add in the frozen peas, corn, chick'n, salt, pepper and thyme and mix together. Cook for 3-4 minutes until everything is well incorporated.

Preheat the oven to 400F [200C].

On a clean, floured surface roll the dough balls out to be about 1/4 inch to 1/2 inch thick. Only work one piece of dough at a time as it is very important for the dough to stay chilled.

Drape the dough over the dish and then press it in, cut off any excess dough.

Add the filling into the middle.

Using the other piece of dough, roll it out again and drape it over the top.

Cut off any excess dough.

Make an X on top to ventilate the pie. Then seal the edges by either fluting the pie or using a fork to press down on the edges.

This is optional: if you like mix 2 tbsp of non-dairy milk + a pinch of turmeric together. Brush on top of the pie to make it extra golden.

Bake for 30-35 minutes until it is golden brown on top.

Allow the pie to sit for 5 minutes before enjoying.