Take a look online for Buffalo taquito recipes and you'll find countless options that make the filling with meat (usually chicken, but the vegan options are lacking. That's why and how this fantastic buffalo chickpea taquitos recipe was developed, to fill a gap for healthy and ethical finger foods.
It only takes about half an hour to make these crispy taquitos. That's because this recipe is super easy to follow, and you probably already have most (or all) of the ingredients at home. You'll just need small tortillas, chickpeas, a bell pepper, one onion, garlic, tomato sauce, hot sauce, and some spices. So, if you are looking for a quick vegan dinner or snack, this easy recipe is perfect for you. Moreover, you don't have to be an expert cook to get it perfect.
If you're hoping for a healthy finger food snack, stay on the page. These little treats are ideal for popping in your air fryer with just a fraction of the oil normally used. Also, your oven can do the job and gently bake your taquitos. Either way, you can control the amount of oil you're using and there's no need for a deep-fat fryer. Delicious and heart-healthy, the way all food should be.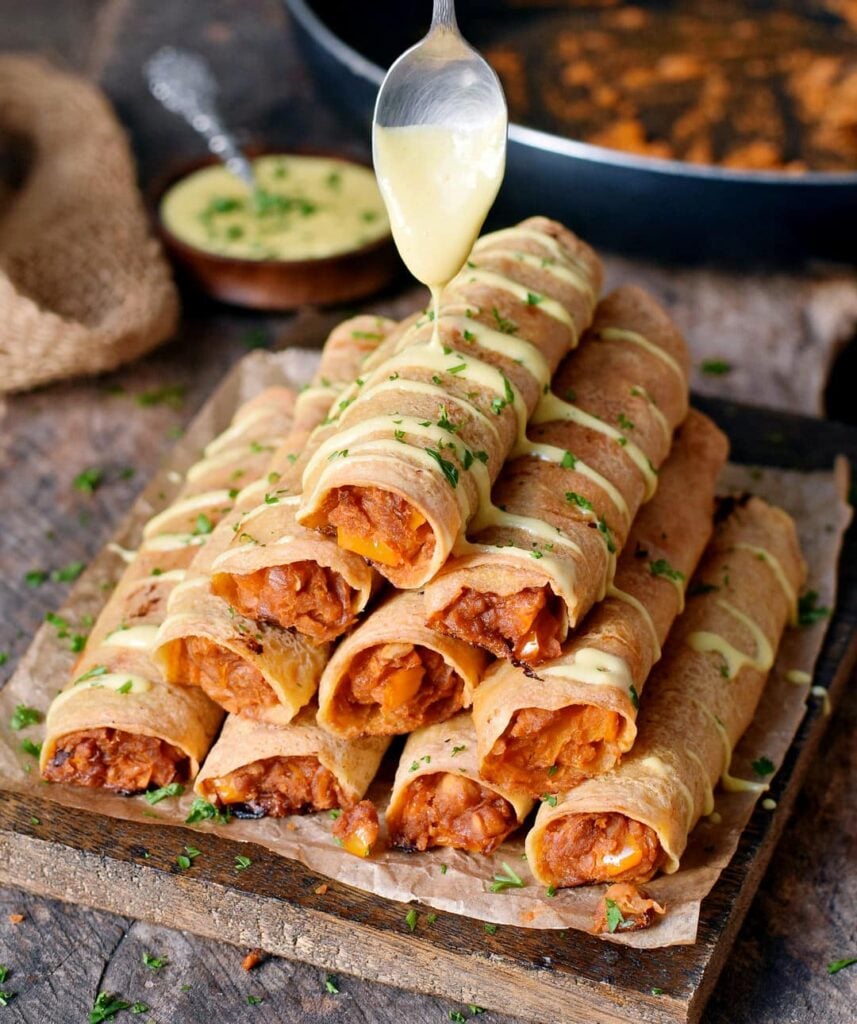 Ingredients
Buffalo Chickpea Sauce
1

tbsp

vegetable oil

1

medium sized onion

(chopped)

2

cloves

of garlic

(minced)

1

bell pepper

(chopped)

1 1/2

cups

cooked chickpeas

(or one 15 oz can, drained and rinsed)

1/2

cup

tomato passata

3

tbsp

hot sauce

(or more to taste)

2

tbsp

plant-based milk

1

tbsp

balsamic vinegar
For the spice mix
1

tsp

1 onion powder

3/4

tsp

coconut sugar

(or brown sugar)

1/2

tsp

garlic powder

1/2

tsp

smoked paprika

1/2

tsp

ground cumin

sea salt, ground pepper, and chilli powder

(all to taste)
To build
10

small

tortillas

(gluten-free if needed and about 14 cm in diameter)

vegan cheese sauce

(or your favorite dipping sauce)
Instructions
Using a fork, roughly mash the chickpeas in a bowl.

Heat oil in a pan/skillet over medium heat and add the chopped onion and bell pepper. Cook for 3 minutes, then add garlic and spice mix and sauté for a further minute.

Add all other sauce ingredients + chickpeas to the pan and bring the mixture to a boil. Let simmer on low heat for about 2-4 minutes, stirring occasionally, then turn off the heat.

Taste the mixture, if you want it spicier, add more chili powder to taste.

Preheat oven to 410 degrees F (210 degrees C) and line a baking sheet with parchment paper.

Place about 2 tbsp of the filling onto each tortilla and roll them up tightly. Place every tortilla seam-side down on the baking sheet, next to each other.

Brush them with a little bit of vegetable oil (to make them even more crispy).

Bake in the oven for about 15-20 minutes or until they are golden brown and crispy.

Drizzle with vegan cheese sauce (optional). Enjoy with your favorite dip!
Top tips for the best buffalo chickpea taquitos
Making your own tortilla lets you create perfect little mini flour rounds that are snack-sized and delicious to fill. However, if you're hoping for a faster vegan lunch or dinner, buy prepackaged wholemeal mini tortillas, to up the good wholegrains in this dish.
To add a little extra texture to the body of your taquitos you could roast your chickpeas first, to make them crunchy and a little spicy too. This is an optional step but one that can take your food from good to great with not much effort.
—
This vegan Buffalo chickpea taquitos recipe was republished with permission from Ela Vegan. Find the original here.