Nothing beats a BLT sandwich, especially this vegan mushroom bacon version!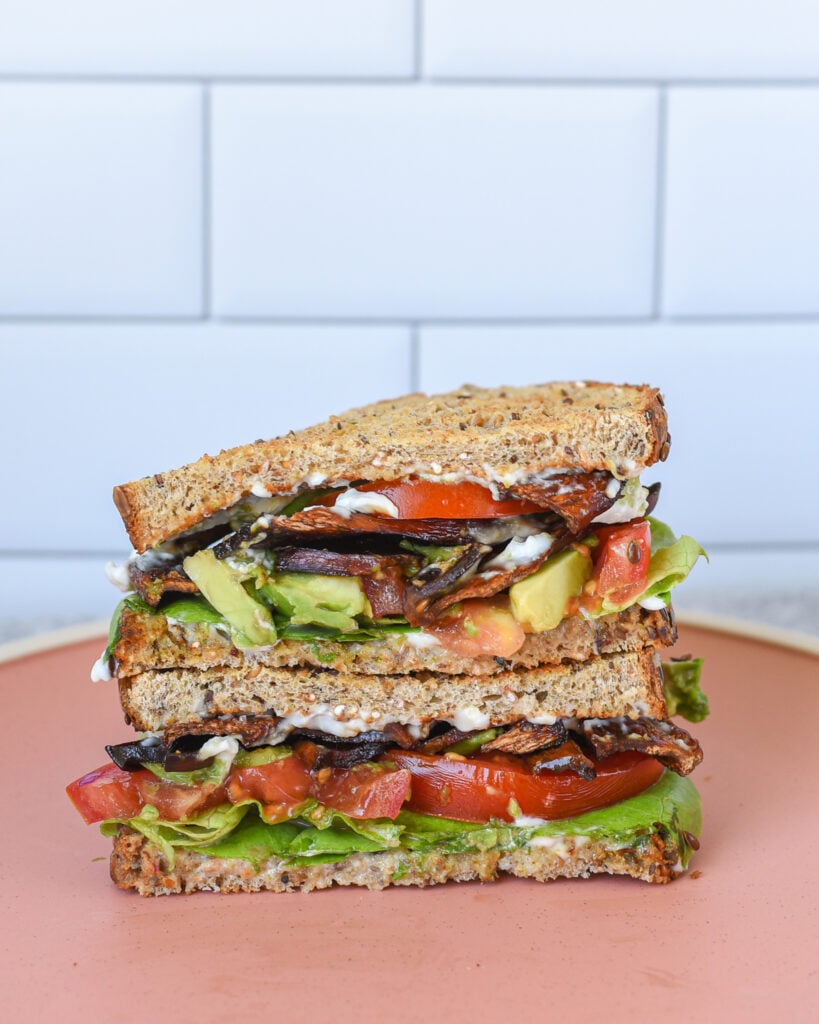 Ingredients
16

oz

king oyster mushrooms

1/2

cup

low

sodium tamari

4

tbsp

maple syrup

2

tsp

balsamic vinegar

1

tsp

smoked paprika

2

tbsp

safflower oil or other high

temp, neutral

4

slices

good sandwich bread

1

vine

ripened tomato

1

avocado

4

6 leaves butterhead lettuce or other lettuce

2

tbsp

vegan mayonnaise
Instructions
Wash the king oyster mushrooms gently under running water to remove any excess dirt.

Remove the mushroom caps and reserve these for another recipe. Trim the rough end of the mushroom stem and then slice each stem into ¼" strips lengthwise.

Prepare the marinade by combining the tamari, maple syrup, balsamic vinegar, smoked paprika and 1 tbsp of the safflower oil.

Lay the mushroom stems in a shallow dish and pour the marinade over the stems. Cover and refrigerate for at least 30 minutes.

While the mushrooms are marinating, preheat your oven to 425º and lightly baste a baking sheet with the remaining tbsp of safflower oil. I like to use a silicon baking mat when making mushroom bacon as it allows for easier clean up. Roast the mushrooms on the middle rack for 20 minutes. Flip each piece and roast for 15-20 minutes more. Keep an eye on the mushrooms during the final 15-20 minutes. You want them to be quite crispy, but to avoid burning them.

While the bacon is roasting, assemble your other ingredients. Toast the bread, wash the lettuce leaves and slice the tomato and avocado.

Kate's Tips: If you want to make mushroom bacon in advance, I recommend baking it until it is just shy of crispy then storing it in an airtight container in the refrigerator. When you're ready to eat it, finish the roasting process just before serving.