Vegan ricotta ravioli with a creamy mushroom sauce – what's not to like?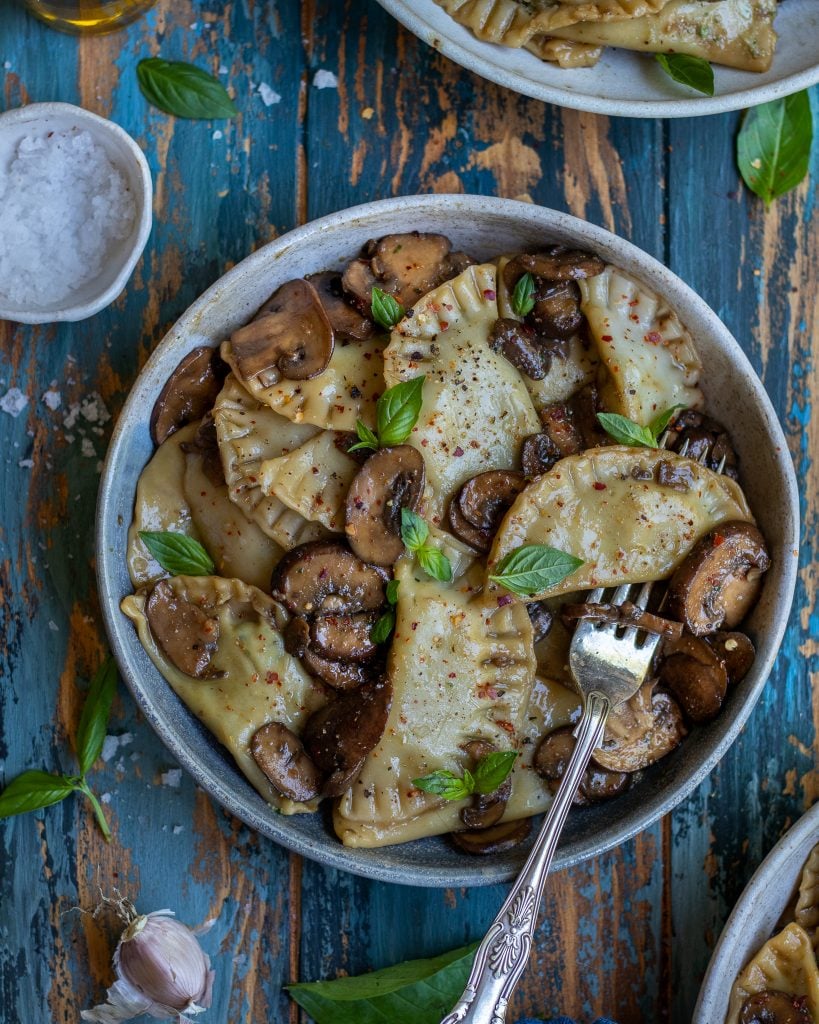 Ingredients
For The Pasta:
300

gr

of white wheat flour

1/2

tsp

of salt

150

ml

of water

2

tsp

of olive oil
For The Filling:
1

onion

finely chopped

1

garlic clove – minced

1

tbsp

of oil

A handful of baby spinach

1

block of firm tofu

280gr, drained and crumbled into pieces

2

tbsp

of nutritional yeast

1

tbsp

of oat milk

Salt & pepper to taste
For The Mushroom Sauce:
50

gr

of Chestnut Mushrooms – sliced

1

garlic clove – minced

2

tbsp

of olive oil

1

tbsp

of soy sauce
Instructions
In a large bowl mix the flour and salt, make a dwell and add in the water and oil. Mix everything really well until you have a firm dough. Wrap the pasta dough in clingfilm and place it in the fridge for 1/2 hour to firm up.

In the meantime make the filling. Add the oil to a pan, once hot add in the onion and fry for 5-8 minutes until soft. Add in the spinach and garlic and cook for another minute.

Transfer the mixture to a food processor and add in all the other ingredients. Blitz for few minutes until you have a fairly creamy mixture.

To make the ravioli: remove the dough from the fridge. With a rolling pin start stretching out the dough. If you are using a pasta machine go ahead and pass the dough through it few times until you have a thin pasta sheet.

Using a cookie cutter cut some circles. Add about 1tsp of the filling in the middle. Brush the sides with a bit of water and fold over the filling into half circle.

Seal with your fingers and press it down with a fork.

Bring a salted water-filled pan to boil and gently dip the ravioli into the water. Cook the ravioli for 3-4 minutes then remove with a foam laden and drain.

To cook the mushrooms add the oil to a pan with the garlic clove. Fry for 1-2 minutes then add in the mushrooms. Cook for 8-10 minutes until all the water has evaporated and the mushrooms have reduced in size.

Add in the soy sauce and cook for another few minutes.

Serve the ravioli with the mushrooms and enjoy!