Looking for a vegan appetizer suitable for a crowd? This is the way to go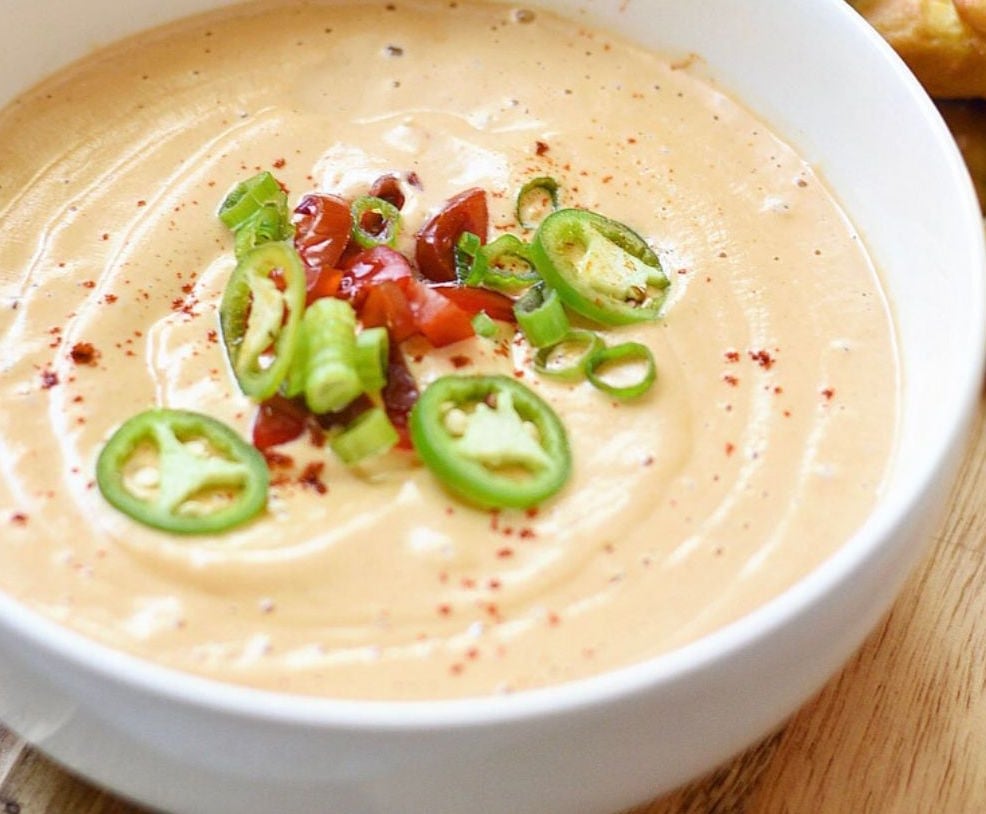 Ingredients
Soft Pretzels
1

tbsp

maple syrup

1

pkg active dry yeast

1

cup

warm water appro 100

110 degrees F

1

tbsp

extra virgin olive oil

2 1/2

cups

spelt flour

1

tsp

table salt

2

tbsp

baking soda for bathing the pretzels

6

cups

water for bathing the pretzels

pinch

flaky sea salt for seasoning the pretzels
Cheese Sauce
1

cup

cashews soaked in hot water for about 1 hour

2

tbsp

nutritional yeast

3/4

cup

water

1

tbsp

light miso paste

1

tbsp

tomato paste

1/4

cup

red onion coursely chopped

1

tbsp

spicy brown mustard

1

clove

garlic

1

tbsp

fresh lemon juice

1

tbsp

fresh jalapeno deseeded and roughly chopped

paprika for garnishment

scallions sliced

for garnishment

jalapenos deseeded and chopped

for garnishment

grape tomatoes chopped for garnishment
Instructions
Prepare the cashews by soaking them 2 cups hot water for about 1 hour. It's best to do this first while you're making the pretzels.

Make the soft pretzel dough by combining the warm water, olive oil, yeast and maple syrup. Leave this mixture aside for about 5 minutes and allow the yeast to proof. It should start to bubble and foam will appear on the water's surface.

While the yeast is proofing, combine the flour and salt in a larger bowl.

When the yeast is proofed, combine the wet and dry ingredients in the larger bowl.

Mix the dough with a wooden spoon until well combined and then knead until smooth.

Set the dough aside in a lightly oiled bowl and cover gently with a towel. Allow the dough to rise for approximately 30 minutes.

While the dough is rising, prepare the rest of your ingredients for the vegan cheese sauce. Pre-measure the nutritional yeast, miso paste, tomato paste, brown mustard and lemon juice. Chop the red onion and the jalapeno.

After the dough has risen, knead it 3-4 more times and roll it out into a log about 2 inches in diameter and 18 inches long. Cut it into equal parts — you should get about 8.

Prepare your alkaline bath by bringing your 6 cups of water and 2 T. of baking soda to a boil

Roll each piece into a long 18-inch rope and then fold into a pretzel shape. Drop each pretzel into the alkaline bath for approx. 30 seconds and then place on a parchment-covered baking sheet. Sprinkle with coarse sea salt.

Bake the pretzels at 400 degrees for approximately 15 minutes, but keep an eye on them as they bake. Take them out when they're golden brown.

While the pretzels are baking, rinse and drain the soaked cashews and combine them with the rest of the ingredients in your blender. Blend until creamy. Best served immediately.