Let me introduce you to the ultimate spring dessert recipe: vegan blueberry rolls. These buns are soft, fluffy, and filled with yummy blueberry jam that will have you forgetting about their cinnamon counterparts immediately. Well, maybe not forever, cinnamon rolls are incredible, but certainly while you eat them.
The beautiful pastel color of the icing mixed with the blueberry flavor makes this the perfect recipe for any event, or simply for an indulgent afternoon snack. But don't take my word for it: whip up a batch yourself and sink into sumptuous fruitiness that makes summer feel not so very far away.
Not to teach you how to eat your vegan blueberry rolls but… these work so well with a cup of Earl or Lady Grey tea. The floral but delicate nature of the brew amplifies the blueberry flavor to perfection. And as an added bonus, it all feels very fancy too.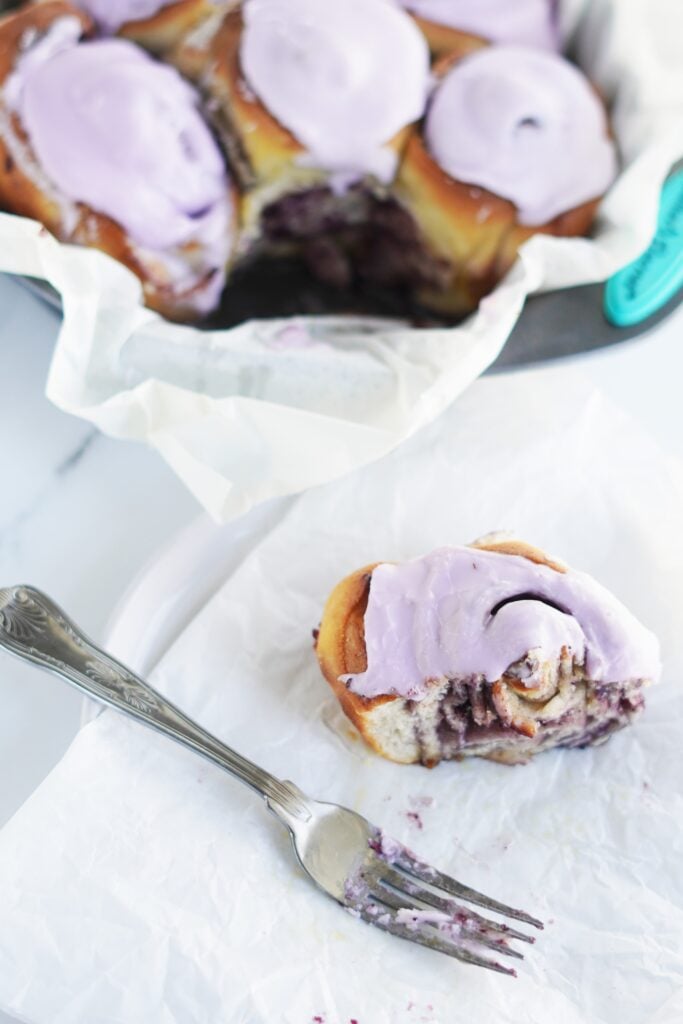 Ingredients
For the buns
500

g

strong bread flour

30

g

white sugar

pinch

salt

7

g

instant dried yeast

350

ml

lukewarm water
For the filling
1/2

cup

plant-based butter

1/4

cup

white sugar

1 1/2

cup

blueberry jam

(the more the better!)
For the icing
2

cups

icing sugar

1-5

tbsp

water

(added gradually)

drop

purple food coloring

(can mix red and blue)
Instructions
Add all the bun ingredients (apart from the water) to a stand mixer. Give it a quick whisk and put it on a slow speed, then gradually add the water. When the dough comes together, knead it on medium speed for about 8-10 mins. Add clingfilm to the top of the bowl and leave to prove for 1 hour.

After the dough has doubled in size, transfer it to a well-floured surface and roll it out into a big rectangle, about 36×20-cm (the same size as a kitchen towel).

Spread the butter on top of the rolled-out dough, followed by as much jam as you dare, and finish by adding the white sugar. Then cut the dough into 6 equal lines. Roll each one up and pop into a baking tin. Let the rolls rise for another hour.

Preheat oven to 180°c degrees. While the oven is heating you can make the icing. Add icing sugar, water and food coloring to a bowl and mix well, and set aside.

Bake the rolls for 20-25 minutes but keep an eye on them. If they start getting brown too fast, you can add foil on top.

Once cooked, let them cool for 10 minutes, then add the frosting and enjoy while they're still warm.
Top tips for the best vegan blueberry rolls
You don't need to make your own jam for these rolls but it can be a nice way to control the produce used and the sweetness levels. If you do decide to whip up some preserve of your own, be sure to wash your fruit carefully (a baking soda rinse helps remove any chemical nasties).
If you'd rather use store-bought jam, choose something high-quality that has more fruit than sugar content. Otherwise you might find these just a touch too sweet!
—
This recipe was republished with permission from Give Me Plant Food. Find the original recipe here.