Packed with loads of flavor and paired with a zingy citrus tahini dip to take them to the next level. Also gluten free!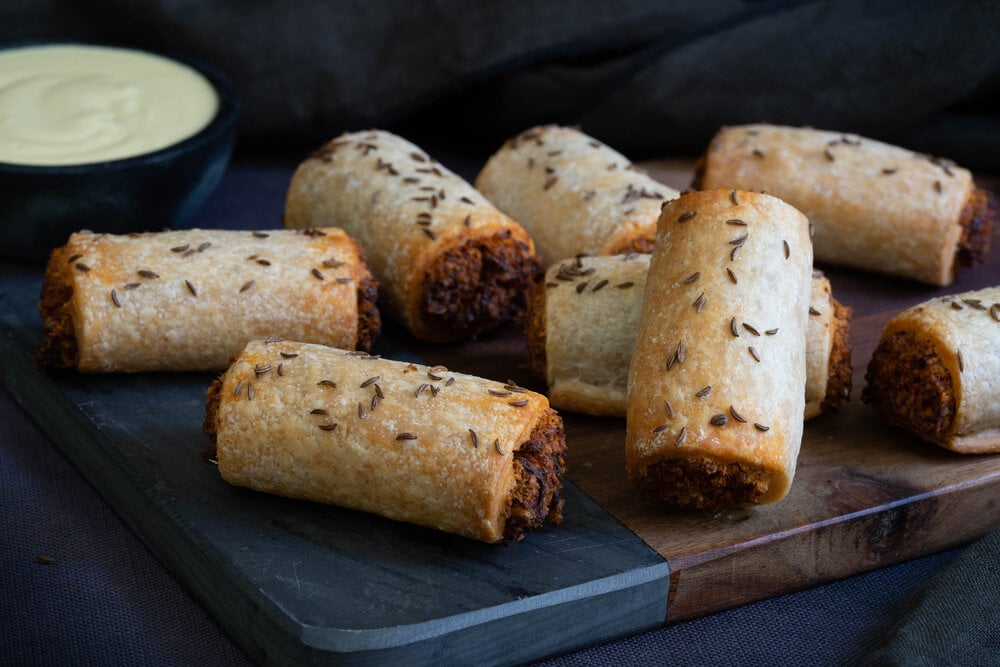 Ingredients
250

g

red bell peppers

75

g

walnuts

1

T

Turkish

Aleppo chilli flakes but you can use any chilli flakes (note that Aleppo chilli isn't very hot. It is half as hot as most regular chilli flakes so if you are using these use only 1/2 tablespoon.)

1

t

garlic granules

1/4

t

allspice

Salt

50

g

sun dried tomatoes

80

g

porridge or quick cook oats

1

roll

280g puff pastry, I used Jus Rol gluten free

A little water or plant milk

1

t

caraway seeds
For the dip –
The juice of 1 lemon

The juice of 1 orange

2

T

light tahini

100

g

cooked chickpeas
Instructions
Heat your oven to 180c/360f/GM4.

Cut the flesh from the peppers so that they lie as flat as possible. Grill them under a medium grill for 30 minutes, until the skin is blistering. There is no need to remove the skins.

Put the walnuts, chilli flakes, garlic granules and salt in a chopper attachment of a hand blender or food processor. Pulse until the walnuts are breadcrumb size. Add the peppers and sun dried tomatoes, pulse again until they are completely broken down and incorporated with the other ingredients.

Remove the blade of the chopper attachment of hand blender or food processor from the bowl. Add the oats and mix in, you may need to do this with your hands as the mixture can be quite stiff.

Cut the pastry into two pieces, lengthwise, so you have two long rectangles. Divide the sausage mixture in half, make long thin sausage shapes, place them in the middle of each piece of pastry. Fold the pastry around the sausage mixture, brush a little water or plant milk on the pastry to seal it together.

Brush the top of the sausage rolls with water or milk then sprinkle on the seeds, pushing them into the pastry. Cut into 8-10 sausage rolls, place them on a baking tray, bake for around 30 minutes until the pastry is golden.

To make the dip simply blend the lemon juice, orange juice, tahini and chickpeas until completely smooth.

Serve the sausage rolls either hot or at room temperature.