Homemade vegan cornbread that is deliciously soft on the inside and crispy on the outside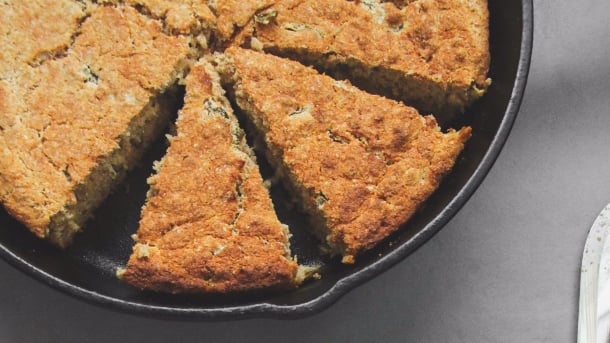 Ingredients
1

cup

whole wheat pastry flour

1

cup

organic corn meal

1

tbs

baking powder

1/2

tsp

baking soda

3/4

tsp

salt

2

flax eggs

1

cup

almond milk

2

tbs

apple cider vinegar

1/2

cup

applesauce

1/2

cup

water

1/2

cup

chopped pickled jalapeño
Instructions
Preheat oven to 400° F. Lightly cover a cast iron skillet in coconut oil or use parchment paper.

Using warm to hot water, create flax eggs. Set aside.

In a separate bowl or glass measuring jug, mix together almond milk and apple cider vinegar. Set aside.

In a mixing bowl, combine whole wheat pastry flour, corn meal, baking powder, baking soda, and salt. Add pickled jalapeños and mix.

In a large bowl, combine, almond milk mixture, flax eggs, water, and apple sauce. Mix until well combined.

Add dry ingredients to the wet and mix until just combined, being careful to not over mix.

Pour mixture into cast iron skillet. Bake in the oven for around 30 minutes or until the cornbread is golden and is pulling away from the edges of the skillet.

Once the cornbread is finished, let cool, slice and serve as a side with chili!