A hybrid between a super chocolatey brownie and a millionaire shortbread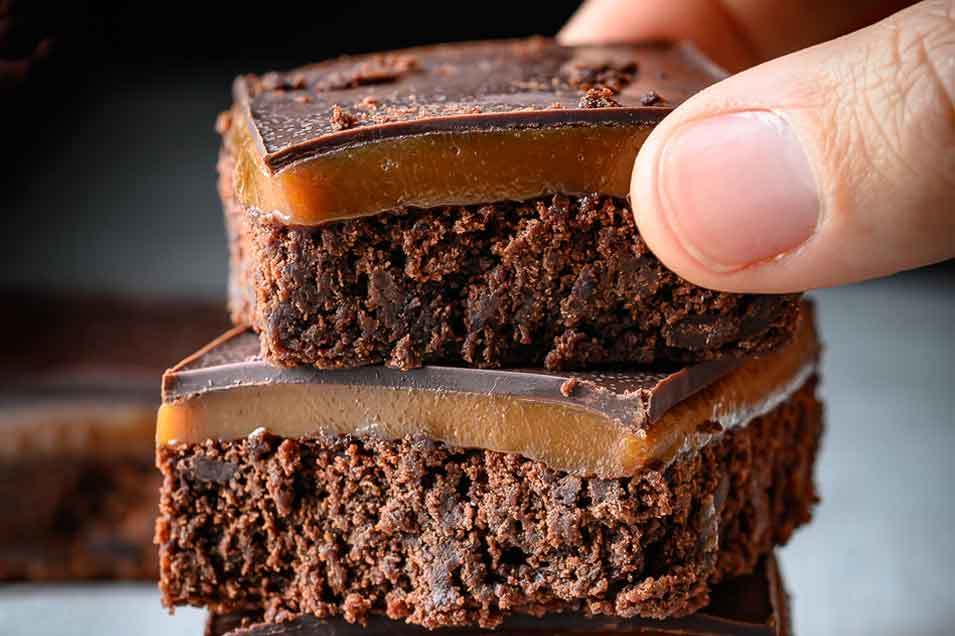 Ingredients
Brownies
2

tsp

psyllium husk powder + 7 tsp water 175 g vegan butter

100

g

dark cocoa powder

1

tbsp

espresso powder

300

g

caster sugar

90

g

plain flour

3/4

tsp

flaky sea salt

4

tbsp

plant milk

100

g

vegan dark choc chips

most chocolate over 64% cocoa is dairy (free)
Caramel
170

g

vegan butter

200

g

golden syrup

corn syrup also works great

170

g

soft dark brown sugar

100

g

caster sugar

150

ml

plant milk

1

tsp

vanilla extract or vanilla bean paste

pinch

flaky sea salt
Chocolate
200

g

vegan dark chocolate

minimum 60% cacao
Instructions
To Make the Brownies
Preheat the oven to 170c. Line a brownie tray with baking parchment.

In a small bowl, mix the psyllium husk powder with the water and set aside.

In a medium saucepan over low heat, add the vegan butter and allow to melt completely.

To the bowl of a stand mixer fitted with the paddle attachment, add the cocoa powder and the espresso powder and mix well. Add the melted butter along with the caster sugar and the psyllium egg mixture and beat well.

In a medium bowl, combine the flour and the salt. Add half of the flour mixture to the stand mixer and beat until combined. Add half of the plant milk and beat until combined. Add the remaining flour mixture and beat until combined followed by the remaining plant milk.

Remove the bowl from the stand mixer and add the chocolate chips. With a silicone spatula, mix until the chocolate chips are evenly distributed.

Pour or spoon the brownie batter into the prepared baking tray. Place in the oven and bake for 35 minutes. The edges should be quite firm but the center will be a little jiggly when you remove it from the oven.

Place on a cooling rack and allow to cool fully to room temperature. Once cooled, chill in the fridge for at least 30 minutes.
To Make the Caramel
In a large saucepan add all the caramel ingredients except for the vanilla and the salt. Place over a medium/low heat and stir with a heat-proof spatula until all the butter is melted and the sugars dissolved completely.

Using a probe thermometer, bring the caramel to 115c (you may have to increase the heat to get it there, but trust me, it will get there!).

Remove from the heat, add the vanilla and salt and stir continuously (off the heat!) for around 10 minutes while the caramel cools. It will thicken dramatically!

Once thick, set aside and allow to cool for a further 5-10 minutes (it should still be runny enough to pour or spoon over the chilled brownies, so keep checking the texture regularly).

Pour or spoon over the brownies in the tin, even out with your spoon and then return to the fridge for at least 30 minutes.
To Make the Chocolate
Chop the chocolate roughly into small pieces. Place in a medium heat-proof bowl and sit over a small pan of boiling water. Allow the steam from the water to heat the bowl and melt the chocolate, stirring constantly with a spatula.

Pour the chocolate over the chilled caramel and then set aside on the counter to set fully (not in the fridge). Once set, slice with a hot knife (otherwise the chocolate will crack) into squares or bars and serve!
To Make the CaramelTo Make the Chocolate