This vegan dish is inspired by Huevos a la Mexicana, which basically translates to 'Mexican egg scramble'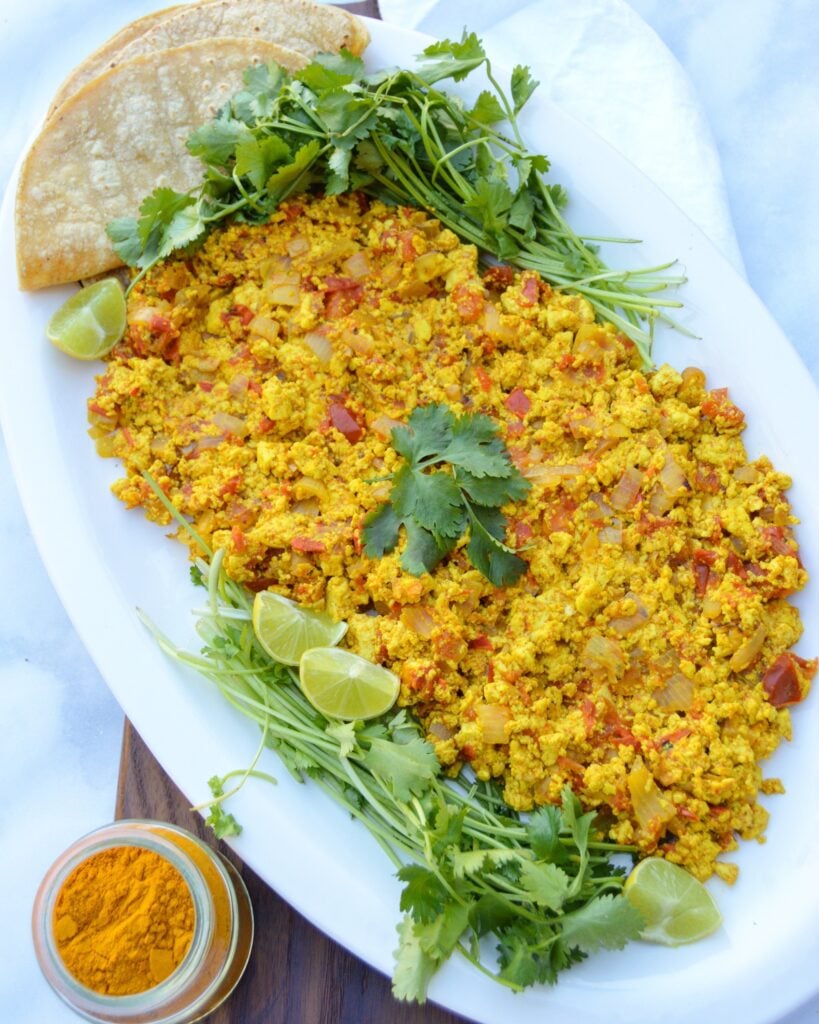 Ingredients
1 14

ounce

package of extra firm tofu

3 to

matoes

1

small yellow onion

1

tsp

turmeric

1/2

tsp

paprika

1

tsp

salt

2

cloves

garlic

crushed

crack of pepper

2

tbsp

nutritional yeast

6

Corn tortillas
Instructions
Dice tomato and onion into very small pieces.

Heat a large nonstick pan on medium heat, once hot add onion and crushed garlic to the pan. Sauté for 3 minutes or until onion and garlic become fragrant. (I add 1-2 tbsp of water throughout the sauté process to prevent sticking to the pan.)

Add tomatoes to the onions and garlic and cook for 3 minutes.

Meanwhile remove tofu from the package. Wrap tofu in a clean dish towel and squeeze with hands to remove excess water. This should take 15 seconds.

Place the tofu in a large bowl, use your hands to crumble into small pieces. Add turmeric, paprika, salt and pepper to the tofu and mix with hands ensuring that the tofu pieces are well coated.

Add tofu to the tomato and onion mixture. Cook for 10 minutes, mixing mixture with a spatula throughout the process.

Once it has been 10 minutes turn heat off, sprinkle the two tbsp of nutritional yeast over the tofu scramble & give another good mix with your spatula.

Heat a large skillet or pan over medium to high heat. Once really hot, Grab a corn tortilla and lightly wet the tortilla (on both sides) with water then place on the pan. (Wetting the tortilla will ensure for really soft tortillas.) Heat for 20-30 seconds on one side then flip. Heat for an additional 20-30 seconds then take off the pan. Place the heated tortilla in between a folded kitchen towel to keep warm while you heat the remainder tortillas.

Once you're ready to assemble simply scoop a generous amount of Mexican scramble on to the corn tortillas and finish off with a (optional) slice of avocado, squeeze of lime, chopped cilantro and a spoonful of salsa & enjoy.