This vegan take on a super popular salmon and rice bowl recipe is a perfect example of how food creators can inspire one another. We were keen to try it but weren't so sure how to replace the salmon. That's until we saw another recipe developer shredding tofu all over their page. It has such a good texture and works perfectly for this recipe and it might be our favourite way to eat tofu now.
This recipe is the result of how we can get so much inspo online to make everyday life tastier and healthier, and we absolutely love it! Make sure to give this one a go because it's really a fantastic flavour combo, very nourishing and super fun to make! It's also a great vegan lunch or dinner recipe for the warmer months, so have a spring fling or some summer-loving with a bowl of vegan salmon and rice!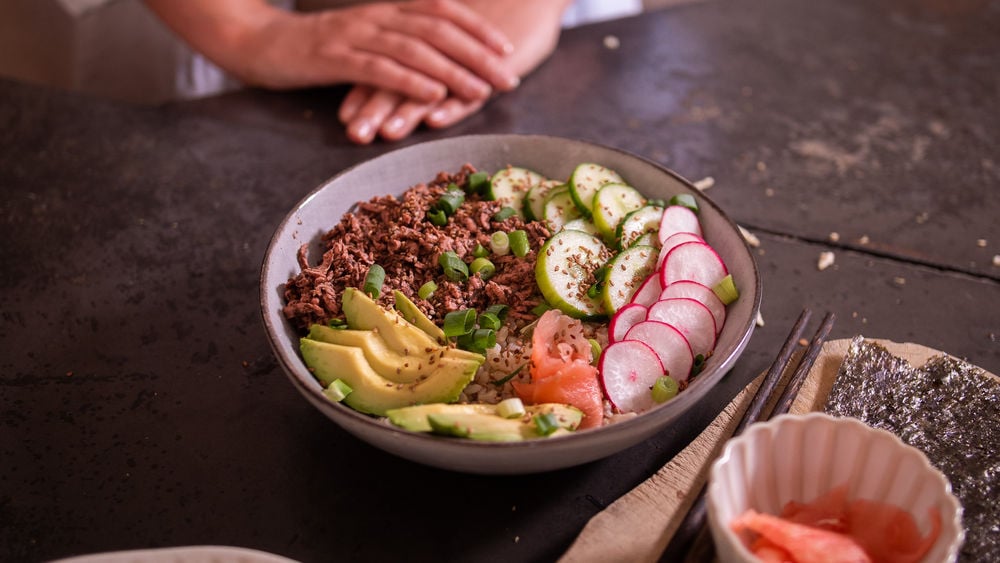 Ingredients
2

cups

cooked brown rice

500

g

extra firm tofu

1

large cucumber finely sliced

1

avocado sliced

8

radishes sliced

4

tbsp

toasted sesame seed

2

spring onions finely diced

4

tbsp

pickled ginger

2

tbsp

vegan mayo

2

tbsp

sriracha

4

nori sheets

(each cut into 4)

½

lime juiced
Tofu salmon marinade:
1

cup

water

1

beetroot cooked

1

tbsp

white miso paste

2

tbsp

rice vinegar

1

tbsp

soy sauce

(low sodium)

2

nori sheets

½

tbsp

garlic powder

1

tbsp

sesame oil
Instructions
Add all the tofu salmon marinade ingredients to a blender and blend until smooth.

Using a cheese grater, shred the block of tofu. Add the tofu to a Tupperware, cover it with the marinade and let it sit in the fridge for a couple of hours or overnight.

Cook the tofu in a pan on medium heat for 5 minutes until most of the liquid has evaporated.

To build a bowl, add ½ cup of rice, some tofu, cucumber, avocado, and radish. Top with toasted sesame seeds, finely diced spring onions, pickled ginger, vegan mayo and sriracha. Squeeze a little bit of lime on top.

You can use the nori sheets square to scoop up the delicious food or sprinkle it on top. Enjoy
Top tips for the best tofu salmon and rice bowl
If you can, stay seasonal with your veggies and buy locally sourced, to reduce the carbon footprint of your finished meal. The joy about dishes such as this one is that you can easily adapt to personal taste preferences and ingredients availability.
For a fall or winter version, why not serve with slices of baked sweet potato and hot edamame?
—
This recipe was republished with permission from plantbaes. Find the original recipe here.