This Ragù base is perfect for lasagne, pasta bakes, tacos, nachos, stuffed spuds & more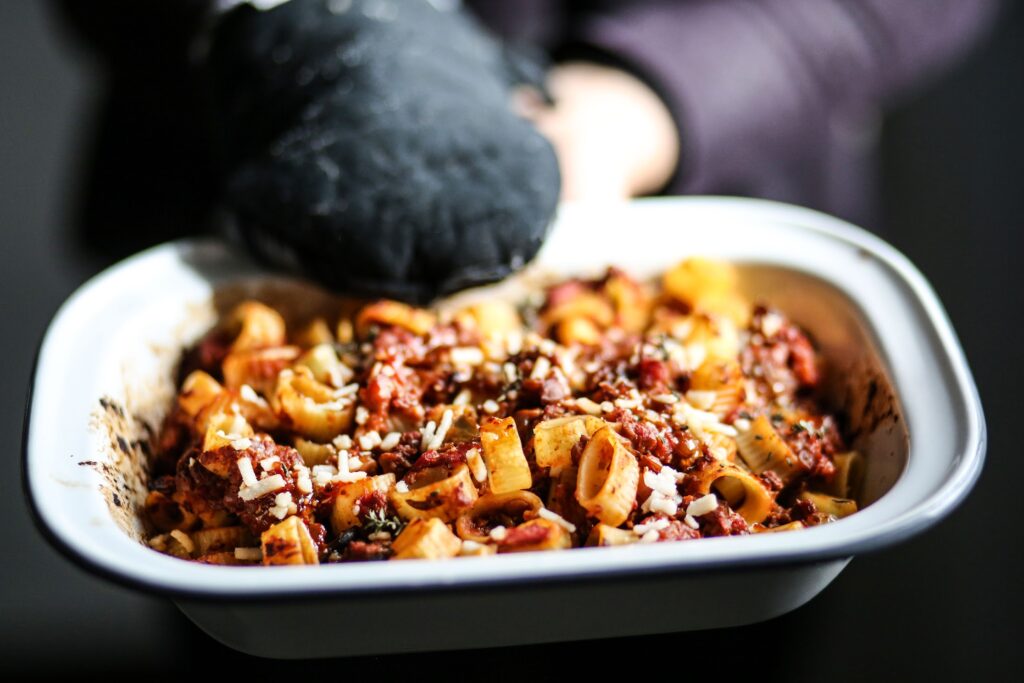 Ingredients
2

x onions finely chopped

6

x garlic cloves

peeled and finely chopped or grated

500

g

or 2 x big handfuls of mushrooms

super finely chopped (you can do this easily by blitzing them in a food processor)

1

x 400g tin of brown lentils drained and rinsed

1

Aubergine finely chopped

2

x 400g tinned toms

2

tbsp

tomato puree

2

tsp

mixed dried herbs

6

bay leaves

Tamari

Olive oil

Salt & pepper
Instructions
1. Pre heat your oven to 180c / 360f / gas mark 4. Start with pouring a glug of olive oil into a heatproof pan, placing it on the stove and turning the heat to medium. Add the finely chopped aubergines. Allow these to gently cook off until they start to go golden brown around the edges and break down.

2. Remove the pan from the heat and scoop the aubergine into a separate bowl.

3. Pop the pan back on the medium heat and pour in a little more olive oil. Add the onions & garlic and gently cook until softened.

4. Pop your mushrooms, cooked aubergine and dried herbs and bay leaves into the pot and cook for a few minutes.

5. Add the lentils, tinned tomatoes, tomato puree, tamari and a pinch of salt & pepper. Give the whole pot a good mix together.

6. Make sure there is enough liquid – it shouldn't be dry. Add a splash if needed.

7. Now let your pot of veggies warm up until it is simmering.

8. Turn off the hob heat.

9. Check the consistency of the sauce – it should move like the tin of tomatoes (if not stir in a cup of water). This is important as your veggie mixture will reduce whilst cooking and become a lovely dark, gooey sauce.

10. Pop on the lid and carefully place the pan in the oven.

11. After 10 mins turn the oven down 140c / 284f / gas mark 1 and allow this to cook for at least and hour (the longer and slower it cooks – the better).
12. Check the ragu after an hour, if it has changed colour and reduced… it's ready. Allow to cool and portion up into your freezable pots and pop in the freezer. Your awesome batch of Ragu sauce is now batched and ready for you! When needed, take out and allow to defrost in the fridge.