What's even better than Korean kimchi pancakes and scallion pancakes? Vegan versions that combine the two and deliver an absolute umami flavour bomb that will blow you away!
Savory pancakes are one of the easiest and fastest things to make. As such, they are a staple in Korea and an all-time favourite dish. These ones take things up a notch with hot, sweet, sour, and salty notes combined with a crispy texture.
With so much flavor packed into this recipe, it's hard to believe that there are just four main ingredients. Chief amongst them is the kimchi which brings that badass funk you expect from fermented food. Scallions then balance the sourness of the kimchi. The result is a simple dish that you'll want to make time and time again either as a vegan appetizer or as a main dish, when accompanied with vegetables.
Why you don't need ready-made pancake batter
You can use store-bought Korean pancake mix, but why bother when homemade pancakes are so easy to make from scratch? Store-bought versions usually have added flavorings and preservatives, but in your homemade batter, you control exactly what is included. This is also helpful if you're hoping to adapt a recipe to be allergen-friendly.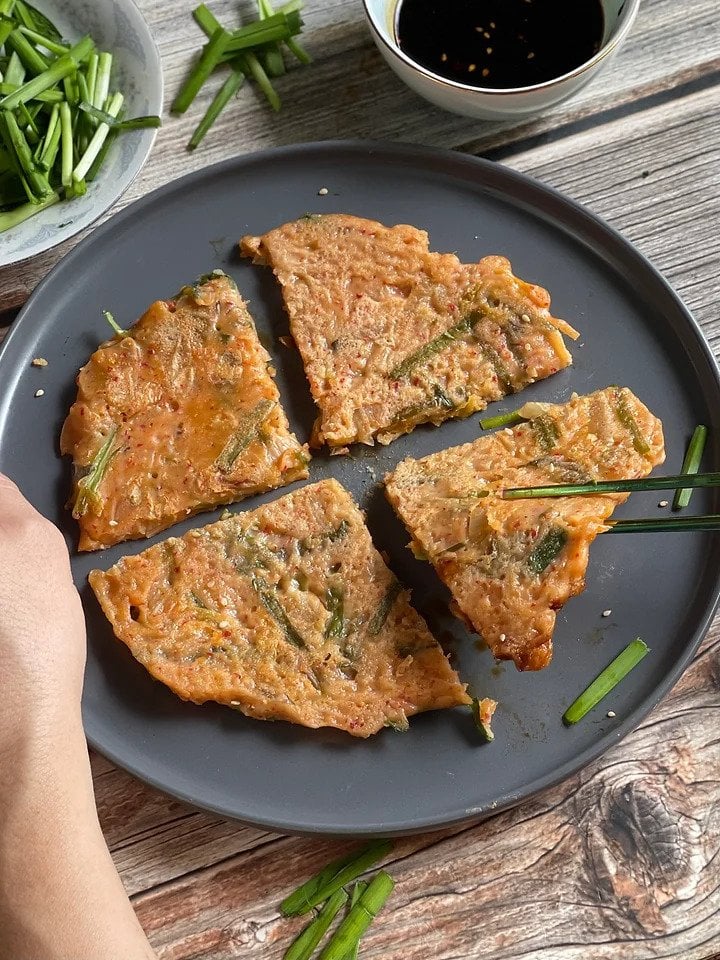 Ingredients
For the pancakes:
135

g

all-purpose flour

265

ml

water

2

g

salt

225

g

kimchi

(chopped if too chunky)

3 or 4

scallions

(sliced into 2.5cm lengths and cut lengthwise if thick)
For the savory sauce
30

ml

water

30

ml

soy sauce

15

ml

rice vinegar

5

g

ginger

(grated)

pinch

chilli flakes and/or sesame seeds

(optional)
Instructions
In a mixing bowl, combine flour, water, and salt. Whisk together to form a smooth batter.

Stir the kimchi and scallions into the batter.

Heat a non-stick skillet to medium. Add 3-4 tablespoons of oil (use more for crispy pancakes), and using a 1/3 measuring cup, scopp the batter and spread it out around the skillet.

If the batter is too thick, add a little more water and whisk in. Cook the pancakes in batches on both sides until golden brown.

In the meantime, make the sauce by combining all the ingredients in a small bowl and stirring to bring it together.

Once all the pancakes are cooked, serve warm with the dipping sauce.
Top tips for the best Korean kimchi and scallion pancakes
Always double-check the ingredients when buying kimchi as it is not all vegan. Shrimp paste and fish sauce are commonly used in standard products, so seek out plant-based alternatives. Also, pay attention to the flavor profiles of your chosen kimchi as they can be very different and feature varying levels of spice. Start by sourcing a go-to variety and then incorporate it into your recipes for guaranteed success.
—
This vegan Korean kimchi and scallion pancakes recipe was republished with permission from Emily Yeo. Read the original here.