Roast the pumpkin and onions beforehand to amplify the flavor in this comforting soup!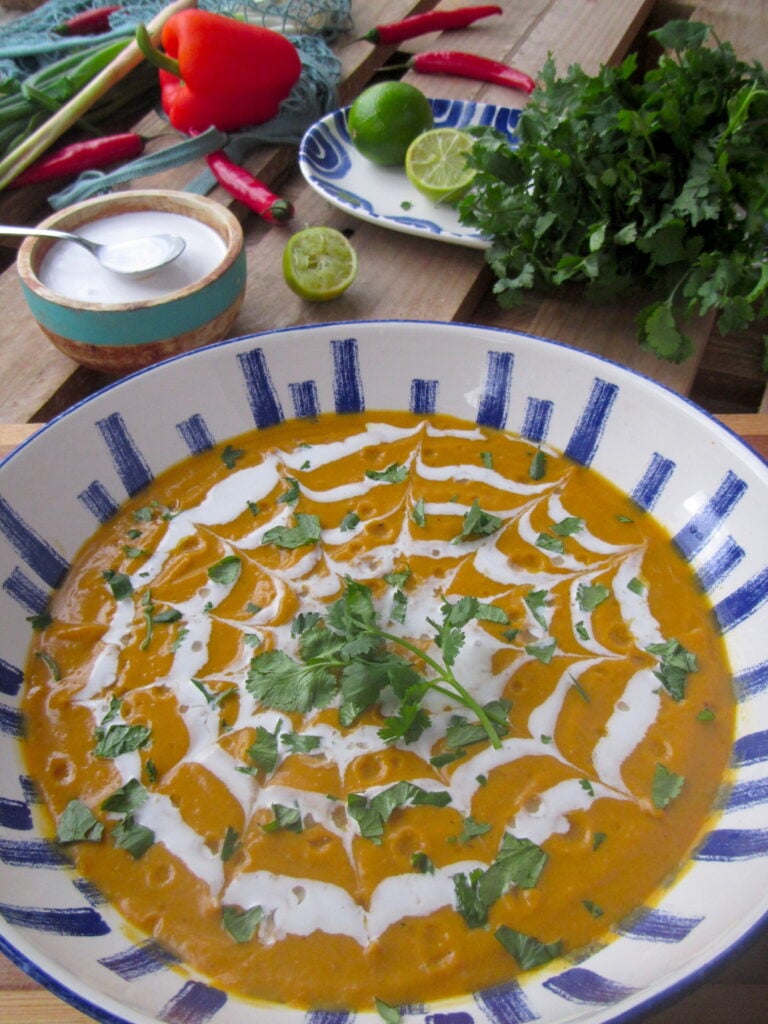 Ingredients
2.5

kg

Japanese pumpkin

2

onions

600

ml

coconut cream

200

ml

vegan red curry paste

3

tablespoons

vegan fish sauce

1

tablespoon

grated ginger

1

teaspoon

ground coriander seed

1

teaspoon

ground turmeric

Fresh coriander

to serve

Lime juice

to serve
Instructions
Preheat your oven to 200C celsius. Slice your pumpkin into even wedges a few inches in thickness. Use a teaspoon to scrape out the seeds and reserve them for another recipe. Lightly oil the exposed pumpkin flesh and arrange on a baking tray with one of the fat sides down. Halve, peel and lightly oil the onions. Use your hands to break them up slightly and arrange them on top of the pumpkin.

After 45 minutes, remove the onions and check the pumpkin. If a fork can slide easily through the flesh, it's ready to go. If not, return the pumpkin to the oven for an additional 15 minutes or until soft. When cooked and reasonably cool, use a spoon to scrape the skin off the cooked pumpkin and discard.

Bring a large pot with a splash of coconut oil to medium heat before adding in the baked onions, cooking for 5 minutes. Add in the red curry paste, ginger, turmeric, and coriander powder. Once fragrant, add the fish sauce and cook for 2 more minutes, stirring.

Turn the heat up and add 750ml of water and the cooked pumpkin flesh. When boiling, reduce to a simmer and continue for at least 15 minutes. Turn the heat off and add 400ml coconut cream before using an immersion blender to purée until smooth.

Serve with an extra swirl of coconut cream, a squeeze of lime and fresh coriander on top.
This recipe was republished with permission from Zacchary Bird. Find the original recipe on his website.