Pillowy soft vegan and gluten-free homemade gnocchi made from sweet potato, flour and salt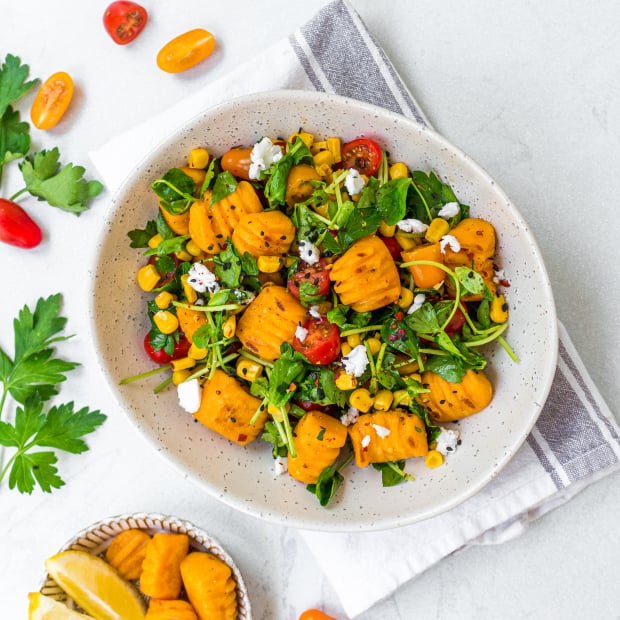 Ingredients
300

g

sweet potato flesh

about 2 medium (large potatoes)

200

240g GF flour (or plain flour)

Pinch

of salt

Olive oil

optional
Instructions
1. If you need to prepare the sweet potatoes: preheat the oven to 160Fan/180*C. Stab the sweet potatoes with a knife and bake in the oven for 40-60 minutes until tender. Allow the potatoes to cool and then thoroughly mash the flesh until smooth. Measure out 300g.

2. Add the sweet potato to a bowl with 200g flour and a pinch of salt and stir to combine. Tip out onto a lightly floured surface and bring together with your hands. Add more flour as needed to form a thick and dry dough. Knead gently until smooth – for less than 1 minute.

3. Divide the dough into 4 equal pieces and roll each piece into thin logs about 2cm diameter. Cut each log into roughly 6 pieces about 2cm. Use a fork to press grooves into the gnocchi.

4. Cook the gnocchi straight away or keep in an airtight container for 2-3 days or in the freezer.

5. To cook, bring a pan of salted water to boil. Add the gnocchi in small batches and allow to cook about 2 minutes. The gnocchi is done when it floats to the surface. Remove with a slotted spoon and continue to cook the rest of the batch.

6. Optional: heat a splash of olive oil in a frying pan and add the gnocchi. Fry until golden brown, it will take a couple of minutes only.
This recipe was republished with permission from Nourishing Amy. Find the original recipe here.