This 100% veggie focused bean free burger, doesn't use meat alternatives and is full of veggie goodness to make a seriously tasty burg!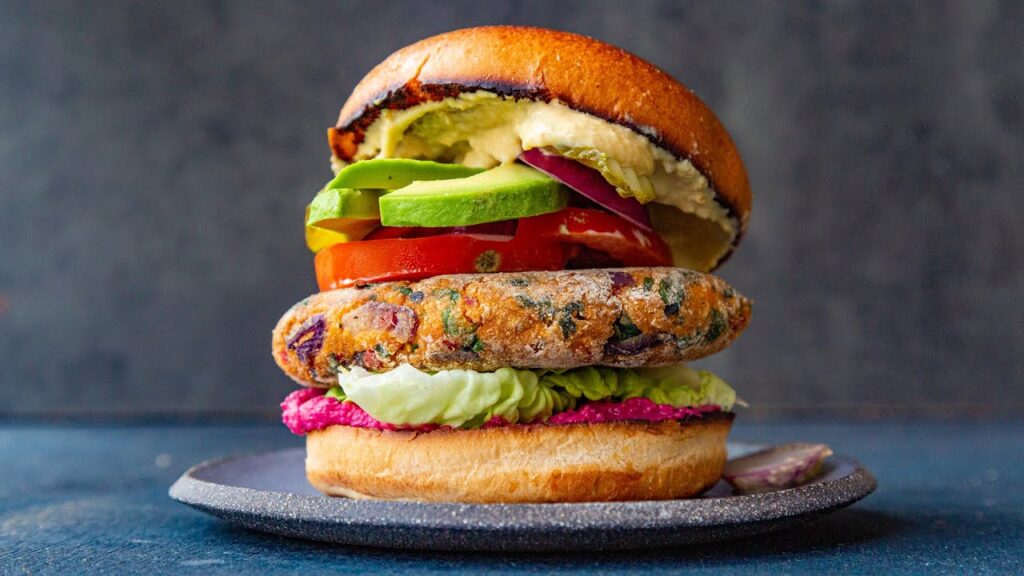 Ingredients
150

g

oats blended

300

g

cooked sweet potato

100

g

roasted red pepper

chopped

100

g

frozen spinach

1

red onion

2

cloves

of garlic

½

tsp

chilli powder

1

tsp

salt

4

tbsp

tamari

4

tbsp

rice flour

4

tbsp

Psyllium husk

4

tbsp

gram flour

for coating
Instructions
Roughly chop the sweet potato. Boil until cooked through, drain and rinse in cold water, then transfer to a medium mixing bowl.

While the veg is cooking, Peel and chop the onion, finely chop the garlic. Chop the roasted red peppers.

Blend the oats in a blender until a breadcrumb texture. Weigh out your ingredients.

In a medium non stick pan, heat on high heat until its hot, add the onion and cook till it starts to brown for 3-4 mins and reduce the heat to medium, add the garlic, stirring for 2-3 minutes, add the spinach and chopped roasted red peppers, a small pinch of salt. Mix well and cook for a further minute.

In a large bowl add the cooked veg, cooked sweet potato and the rest of the ingredients less the gram flour.

Mash using a potato masher, leaving a little texture, until its well mixed and the spinach and red pepper is well distributed. Shape into 4 large 160g burgers or 5 smaller burgers.

On a large plate sift the gram flour and lightly coat each side of the burgers.

Again heat a clean non stick pan on high heat, once warm reduce to a medium heat and cooked the burgers on medium heat until the form a nice crust on outside.

Garnish with hummus on bottom bun, crunchy little gem lettuce, slices of avocado and red onion, gherkins on top the burger and anything else you fancy! 
This recipe has been republished with permission from The Happy Pear. Find the original recipe here.