These mini fritters with corn, chickpeas, and bell pepper are super easy to make, gluten-free, protein-rich and perfect as a snack or side dish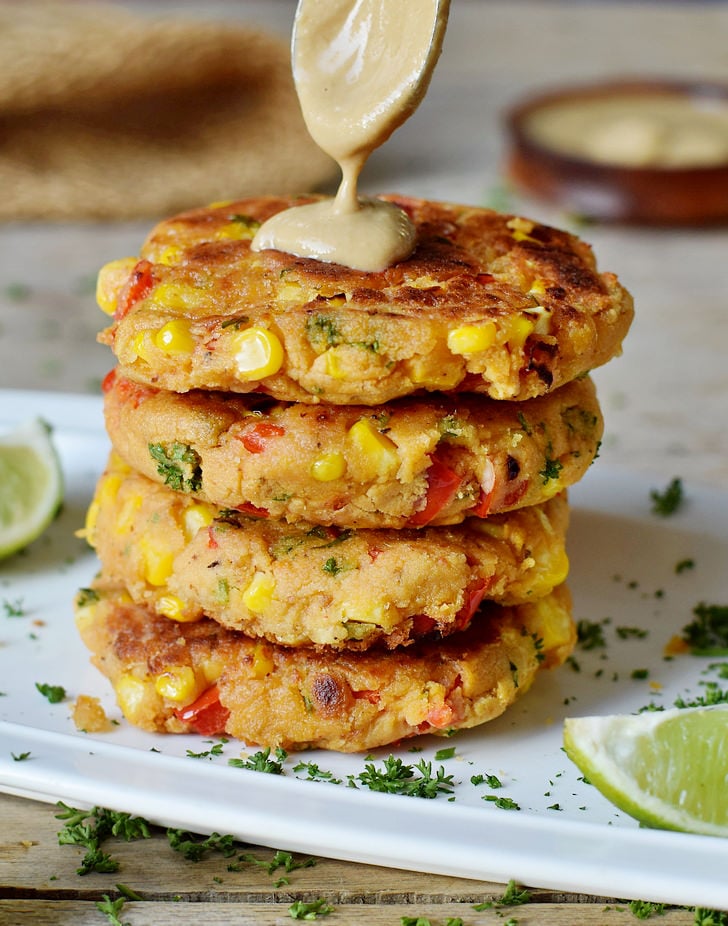 Ingredients
One 15 oz can

about 280 g chickpeas (rinsed and drained)

1

medium

sized onion

2

cloves

garlic

Juice of 1/2 lime

Spices: 1 tsp onion powder

1 tsp ground cumin, 1/2 tsp ground oregano, 1/2 tsp smoked paprika, 1/4 tsp red pepper flakes, sea salt, and pepper to taste

1/3

cup

50 g rice flour*

1

cup

160 g fresh corn (or canned)

1

bell pepper

chopped

2

tbsp

parsley finely chopped

Vegetable oil for frying

Vegan cheese

optional

Cashew dip

optional
Instructions
Watch the video (scroll down a bit) to see all instruction steps.

Process chickpeas, onion, garlic, lime juice, and all spices in a food processor.

Add rice flour and mix again.

Put the mixture into a bowl and add the chopped pepper, corn, and parsley. Stir with a spoon or use your hands.

Form 8 patties and fry them with some oil in a skillet from both sides (about 5 minutes each) until golden brown. Please read the blog post to find out how you can make the patties in the oven.

Serve with a cashew dip. Enjoy!