This recipe is easy to make and perfect for a burger or sandwich!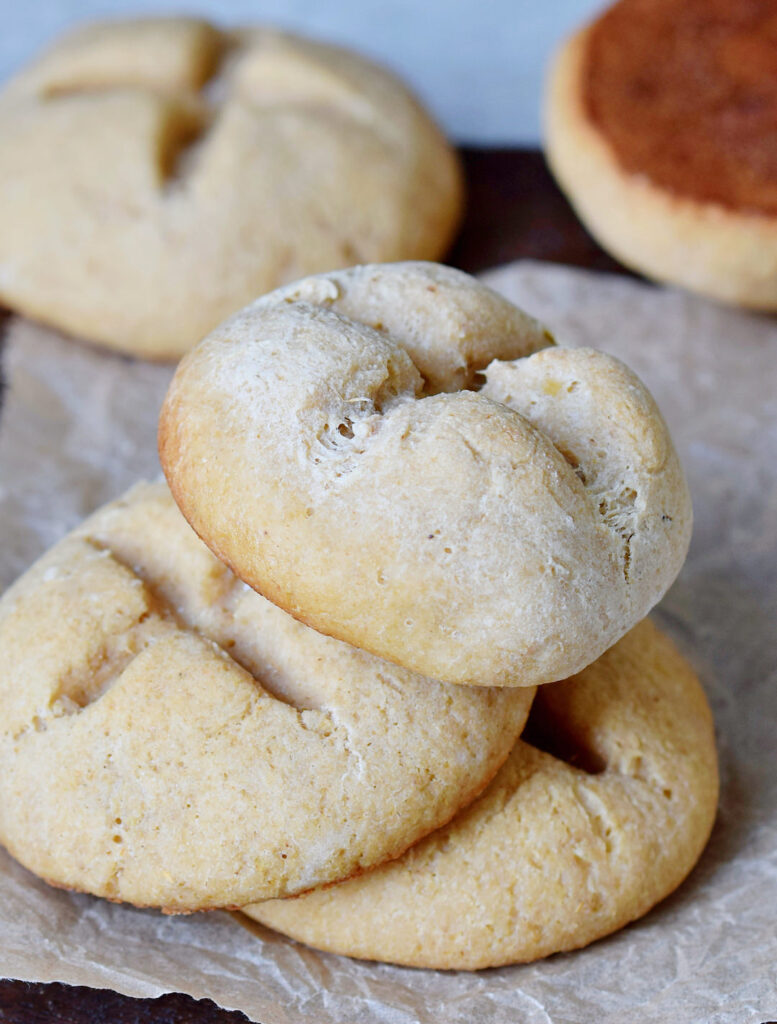 Ingredients
1

cup

90 g oat flour (gluten (free if needed))

1/2

cup

80 g white rice flour

1/2

cup

60 g tapioca flour

3

tsp

psyllium husk powder

2/3

tsp

salt

1/2

cup

120 g mashed potatoes

2/3

cup

160 ml plant (based milk, lukewarm)

1 1/2

tsp

dry instant yeast

3

tsp

sugar
Instructions
Peel a big potato and cut it into 2-inch pieces. Cook it in a pot of salted water until tender (about 15 minutes). Drain the water and mash the potato with a potato masher (you will need 1/2 cup/120 g of mashed potatoes for this recipe). Let cool.

In a small pot, dissolve the dry yeast with the sugar in the lukewarm milk (about 100°F/38° C). Let the yeast proof for 10 minutes. It should get frothy and rise a little bit.

Put all flours into a bowl, add the psyllium husk powder and salt and stir with a whisk.

Pour the yeast mixture into the bowl and also add 1/2 cup of mashed potatoes.

Mix everything together with a spoon or your hands and knead the dough for a few minutes. It should be moist and not dry. If it's too dry add a little bit of water. If it's too sticky, add a little bit more tapioca flour.

Divide the dough into 6 equal parts and roll each piece into a ball with your hands.

Place the buns onto a baking pan, lined with greased parchment paper or into a burger silicone pan (see pictures above in the blog post) and score a cross on the buns.

Cover the pan with a wet kitchen towel and let them rise in a warm place (e.g. in a 100°F/38°C oven) for about 60 minutes. They will rise a little bit (not as much as a dough made with wheat flour though).

After 45 minutes, preheat oven to 360°F/180°C. Put a heat resistant container into the oven and fill it with water (it will release steam during baking which will make the buns soft).

Bake the buns in the oven for about 25 minutes. Enjoy warm!

They taste best on day one. You can store leftovers in the fridge but since this is a gluten-free buns recipe they will become a bit drier on the second day. That's why it's best to reheat them in the microwave for 30-45 seconds when you eat them the next day. Check the recipe notes below if you want these gluten-free buns to taste like soft pretzels!