This dish is a perfect entrée because there's a lot of passive cooking time where you can work on other dishes as you wait for the onions to caramelize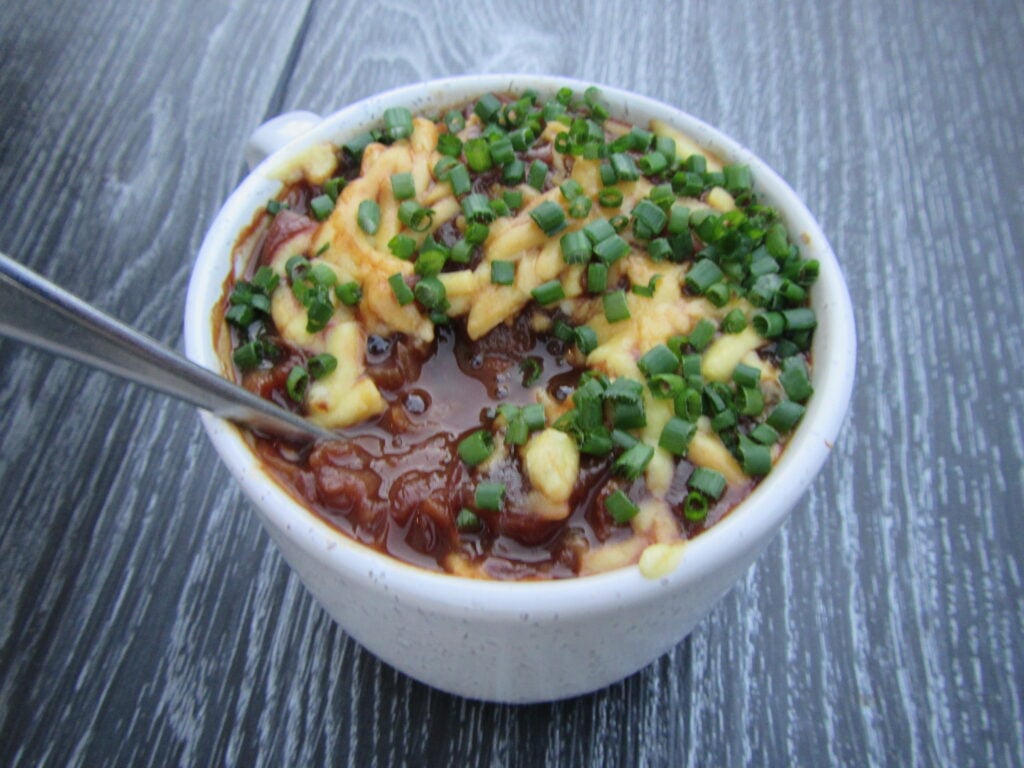 Ingredients
2

tablespoons

olive oil

1

kg

mixed red and brown onions

½

cup

dry white wine or ¼ cup dry sherry

2

tablespoons

flour

optional

4

sprigs of fresh thyme

2

bay leaves

1.25

L

beef

style stock

1.5

tablespoons

balsamic vinegar

2

teaspoons

vegemite

1.5

teaspoons

Worcestershire sauce

Salt and pepper

Half a baguette

1

cup

shredded dairy

free cheese

1

bunch chives

snipped
Instructions
Start by slicing the onions. They will be cooked down considerably, so there's no need to chop them too finely. Place olive oil and onions into a deep pot over the lowest possible heat. Stir frequently for 20-30 minutes.

Increase heat slightly (still less than medium heat) and add a pinch of salt. Wait for the onions to start to brown and catch on the bottom of the pot before scraping this all up, stirring the onions well and repeating once they catch again.

As you do this, you'll gradually notice the hue of the onion transforms to a rich brown color. It will take from 30 to 90 minutes (if you've increased the batch size) to achieve this. Once you complete this dish a few times, the changing scent will also be an indicator of when the onions are done caramelizing.

If using flour, throw it in and stir for 1-2 minutes to cook out the raw flavor. Increase heat to high and add the white wine, stirring as the liquid bubbles for a minute to pick up all the flavors that have caught on the bottom of the pan (or for fancy folk: deglaze).

Add thyme and bay leaves. Follow with stock, balsamic vinegar, vegemite and Worcestershire sauce. Once the soup starts to bubble, reduce to low and simmer for at least 30 minutes, or if you're able to leave it to simmer for longer then definitely do so! This soup becomes richer the longer the onions are allowed to meld with the liquid. Taste and crack pepper in. Fish out the bay leaves

Slice the baguette, top with half the shredded cheese and toast under a broiler until melted. You can serve these on the side, or (even better) drop them into the bowl before ladling the soup on top and adding extra melted cheese. Return to the oven to grill for several more minutes until the topped cheese has melted. Top with fresh chives for the sake of adding something green into this incredibly rich and satisfying soup. 
This recipe was republished with permission from Zacchary Bird. Find the original recipe here.