A vegan stir-fry's just a stir-fry, right? Not really. So many quick wok meals end up tasting a little bland or not being quite filling enough. But fear not: this satay stir-fry recipe is about to change that forever.
This secret to whipping up the ultimate vegan stir-fry is to add a creamy satay sauce that will have you wanting to lick your wok clean. And that's what we're going to show you today!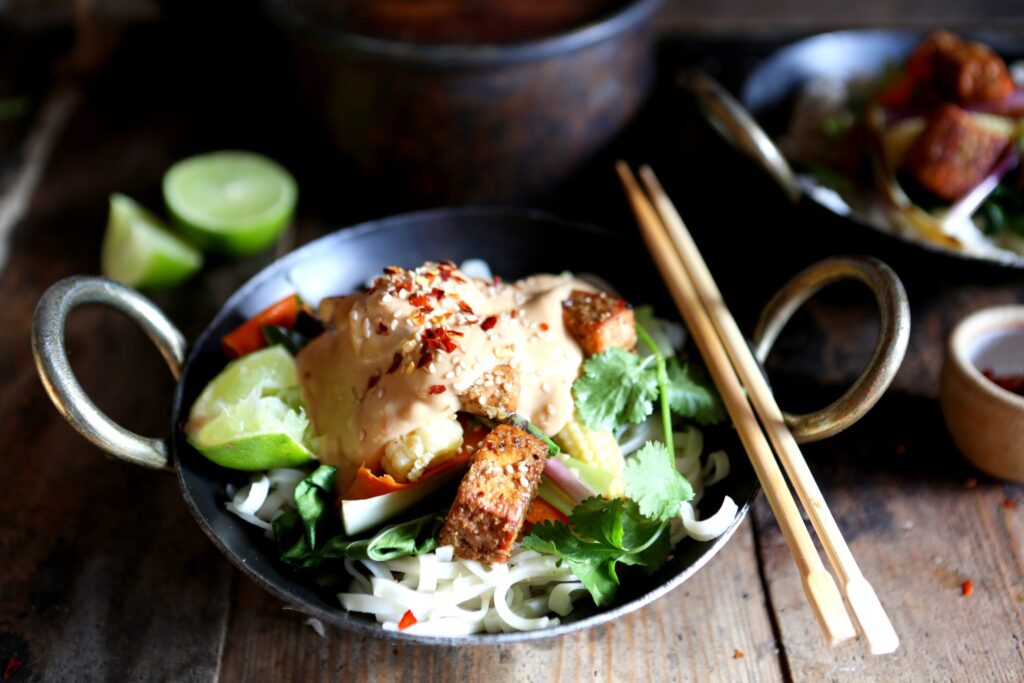 Ingredients
Stir-Fry
250

g

stir-fry veg

(or buy separate veg such as pak choi, baby sweet corn, mange tout, broccoli, fresh chilli)

250-300

g

udon or soba noodles

250

g

firm tofu

(cut into small cubes)
Satay Sauce
1½

tbsp

toasted sesame oil

(use rapeseed as an alternative)

½

clove

garlic

(roughly chopped)

1½

tbsp

soya sauce

(use tamari for a GF option)

2½

tbsp

sweet chilli sauce

125

g

smooth peanut butter

Juice of 1 lime

150

ml

water
Instructions
Satay Sauce
Blend all ingredients until smooth. Do not heat up yet, set aside.
Stir-Fry
Drain then pat dry the tofu with kitchen roll or a clean tea towel. Fry in a little oil until golden, turning frequently. Add 1 tablespoon soya sauce, stir through then set aside.

In a large wok, fry the vegetables (also add straight-to-wok noodles at this stage if you're making the quick version) on a med-high heat for a few minutes.

Cook the noodles according to the packet.

Heat up the satay sauce, adding a little more water if necessary as the sauce thickens as it heats.

Divide the noodles into 4 bowls then add a layer of stir fried veg, tofu and then satay sauce.
Top tips for a great vegan stir-fry
Use an oil with a high smoking point. This refers to oils that can get very hot before they start to burn in your pan. A key point, this will help you 'flash fry' your stiry-fry vegetables to prevent them from getting saturated with oil. Remember: you want them warm but not too soggy so you still get a good crunch when you eat them. Oils with high smoking points include avocado, sesame, and sunflower.
Try to stick to seasonal vegetables in your stir-fry. This will ensure you get the freshest produce and will keep your kitchen's carbon footprint as small as possible too. However, if you want to try some authentic Asian veggies, head down to your nearest Asian supermarket and ask about textures and flavors. Mooli and and lotus roots are a safe bet, with both being neutral in taste but crunky, though don't overlook some of the more unusual options.
—
This vegan satay stir-fry recipe was republished with permission from Viva Vegan Recipe Club. Find the original recipe here.