Scrumptious plant based burger with all the trimmings!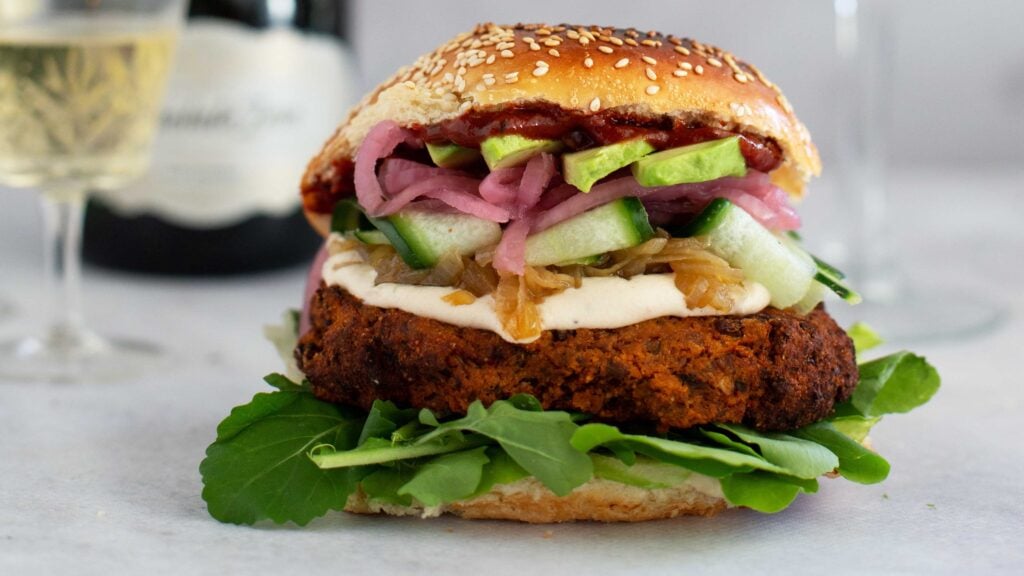 Ingredients
Ingredients for the BBQ sauce
1

cup

sugar free tomato sauce

½

cup

water

¼

cup

apple cider vinegar with 'the mother'

2

tbsp

lemon juice

2

tbsp

sweetener of choice

coconut sugar / maple syrup / agave syrup

2

tbsp

wholegrain mustard

3

tbsp

tamari

1

tsp

smoked paprika

1

tsp

garlic powder

1

tsp

onion powder

½

tsp

coriander

½

tsp

ground cumin

2-3

drops liquid smoke

Salt and pepper to taste
Ingredients for the burger patty
1

cup

black beans

cooked + drained (no liquid)

1

cup

sweet potato or butternut

peeled + steamed

2

cups

mushrooms

roughly chopped

Half a red onion

roughly chopped

¼

cup

walnuts

1

garlic clove

grated

4

tbsp

brown rice flour

1

tbsp

olive oil

1

tbsp

tomato paste

1

tbsp

coconut aminos

1

tbsp

tamari

can sub soy sauce

1

tsp

ground cumin

½

tsp

smoked paprika

Salt + pepper to taste
Ingredients for the sweet potato fries
2

large sweet potatoes

cut into long strips

2

tbsp

olive oil

1

tsp

onion powder

½

tsp

garlic powder

¼

tsp

smoked paprika

Pink Himalayan salt + black pepper
Serve with:
Rolls of choice

Greens

lettuce or rocket

Caramelised onions or pickled onions

Guacamole or avo slices

Vegan mayo

Cucumber ribbons

Tomato slices
Instructions
Method for BBQ sauce
Combine all ingredients together in a blender or Nutribullet and blend until smooth. Pour mixture into a pot and simmer on low heat for 10-15 minutes until the sauce begins to thicken.
Method for the burger
Heat the olive oil in a pan and add the onions, cook for a few minutes. Add the garlic, ground cumin, smoked paprika and a pinch of salt to the pan. Cook until the onions start to soften, add the mushrooms and continue cooking for a few minutes until the mushrooms begin to brown. Add the tomato paste, coconut aminos, tamari and black pepper. Set this mixture aside. To a food processor, add the black beans (make sure they are dry and don't have excess liquid) and walnuts. Pulse a few times, you don't want a smooth mixture but you want the beans and nuts to break down a bit so they are still a little chunky but some bits are softer and broken up like a crumble. It adds to the texture of the patty. Remove from food processor and set mixture aside. Then place the steamed sweet potato or butternut into the food processor along with the cooked onions and mushroom mix. Pulse a few times so that the mixture combines but isn't smooth – this is the mix that will bring all the flavour to the patty. In a bowl, combine the two mixtures together and add the brown rice flour. If your mixture is too wet, add a bit more flour and gently mix everything together. Wet your hands and then shape the mixture into 4 burger patties. The mixture will make 4 large burger patties but you can make 6-8 smaller ones too. The burger patties can then be Air Fried, baked in the oven or cooked on a non-stick pan. Make sure to flip the burgers over gently so that they cook through on both sides. I Air Fried these burgers on high at 204C for 15 minutes, turning them over at the halfway mark and didn't use any oil. But if you are going to bake them or cook them I would suggest brushing them with olive oil beforehand. I added the BBQ sauce onto the burger patty when serving but the BBQ sauce can also be used to baste the burger while cooking.
Method for sweet potato fries
Mix together the olive oil, spices, salt and pepper in a large bowl. Add the sweet potato strips to the bowl and make sure each piece is generously coated with the oil and spices. The sweet potato can either be Air Fried on high at 204C for 10-15 minutes or baked in a preheated oven at 180C for 25-30 minutes. Cooking times vary depending on your Air Fryer or oven, best to flip the fries over at the halfway mark of cooking time.
This recipe was republished with permission from Mira Weiner.
Find the original recipe here.