Vegan corn ribs with creamy smoky chipotle aioli dipping sauce!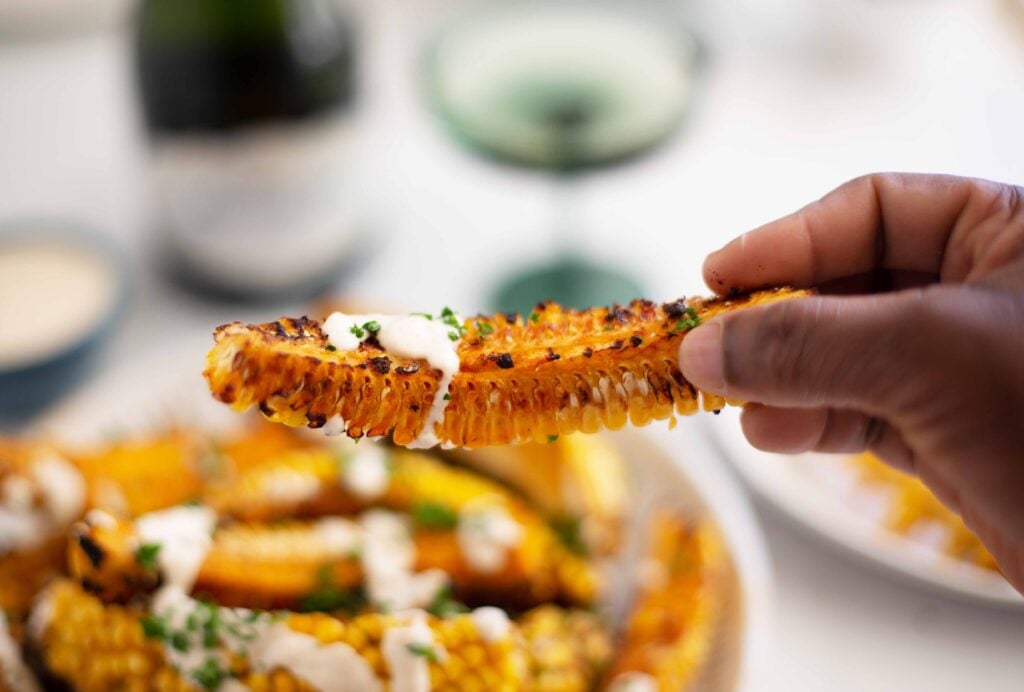 Ingredients
Ingredients for the corn "ribs"

4

corn on the cobs

cut into 16 ribs

3

tbsp

olive oil + extra if needed

2

tbsp

lime juice

2

tsp

garlic powder

2

tsp

paprika

Pink Himalyan salt and black pepper to taste

Ingredients for the smoky chipotle aioli

1

cup

raw cashews

soaked for 4 hours or overnight

½

cup

water

¼

cup

lemon juice

1

tsp

onion powder

1

tsp

garlic powder

½

apple cider vinegar with "the Mother"

¼

tsp

chipotle paste

1/8

tsp

ground white pepper

¼

tsp

white miso

optional

Pinch

of Pink Himalayan salt

Serving suggestion:

Serve corn ribs with smoky chipotle aioli and freshly chopped parsley
Instructions
Method for the corn "ribs"

Be very careful cutting the corn, it takes some practise and you may need to use a few different knives until you get the hang of it. Stand the corn vertically upright and slice straight through the core, then slice again so you have 4 pieces of corn. Repeat until all the corn has been cut. Mix together the remaining ingredients in a bowl and dip the corn ribs into the marinade, cover generously. I used my Air Fryer on high at 204C for 12-15 minutes to make these but they can easily be baked as well in a preheated oven at 180C for 25-30 minutes. Once cooked they will naturally curve and bend to their desired shape.

Method for the smoky chipotle aioli

Combine all the ingredients together in a blender or Nutribullet and blend until smooth and creamy.
This recipe was republished with permission from Mira Weiner.
Find the original recipe here.