Always fighting the urge to order takeaway? Well, this may just hit the spot!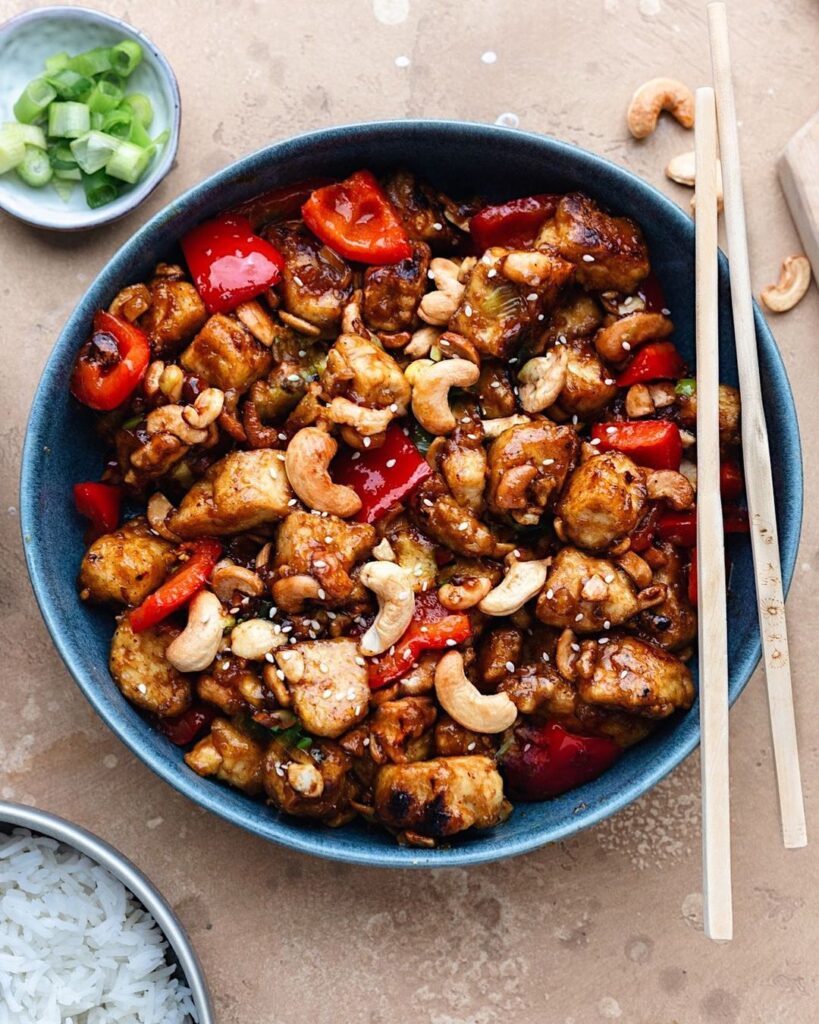 Ingredients
1

cup

cashew nuts

450

g

firm tofu

4

tbsp

cornflour

3

cloves

garlic

3

spring onions

1

red bell pepper
Sauce
3

tbsp

soy sauce

2.5

tbsp

hoisin sauce

1

tbsp

shaoxing wine

1

tsp

vegan fish sauce

1

tsp

sesame oil

1.5

tsp

maple syrup

1

tbsp

cornflour

1

tbsp

water
Instructions
Preheat oven to 200C/400F. Place cashews on a baking tray and place in the oven for 3-4 minutes, until golden brown. Toss half way, making sure they don't burn. Remove from the oven and set aside.

Slice the block of tofu in half and then into six strips. Now you can use your hands to break each strip into about four or five chunks, about 1 inch in size. If you find that too tricky you can score a line with the knife first before breaking up, or just cut into cubes. Breaking the tofu is going to result in a crispier exterior.

Place the tofu chunks into a bowl with the cornflour and some salt and pepper. Toss well so all the edges of the tofu is fully coated in the flour. If you need to add a little more cornflour then do so.

Heat 2 tbsp oil in a wok or frying pan on medium-high heat. Add the tofu and fry for around 6-7 minutes, flipping occasionally, until golden brown and crispy. If your pan isn't big enough you can do it in two rounds, careful not to overcrowd the pan. It should be crispy and dry looking on the outside.

Add a bit more oil to the wok and add minced garlic, thinly sliced spring onion and red pepper. Cut the red pepper into roughly 1 inch pieces. Add the roasted cashews.

Fry for a couple of minutes and make the sauce. Mix all the ingredients (minus the cornflour and water) in a small bowl.

Add to the wok and let it sizzle whilst you mix the cornflour and water to make a slurry. Add and stir, cook for about 20-30 seconds and then serve.

Top with some extra spring onion and sesame seeds and serve with rice or your favourite sides!
This recipe was republished with permission from Cupful Of Kale.
Find the original recipe here.