This Turkish burned pudding recipe shows you step-by-step how to make a vegan kazandibi dessert. Earthy caramel flavors from the flames take this to the next level and leave you with a decadent plant-based dessert that you'll want to make time and time again.
What is Kazandibi?
Kazandibi (kah-ZAHN-dih-BEE) is a Turkish milk pudding dessert with a burnt top layer. Originally born in the kitchens of the Ottoman palace centuries ago, it is still a very popular dessert in Turkey. It's richer than regular pudding, almost custard-like; and has an amazingly deep caramel-like flavor, in addition to the freshness of a pudding.
In Turkish, kazandibi means "bottom of the cauldron," owing to the unique burnt quality. Legend has it that the dessert came about by accident. So think of it as a delicious unintentional cross between a cheesecake, regular vanilla pudding, and crème brûlée. Irresistibly tasty!
Traditional kazandibi is not vegan
Authentic kazandibi is made by burning the bottom layer of another Turkish dessert called chicken breast pudding, or tavuk göğsü. The dessert is made with shredded chicken breast, buffalo milk, and a starch mix called sübye.
Today, the vast majority of kazandibi served in Turkey is made from regular Turkish milk pudding, called muhallebi, which lacks chicken breast and is easy to veganize.
What to know about the ingredients
Traditionally, kazandibi uses whole buffalo milk, for the extra fat content. To veganize the dish, soymilk and coconut cream are combined to create the most akin taste and fatty consistency. With that said, you can use almost any plant milk you wish — preferably unsweetened and unflavored –so as not to complicate the balance of the ingredients. Just make sure to account for the fat content by adding more coconut cream, vegan butter, or coconut oil.
A tree resin from the Greek island of Chios, mastic is a very important ingredient in Aegean desserts. Kazandibi isn't traditionally made with mastic, but many shops use just a hint of it to amp up the flavor.
You can find mastic at Greek or Turkish grocery stores, or online.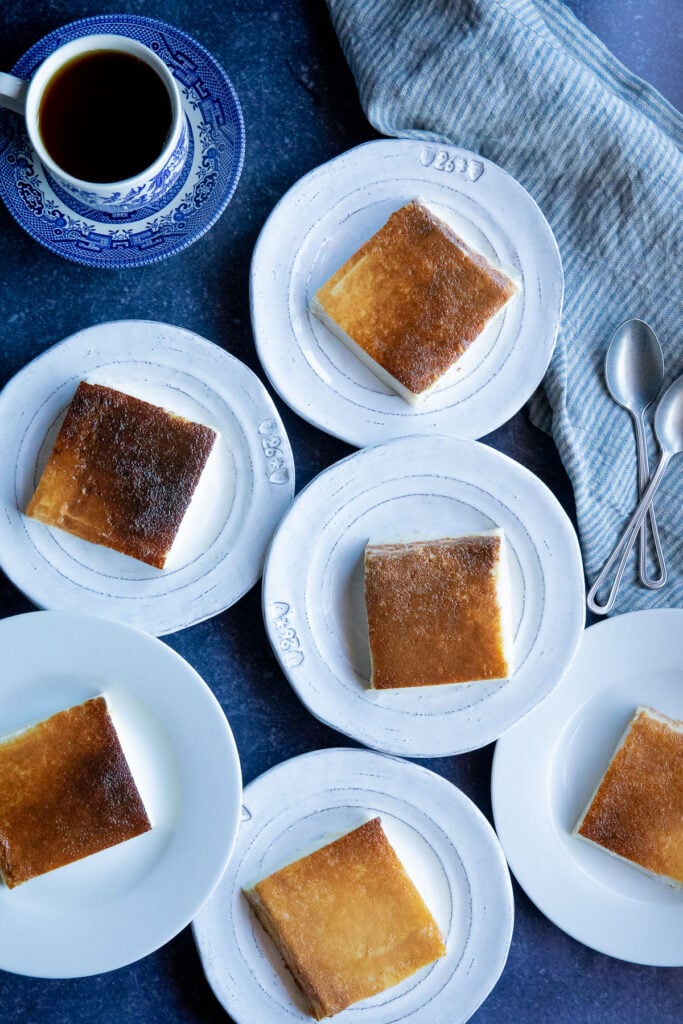 Ingredients
½

cup

60 g all-purpose flour

3

tablespoon

30 g rice flour

⅔

cup

75 g cornstarch

1 ½

cups

300 g granulated sugar

6 ½

cups

1.5 liters soymilk

¾

cup

150 ml coconut cream

½

teaspoon

mastic plant resin, pounded with 1 teaspoon sugar

(optional)

½

teaspoon

vanilla extract

(optional)
Instructions
MAKE THE PUDDING:
In a large saucepan, add the AP flour, rice flour, cornstarch, sugar, soymilk, and coconut cream. Mix thoroughly and heat on medium-high until it comes to a boil, continuously stirring.

Once boiling, add the mastic and vanilla (if using) and reduce heat to low. Simmer for 25-30 minutes, stirring occasionally to ensure there aren't any lumps.

Make sure to move to the next burning process quickly, as the pudding will set and may get lumpy the longer it sits.
BURN THE BOTTOM:
Give the tray a quick wash with water right before starting to burn the pudding to make sure the bottom layer doesn't stick. Put the baking pan over a medium-heat burner and place 1-2 cups of the pudding mixture to cover the entire bottom of the pan. Make sure to wear oven mitts and move the pan around to ensure an even burn.

Use a metal spatula to gently scrape the top to inspect; this will let you see what's happening below the excess pudding. You're looking for a very deep brown, almost black, color all over. The entire process can take 15 to 30 minutes, depending on the level of heat and the material of the pan.
SET & SERVE:
When finished, set the pan aside and add the rest of the pudding mixture over the burned pudding. If there are any lumps, bring the pudding in the pot back to a boil while vigorously mixing, or use an immersion blender. Let cool, then cover and refrigerate for at least 6 hours. Overnight is even better.

Cut the pudding into squares with a spatula, making sure to graze and lift from the very bottom. Serve each slice cold, burned bottom side up, and sprinkled with cinnamon if preferred.
Tips for the best vegan kazandibi
Pan size: You will need a metal baking pan — no enamel or glass. Aluminum works best. The size of the pan is also very important—the original recipe uses a 9-by-13-inch pan with a 1 ½-inch lip. You can absolutely use a baking pan (or non-stick pan) of a different size, but need to make sure the total area matches up. For example, the original recipe makes a 1-inch-thick tray of pudding, filling up about 120 square inches. If you're using an 8-by-8-inch, (64 square inches) you may simply halve the ingredients and have the same thickness!
Non-stick pan method: Place a few ladles of the pudding mixture into the non-stick pan and burn the bottom on medium-high heat. Use a silicone spatula to check the bottom; we want it to turn almost black. This method takes longer (30+ minutes) and the bottom may still not turn the right color.
Gluten-free: You may substitute the AP flour with store-bought gluten-free flour or rice flour if you wish.
Mastic: Feel free to skip mastic if you don't have any, the pudding will still turn out delicious! But I'd highly recommend it, you can use mastic in Turkish coffee or ice cream as well.
Using sugar to burn the bottom: You do not need to coat the bottom of the tray with butter or sugar! There are some recipes or comments that suggest this and it is completely wrong. No pastry shop worth their salt in Turkey uses that technique to make kazandibi. It somewhat alters the authentic earthy flavor and really doesn't make the bottom any less sticky.
—
This recipe was republished with permission from Aegean Delight. Find the original recipe here.