This well known pink and yellow chequered cake is not only beautiful to look at, but goes down a treat as well. Especially with a cup of tea!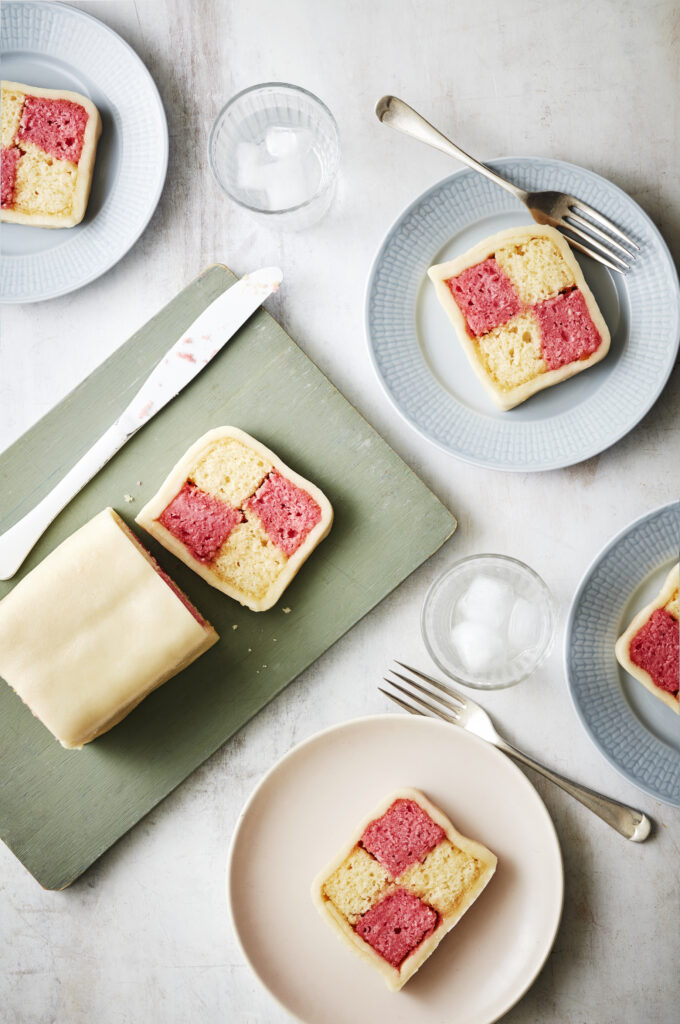 Ingredients
130

g

vegan butter

200

g

caster sugar

120

g

soy yoghurt

150

ml

soy milk

2

tsp

apple cider vinegar

1

tsp

almond extract

260

g

self raising flour

1/2

tsp

baking powder

beetroot juice

for colouring

3

tbsp

marmalade

400

g

golden marzipan

icing sugar

for dusting
Instructions
Preheat the oven to 160.C fan/180.C/350.F/gas 4. Use a double layer of foil to divide a

20cm/8in square cake tin in half. Line

both sections with greaseproof paper.

Whisk together the butter and sugar until light and fluffy. Stir in the yoghurt, milk, vinegar

and almond extract, then fold in the

flour and baking powder.

Pour half of the batter into one of the halves in the tin. Mix drops of food colouring or

beetroot juice into the remaining half of the

batter until you get the desired shade of pink, then pour the pink batter into the other half

of the tin.

Bake for 25 minutes until a skewer inserted into the centre comes out clean. Allow to cool

for a few minutes in the tin before

turning out onto a wire rack to cool completely.

To decorate, gently transfer the cakes onto a chopping board and cut each one in half

lengthways, trimming the edges to create

straight and even layers.

Heat the marmalade in a small saucepan over a low heat until runny. Brush one long side

of a pink strip of cake and one side of

a yellow one and stick them together. Repeat to stick the other two strips together. Now

paint the top of one pair completely with marmalade and place the other pair on top, with

pink on top of yellow and vice versa to create a chequerboard pattern.

Dust a work surface with a little icing sugar and roll out the marzipan to a rectangle about

20 x 25cm/8 x 10in. Brush the outside of the cake with marmalade. Use a rolling pin to lift

the marzipan over the cake and smooth it firmly around the top and sides, joining

underneath. Trim away the excess and brush the seam with a little marmalade. Finish by

pressing the edges together to create a seam at the bottom.