With a deliciously sweet Strawberry Compote and a Cheesecake Filling made with Tofu, this dessert is the decadence you deserve this Valentine's Day.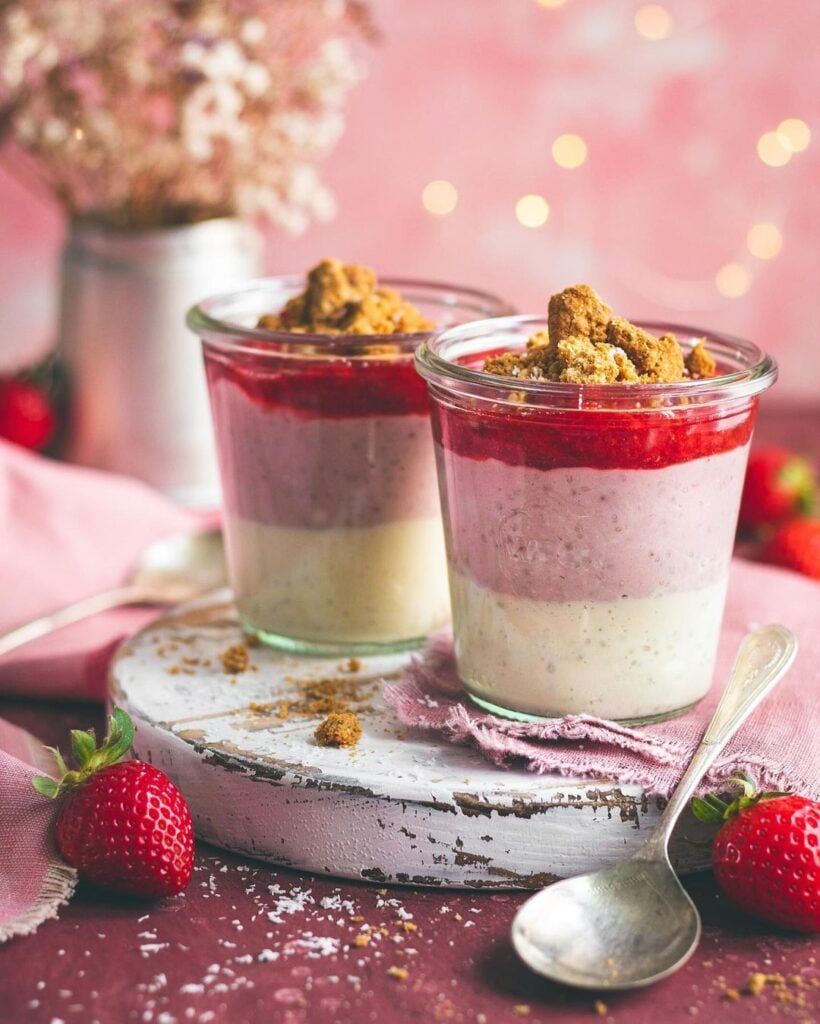 Ingredients
Strawberry Compote
400

g

strawberries

1

tbsp

lemon juice

2

tbsp

maple syrup
Cheesecake Filling
300

g

silken tofu

2

tbsp

desiccated coconut

3

tbsp

maple syrup

2

tsp

lemon juice

1/2

tsp

lemon zest

2

tsp

vanilla extract

2

tbsp

chia seeds

1/4

cup

strawberry compote

digestive biscuits
Instructions
Strawberry Compote
rinse strawberries, cut off leaves and halve. add to a small saucepan and heat on medium, along with lemon juice and maple syrup. cook for 10-12 mins until slightly thickened. set aside to cool, and once at room temperature, transfer to the fridge (in a jar or covered bowl) until completely chilled.
Cheesecake Filling
in a blender or food processor, blend together silken tofu, coconut, maple syrup, lemon juice and zest, and vanilla extract until smooth.

add chia seeds and blend, pulse briefly, or just stir in, depending whether you want them fully or partially whole, or blended completely into the cheesecake filling.

pour half of the filling into small serving jars, distributing evenly amongst them (you can 2-4 jars depending on the size). set in fridge to chill and firm up (about 10-15 mins)

meanwhile, add 1/4 cup of the strawberry compote to the rest of the filling and blend until well incorporated.

once the bottom layer of cheesecake is set, pour the strawberry filling into the jars evenly and set again.

break/crush digestive biscuits into small chunks or a coarse crumb.

when the strawberry layer is set, top jars with compote and biscuit crumble and enjoy!
This recipe was republished with permission from The Zesty Lime.
You can find the original recipe here.